Bright & Pastel Hair Color Trend
Jackie Summers | July 20, 2016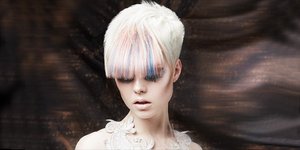 You've probably already fallen in love with Pantone's 2016 Color of the Year! This year, two colors share the title: Rose Quartz and Serenity. They were chosen for their peaceful nature; a respite for our world's current state of uncertainty. The marriage of rose pink and light blue echo a sense of reassurance and calmness that just reminds you to take a deep, needed breathe.
In this ever growing visual culture where people are comfortable using color as a form of expression, there's no better time for Pantone trends and hair color to collide. We're still in the era of fashion minimalism, a lifestyle that encourages durable, purposeful wardrobe through quality fabrics in neutral tones: white, black and grey. Believe it or not, the pastel and vivid hair trend feels right at home here, incorporating these serene colors into everyday wear via hair and nail color, instead of in the closet. Plus, neutral clothing provides a blank slate for color. Light pink hair + faded denim and white tee? A blogger's dream! #effortless + little heart emojis.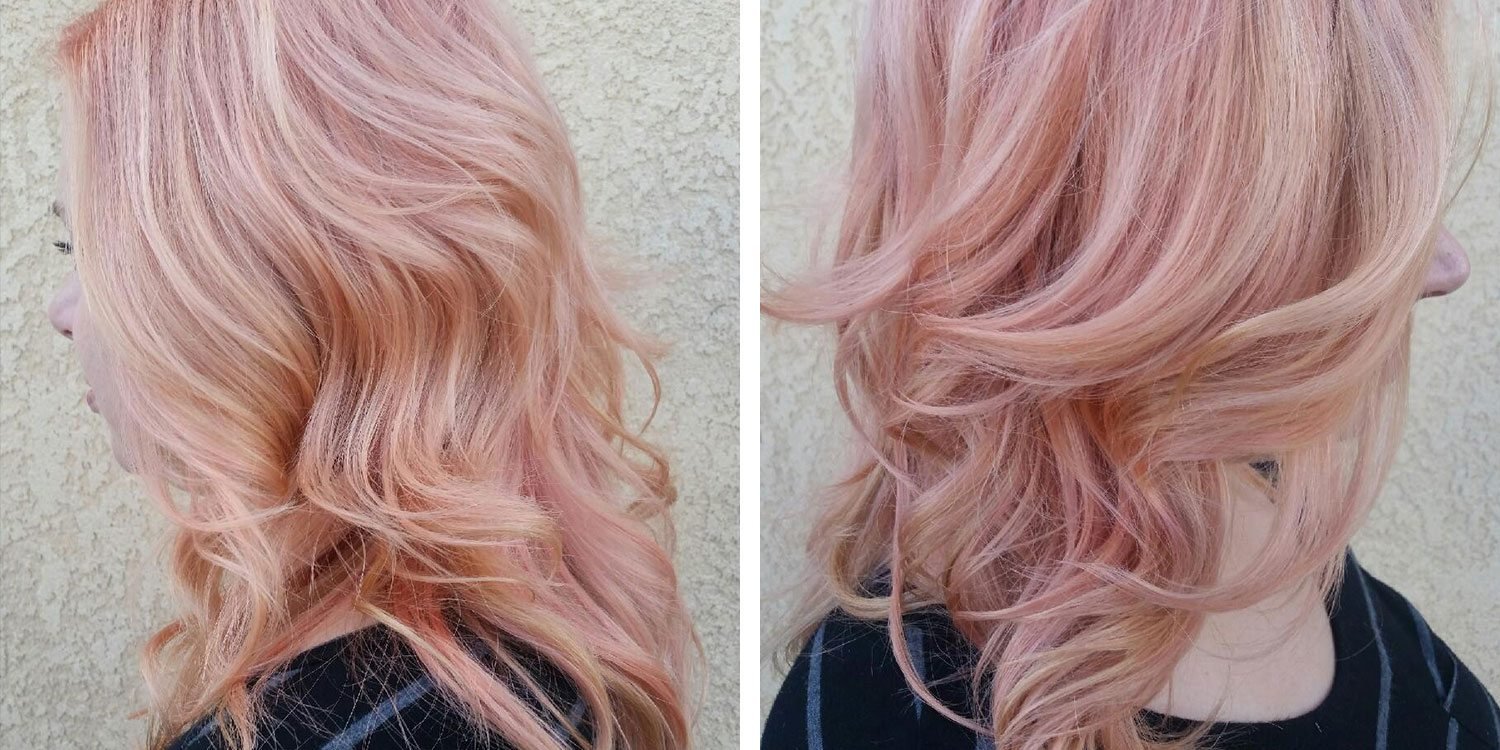 How can you achieve this fashion trend with high shine and wearability?
We say Matrix Color Sync Watercolors! They bring a rainbow of possibilities from pastels to bright vivids and everything in between. Color Sync Watercolors is a demi-permanent line that lasts up to 20 shampoos. The iridescent Watercolors come in 5 light-catching shades: Moss Green, Sapphire Blue, Berry Violet, Quartz Pink and Coral Peach and are ever versatile with adjustable saturation and endless placement options. Color instantaneously transmits the essence and personality. What's your color personality?
If we were playing by the rules, the first rule of thumb would be to look to your skin tone. Pastel tones: pastel pink hair, pastel purple hair and pastel blue hair tend to look best on fair to medium skin, while vivid tones look best on medium to dark. However, strategic placement allows you to really rock these trends in either case.
Pastels: Gone are the days when pastel tones were reserved for music festivals. The subtleness of this trend makes these dream-like tones apt for everyday life. While pink and blue hair still permeate the sea of youth clad in cut-offs and maxi skirts, a just-the-right-hint-of-lilac-blonde-chignon is flawless with a tailored suit and pumps. That's right, light purple hair can be office friendly! Also real-world-appropriate: strawberry blonde with extra peach, the sheerest light blue hair over platinum blonde. And with the right hint of pink rose, you'll always be wearing the perfect blush. If you're a whimsical type who appreciates the elusive, whisper of color that lifts the spirit, you'll love the pastels. Having medium to light hair makes pastels much easier to achieve. Pre-lighting the hair will often do the trick, just be mindful it might be a process before you get there!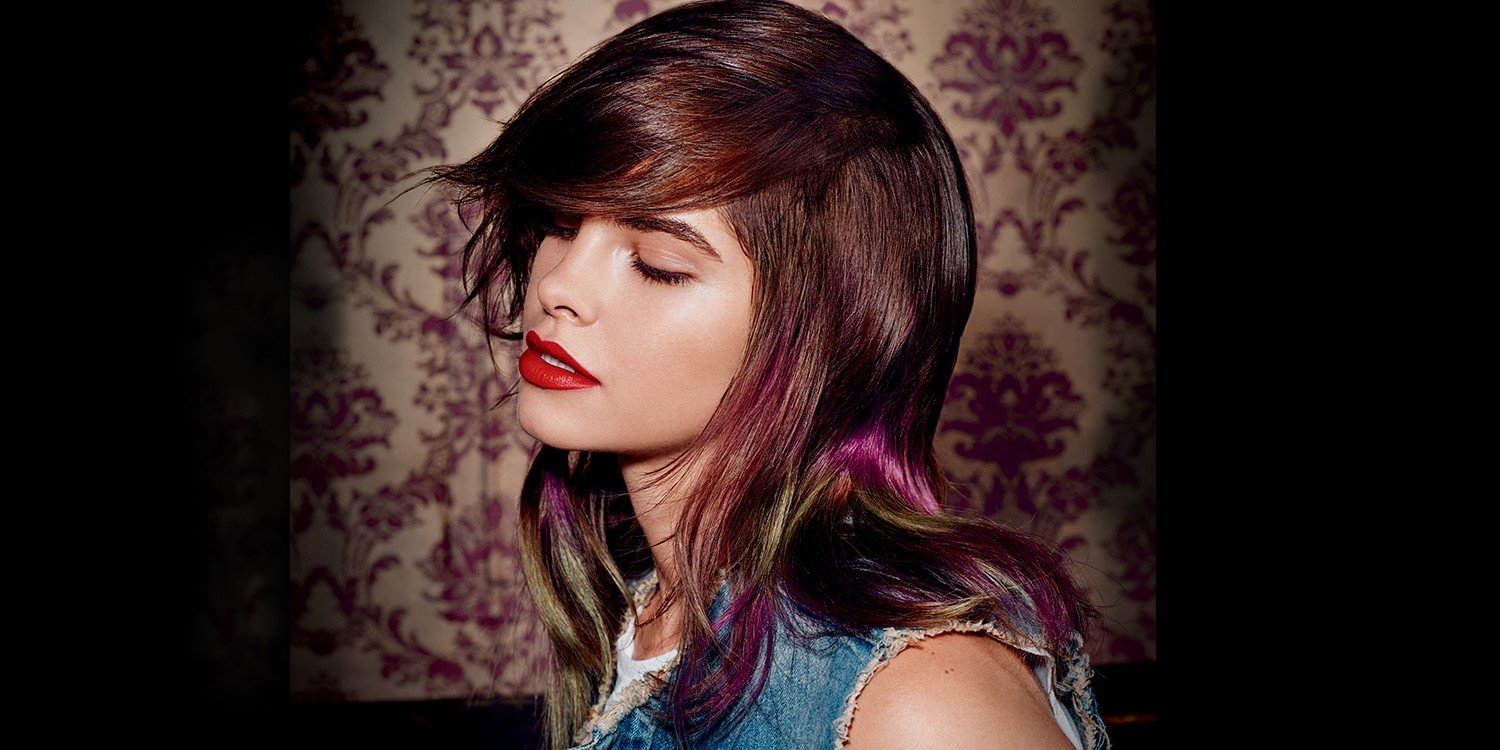 Vivids: Demi Lovato asks, "What's wrong with being confident?"
And the answer is absolutely nothing! If you're into bold colors, standing out in a crowd and rainbow hair, this trend is for you! Since vivid tones don't require the hair to be pre-lightened as much as pastels do, they are a great alternative for dark to medium hair. These saturated colors — deeper shades of blue, brighter shades of rose, berry and moss—look best with medium to dark skin that has the foundation to support it. But not to fret, our fair skinned friends, with the right placement, you can rock vivids, too! Have blonde hair and want to go vivid? Start with a vivid tone and let it fade to pastel!
How to rock vivid and pastel hair, naturally: Its' all about placement. Do you ever notice the way a little girl's hair is naturally highlighted by the sun? It's through large panels of light mixed with finer strands. The hair is lightest on the ends where it's had the most exposure and around the face where it's finer and more susceptible. When this theory is applied to hair color application, even the most vivid colors can look believable and leave everyone questioning if the hair grew out of the head that way! Ask your stylist for a balayage service to create a kissed-by-the-sun-color and then apply a Watercolors gloss over it. This technique provides a gorgeous finish and more natural grow out.
Whether you're ready to see the world through rose colored hair or have a deep suspicion you might have been a mermaid in your past life… it's time to ride the color wave. Jump in with Watercolors!
Love these looks? Find a salon near you to get the watercolor trend today!