8 Reasons You Need To Try Bronde Hair Color
Jackie Summers | July 20, 2017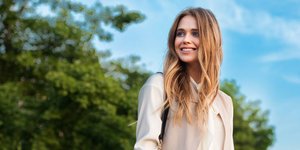 Bronde has been an "it" hair color in Hollywood for some time, with leading ladies like Jessica Alba and Jennifer Lopez showcasing the look. It's beautiful, effortless, and fits somewhere perfectly between blonde and brunette. Here are eight reasons to give bronde hair color a try!
But first, what exactly is bronde hair?
First, it's important to understand what you might be asking for if you request a bronde hair color shade in the salon. According to Matrix Celebrity Stylist George Papanikolas, bronde hair is in-between brown hair color and blonde hair color. It blends the two colors, creating a sun-kissed hair result. It's less intense than ombré and balayage hair color and more nuanced than conventional blonde highlights. It's usually achieved with a balayage technique, but that can vary depending on the natural hair color and the desired end result. So, is bronde hair color right for you? Probably! Here's why.
1. Bronde hair color can be designed for nearly every skin tone.
This is what makes this hair color so universally flattering. Choosing the right shades of tones in bronde hair color will bring your skin complexion and eye color to a whole new level of vibrancy. You'll hear comments like, "You look so relaxed!" and "You're positively glowing!" Papanikolas recommends combining golden, amber or honey hair color tones if your skin is warm, and opting for neutral mocha or creamy hair color tones if your skin complexion is cool. Just don't go for a shade that is too ash, he advises, since it can make the overall color appear too matte and greenish.
2. Bronde hair color can be designed for nearly every natural hair color shade
If you're a dark brunette who has always yearned to be lighter, bronde is the answer for you. Your stylist will lighten your overall hair color and then add dark blonde or caramel highlights for an overall bronde effect. If your hair is medium brown or lighter, you can stick with your natural hair color shade for the base, and go with lighter highlights in a variety of golden or neutral blonde tones (or a combination of the two.) The goal is to end up with a balanced blend of brown hair color and blonde hair color…the ideal bronde!
3. Bronde hair color is low maintenance and affordable
Because bronde hair is a delicate blend of hair colors, it doesn't produce high contrast roots. Plus the highlight size and placement are easy to adjust—they can be close together or far apart; wide or narrow. If you opt for highlights that are delicate at the root and spaced apart, says Papanikolas, you will probably require touchups only every three to five months. To keep your hair color fresh in between, consider glossing your hair every four to six weeks, and always use paraben-free and sulfate-free shampoos and conditioners to prolong the vibrancy of your hair color. We also recommend shampoos specifically formulated to prevent your hair from turning brassy shades between salon visits.
4. Bronde hair color is chic and sophisticated
There's something about the tortoise-shell-like mélange of soft brown and blonde hair shades that makes bronde hair color truly elegant. The sun-lightened glow is nuanced and natural-looking and the overall effect is subtle rather than in-your-face hair color. It's perfect if you're on the conservative side and prefer not to wear hair color that proclaims its existence loudly or boldly.
5. Long hair loves bronde hair color
Bronde hair color works on any length, but on medium or long hair, it's something splendid. The colors swirl together throughout the lengths, and they really animate hair texture. Add some beautiful beach waves and bam! An irresistible hair color and style combination!
6. Bronde hair color is perfect if you're a brunette who doesn't want to commit to blonde hair color
Dark haired beauties that yearn to be blonde tend to hesitate for many reasons. There's the trauma of the process required to lighten your brown hair, not to mention the risk of winding up with unflattering brassy hair. Then there's the matter of upkeep—in just a few weeks, dark roots begin to stake their claims. Not to mention the shock of such a huge change. ("Whoa! You're blonde now!) Bronde hair color is the perfect solution. Your hair will be considerably lighter, but still natural looking, which will stave off shocked reactions and eliminate bold regrowth that requires frequent hair touchups. Plus it won't require all-over bleaching to get the hair look. A win-win for sure!
7. Bronde hair color is perfect if you're a blonde who has gone too far
Some hair stylists call it "blonde-orexia." It's attributed to those flaxen beauties (and their hairstylists) who add more and more highlights until suddenly they realize their sophisticated, streaked hair is now a solid shade of nearly-white. Adding some lowlights in sandy brown or golden brown sugar for a "bronder" tone will restore depth and dimension to your blonde hair, without sacrificing brightness.
8. Bronde hair color is an ideal way to cover grey hair
Once you realize you're sporting more salt than pepper, you have several choices. You could try to cover up the grey with an all-over shade of light brown hair color. "But that can wind up very mousy," says Papanikolas. Another choice is to mask the grey with lots of blonde highlights. But in his experience, Papanikolas has found that doing so leads to an unflattering ashy tone that washes out a woman's complexion. So how about bronde? Your stylist will first cover the gray hair with a shade that matches your natural hair color, or one that is a shade or two lighter. Then he or she will add blonde highlights that are a shade or two lighter than your base color, followed by a hair gloss to tone and balance the overall shade. All grey hair will be gone and years will be erased!