25 Color-Treated Hair Styling & Designing Tips
Jackie Summers | July 09, 2015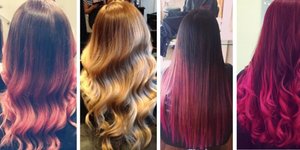 Hair color can be a terrific way to bump up your style. There are so many colors and techniques available that you can switch up your look every month if you want to. Then, you can play around with various styles to enhance your color-treated hair, from braids and ponytails to different types of updos. Below, the professionals at Matrix offer some styling tips for color-treated hair.
1. Begin by deciding what color(s) you want your hair to be.
Because of the huge variety of options for color-treated hair, you'll need to decide if you want your hair to be soft and natural-looking, or vibrant and bold. The coloring possibilities run the gamut, from single all-over color to multi-hued styles. What you do will depend upon your personal style.
2. Consult your stylist when deciding how to change your style with color-treated hair.
Professional stylists are trained on how to determine the best color and style for you. Never neglect this important step in deciding how to color your hair, and which products to use.
3. Opt for temporary hair color for a zero-commitment.
Temporary haircolor lasts for one to two shampoos. This is a good choice if you want vibrant splashes of color to add funky, temporary style, or if want to try out a color without committing to it long-term.
4. Gloss or blend with semi-permanent color.
These peroxide- and ammonia-free formulas can last for up to 12 shampoos. When opting for semi-permanent hair color, ask your salon professional for a no-ammonia conditioning semi-permanent formula that will help rebalance porosity. This is a good option if your hair needs color balancing or toning, grey blending or coverage, color correction or glossing.
5. Consider demi-permanent color for shine, color refreshing or lowlights.
Demi-permanent color, which might (can you say "we recommend using ones that contain low levels of peroxide" instead of "might"?) contain low levels of peroxide, can last up to 20 shampoos. If your color-treated hair has any damage at all, request a non-alkaline, ammonia-free demi-permanent formula that contains fruit acids and fruit oils to smooth and condition the cuticle.
6. Choose permanent color for long-lasting results.
Permanent color won't wash out of your color-treated hair. It will fade and change shades over time, but to completely change your permanently colored hair, you'll have to cut it off or color over it. Permanent hair color is used when changing the color, or for grey coverage. Ask your stylist for a permanent hair color with conditioning properties that will keep your color-treated hair healthy and vibrant-looking between touch-ups. Want to keep your hair color longer? Learn how to prevent your hair color from fading.
7. For pink skin tones use hair color that has cool or neutral undertones.
Neutral lighter shades such as ash and champagne or darker shades like espresso and chocolate are good choices for those with pinkish complexions. For paler skin with a yellow tone, stick with warmer shades such as ginger brown or strawberry blonde. Hair color with orange and gold in them aren't good matches with skin that has a naturally rosy glow.
8. Olive skin tones look best with darker shades of color-treated hair.
Women with olive-toned skin can enhance their look by using formulas with hints of gold, honey or auburn in them. To keep it natural-looking, it's a good idea to stay within two levels of your natural hair color.
9. If you have a dark skin tone, use your skin color as a guide in picking a hair color.
As with your olive-skinned counterparts, if your complexion is dark, it's a good idea to select an all-over hair color that isn't too far from your natural color. You can use your skin's undertones as your guide to picking a hue for your color-treated hair: If your complexion has touches of green or blue, request a shade with warmer golden tones. If your skin has a pinkish tone, balance it out with a cooler, ashier shade. Request a hair color with natural oils to keep your color-treated hair lustrous.
10. How To
Cover Gray Hair. For gray coverage, you have two choices.
Demi-permanent color will softly color and blend your gray until it gradually fades after 6-12 weeks, and is ideal if your color is less than 50% gray. Permanent color will completely cover your gray, and will not fade away. It's ideal for you if your hair is more than 50% gray. Your stylist can guide you to the best formula for your amount of gray.
11. Highlights add dimension to color-treated hair, making it look fuller and more vibrant.
When getting highlights, if you want a more natural look, it's best to stay with color hues that are one to two shades lighter than your base color.
12. For more dramatic hair highlights, opt for chunkier pieces of color.
If you want a piecey look, ask your stylist for fewer highlighted strands on your color-treated hair so the highlights won't blend together. Go for shades that are a little farther from your natural color, or opt for vibrant hues that scream out to be noticed. The possibilities are endless.
13. Ask your stylist to create the hair color combination that best complements you.
When opting for dimensional color styles, ask your stylist to recommend a combination that fits your existing hair color and your unique needs and wishes. For example, light brown hues can be given a few peek-a-boo blonde highlights to create a playful look for work or evenings out. Having both highlights and lowlights can add a textured look to color-treated hair that is stylish on straight, wavy or curly locks. Ask your stylist to use an ammonia-free hair-color formula that will smooth and shine your color-treated hair.
14. Adding shiny golden ends creates a soft ombré look.
This can be done on any color of hair, but looks particularly lovely on medium brown shades. To change up the style, use a curling iron to add bounce, and finish the look with a color-protecting hairspray to hold the curls in place.
15. Gently graduated ombré color gives the appearance of "melting" colors into each other.
To incorporate two or more hues on color-treated hair without a chunky effect, ask your stylist to give you this technique, which gently graduates one color into the next. This style looks great worn straight or with curls. Finish the look with a light-hold color protecting spray wax to define your color design.
16. For brunette and golden blonde dyed hair, try blending the colors of the sunset.
Transitional blends of gold, orange and red tones create a dramatic affect on blonde and light- to medium-brown hair. To add flair, try backcombing the hair lightly and finishing with color-enhancing hairspray.
17. For a romantic look, add touches of color around the face.
For a romantic ombré hair style, try having the ends of your color-treated hair lightened and then have a few splashes of color added around the face. This look is particularly pretty on long hair, but can be worn on medium-length locks as well. To create a variation, try wearing your hair braided, or apply a color-protecting gel and pull it up into a twisted updo for a dressy finish. Spritz on a color-safe hairspray to hold the updo in place.
18. Darker brown and black hair paired with vibrant violet overlays creates a trendy look.
If you have brown or black color-treated hair and a medium skin tone, violet-hued highlights will give you a funkier style. Thicker, straight hair is especially lovely with grape shades. Be sure to request a conditioning hair color with reflective dyes. To vary the style, a twisted half-up, half-down look is a perfect way to show off these lively color combinations. Apply a moisturizing gel before pulling the hair up, and hold the style in place with a color-protecting hairspray.
19. Dip-dyed hair color styles typically involve two colors, but can be multi-colored as well.
Dip-dyed hair continues to be a trend in Hollywood and elsewhere. This technique creates a style that literally looks as though the ends of the hair have been "dipped" in hair color. The "dipped" portion of color can be any length, from just the tips of the hair to halfway up the head. This creates a distinct style for color-treated hair, and can be worn on any length, though longer hair shows off the color fade more dramatically. Any color combination can be used on your color-treated hair, but the darker color is generally on the top of the head, with the lighter color(s) worn below. This two- or multi-tone style for color-treated hair can be worn long and sleek, wavy, with curls or pulled up into updos.
20. For subtle dip-dyed looks, use similar hues on your color-treated hair.
To create softer styles, pair complementary tones, such as medium or light brown with light auburn or golden blonde. To enhance the softness and change the look, sweep the hair up into an updo, leaving loose tendrils around the face. Add light hold with a color-protecting finishing spray.
21. For fierce dip-dyed hair styles, use a natural color with a vividly contrasting hue.
Partner black or dark brown color-treated hair with cherry red, blue, violet or magenta for a striking look. To add to the drama, try backcombing the hair at the crown a bit, and finish with a heavier-hold color-safe hairspray. Or, for another trendy look, create a textured herringbone braid on one side.
22. For the boldest of color-treated hair styles, pair two vivid, unnatural hair colors together.
If your goal is a real head-turning style for your color-treated hair, try using two bright colors together, such as dark blue on top with light blue on the bottom, or purple on top with pink on the bottom. Be sure to ask your stylist to use a no-ammonia, conditioning formula on your color-treated hair. To change the style, try gathering up the hair into a messy knot, and spray it with color-protecting hairspray to hold it in place. Or, apply a smoothing serum for shine and pull the hair back into a tight ponytail for high-impact style.
Once Your Style is in Place, Take Good Care of Your Color-Treated Hair
To get long-lasting results and keep your color-treated hair healthy, be sure to use products that will enhance and protect your tresses. Here are a few rules of thumb on product usage:
23. Shampoo less frequently, and use color-protecting shampoos and conditioners only.
Try not to shampoo more than twice a week, three times tops, and use color-protecting conditioner every time you shampoo. A color-safe dry shampoo will keep color-treated hair looking fresh on the off days.
24. Use deep-conditioning treatments, leave-in conditioners and hot oil treatments to smooth and moisturize your color-treated hair.
Deep-conditioning treatments add shine and luster to your color treated hair, and can be used once a week. Leave-in conditioning treatments can help detangle your hair and protect it from heat tools, the elements and other damaging forces. Hot oil treatments add moisture and sheen to color-treated hair and are simple to do at home.
25. Stick with color-safe styling products on color-treated hair
When styling color-treated hair, be sure to use gels, mousses and sprays formulated to protect and amplify colored hair.