8 Ways to Hydrate Hair In Summer Heat
Jackie Summers | June 06, 2017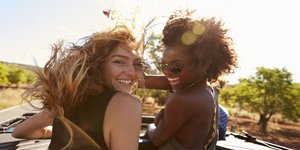 It is so important to keep your hair hydrated through the hot months, to prevent the four deadly sins of summer hair: dry hair, brittle hair, dull hair and frizzy hair! The Matrix Artistic Directors share their hair care tips on how to hydrate hair and beat the heat all summer long.
1. Switch up your shampoo and conditioner.
Just as you switch out the clothes in your closet with a new season, it's also a good time to reassess your shampoo and conditioner. If your summer activities are causing your hair to be thirstier than normal, check to see if your regular hair cleansing and conditioning duo is available in a richer formula for dry hair. Also, because you're more active during the summer, you may be tempted to step up the frequency of your shampooing, which could lead to extra dryness. One solution is to cleanse your scalp with a cleansing conditioner between shampoos. These low-detergent hair products gently remove dirt and debris without stripping the natural oils your hair needs to stay hydrated. Finally, if you have fine hair and you avoid conditioning because it weighs your hair down, try one of the new glycerin conditioners for fine hair. You get all of the benefits of conditioner—softness, shine, manageability—without the heaviness.
2. Deep condition hair at home or get hair conditioning treatments in the salon.
Conditioners are no longer "one size fits all." Nowadays, your stylist can recommend a formula that's ideal for your hair type—whether it's fine, damaged, coarse, prone to frizz, etc. What's more, not only are there regular conditioners for all hair types, there are also hard-working, deep-penetrating conditioning formulas you can use at home that will supercharge the moisture level of your hair.
We recommend using a hair mask once a week to hydrate and nourish hair, especially if you've experienced hair damage in the past. The new Total Results Miracle Creator Hair Mask repairs damaged hair in 60 seconds! Learn more about the revolutionary formula and why users love this hair mask!
As if that wasn't enough, advanced in-salon hair treatments will transform your dry hair—sometimes in less than 20 minutes—and the benefits will last for months.
3. Refresh hair with hair mist throughout the day.
Skin care devotees know enough to spritz their faces with moisturizing sprays throughout hot days to avoid dryness and irritation. Did you know you can also refresh dry hair? New micro-mist hydrating hair mist formulas instantly perk up parched strands without soaking them or weighing them down. Look for hair mist formulas containing powerful hydrating ingredients like aloe, which is one of the desert's hardiest plants. "Moisture mists for hair are my clients' go-tos all summer," declares Matrix Artistic Director Robert Santana. "They throw them into their beach bags to treat hair while they're swimming and sunning; they use them any time to refresh curls; they transfer them to TSA-approved size containers to reinvigorate hair that's been dried out during air travel."
4. Prep hair properly before blow drying.
Blow dryers are among the greatest gifts to humankind—they smooth and shape hair instantly, leaving it looking polished and shiny. Blow dryers can do the job, and do it beautifully, but they're even more effective when you prep your hair with the right styling products before you blow dry! A moisturizing hair volumizer if your hair is fine; a healing hair lotion if it's damaged; a rich blow-dry cream if it's thick or coarse—all of these formulas will prevent your blow dryer from stealing your hair's precious moisture. Another must? A heat protection product that will shield your hair against drying heat damage. Remember, cocktails aren't just for pool parties—you can also "cocktail" several hair styling products together before blow-drying to create the perfect hair recipe for your hair type.
5. Embrace heatless hairstyles.
Of course, it's also a nice idea to skip heat styling altogether in the summer, and go the heatless hairstyle route. It's a cooler way to start the day, it allows your hair to retain its natural moisture and it's good for the environment to stow your blow dryers and hair irons from time to time. Hairstyles like braids, messy buns, hair twists and loose waves are totally on-trend, and easy to achieve without hot tools. New formulations of "no blow dry" creams can help. These products provide the soft hold and frizz control that support your heatless hairstyles and allow you to keep your blow dryer in the drawer.
6. Treat hair at night.
Nighttime is repair time. While you're sleeping, your skin, hair and body work to right the wrongs of the day. So why not treat dry summer hair before turning in? "I tell my clients to apply a natural hair oil mist to the midlengths and ends of their hair on the nights before they shampoo," says Matrix Celebrity Stylist George Papanikolas. "It's a very effective and hydrating overnight hair treatment!"
7. Dial down hair color.
Summer may not be the best time to try new hair color shades that require massive amounts of bleaching and can further dry strands. Instead, think about low-ammonia, color-enhanced hair glossing treatments that add moisture as they deposit color. If your hair is already heavily colored, be sure you're using shampoos and conditioners designed to treat color with care. And cover up! Spending lots of time in the sun can bake your hair color, so keep strands under wraps with scarves and hats, especially during peak, midday sun hours.
8. Use hair protection in the pool.
Lucky you if you're actually going to find time for a vacation this summer, especially if it involves a pool, lake or ocean. Be sure your hair doesn't pay the price for your R&R, however. Chlorine and saltwater are well-known culprits—guilty of causing extra dry hair in the summer. "I always tell my clients to coat their hair with a leave-in conditioner, or even a rich hair mask, before going into the water," says Papanikolas. "Doing so provides extra protection for hair while swimming. Comb these formulas through your hair with a wide-tooth comb for even distribution. The bonus is the sun acts like a big hair dryer, helping the hair moisturizer to penetrate into the hair while you're outdoors. When you head home and shampoo your hair, you won't believe how amazingly soft and shiny it will be!"