Makeup Tips If You Wear Vivid Hair Color
Jackie Summers | February 14, 2018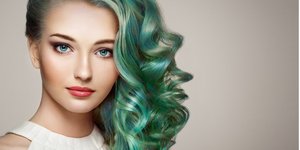 Makeup tips for colored hair are always helpful if you decide to add a few highlights or gently lighten your brunette shade. And if you embrace bold unicorn hair color; vivid hair color or pastel hair color? Your makeup becomes even more important! Here, makeup artist Deney Adams, share essential makeup tips for today's top hair color trends.
OVERALL
Let your hair color be the hero.
Don't try to "fight" your unicorn hair color with even more color on your face. "Let the color of your hair be the hero," advises Nick Stenson, "and let your makeup be secondary. Don't play with a lot of color on your face. Instead, play around with texture on your skin, like mattes and shimmers."
Complete the look.
Even though your makeup should be subtle, it's important to wear enough makeup with your vivid hair color to avoid looking washed out. "If you have statement hair," says Nick, "your wardrobe and makeup should support that statement. You can't get away with boyfriend jeans and no makeup. Your hair will no longer look cool. You need the 'supporting cast' to help your hair color look polished and put-together." Adds Deney, "You don't have to wear a lot of makeup, but everyone should wear a little."
Monotone is not monotonous.
A monotone palette (cheeks, lips, and eyes) is an elegant way to go when you have vivid hair color. "This is really a big trend right now," notes Deney. The tonal family you choose should match the tones of your hair color. So if you're all about hair color in shades of blue and purple, your makeup should represent those cool shades with soft pastel pink and blue eyeshadows, cheek color and lip tint.
Follow the "pick one" rule.
One of the key rules of makeup is to pick one feature to play up and then downplay the rest. Going for a strong eye? Then your cheeks and lips should be soft and subtle in color and design.
Blend like crazy.
Another "must" when it comes to makeup is to make sure everything you apply is super well-blended. There should never be a visible line anywhere on your face. "Arm yourself with makeup brushes, pads, sponges—whatever you prefer," says Nick. "Today there are so many tools that blend makeup so it looks flawless. Be sure to have some of them on hand."
SKIN
Go for flawless.
Skin is the most important element of the whole makeup picture when you have "look at me" hair color, says Deney. "It should be as smooth and flawless as possible," he says. So find a foundation that matches your skin perfectly, in a formula that's right for your skin type—whether it's oily or dry. And don't hesitate to use a concealer to mask blemishes, undereye circles or redness.
Avoid the "mask" effect.
Less is more these days, believes Deney, so while your skin should look dewy and even, your makeup shouldn't be heavy or thick-looking. "Let your skin show through," he advises. "You don't have to cover up everything. We're definitely seeing a makeup trend that is moving away from thick, artificial-looking skin."
Contour is still cool.
Contouring may not be as pronounced as it has been in recent years, but contouring and highlighting your features is a great makeup strategy if you have vivid hair color. "It makes a face look put together without using a lot of color," explains Nick. To contour, apply highlighter to the high points of your face, and a deeper color powder or foundation to the areas you wish to recede—such as the hollows under your cheekbones, the sides of your nose and your jawline. Keep everything subtle, and contour with a light hand, especially for daytime makeup.
EYES
Pay attention to your brows.
Well-groomed brows are essential for a polished makeup look, especially since it's best to avoid strong eye shadows when you have brightly colored hair. Everyone has different preferences for their brow effects, from thick to thin. Regardless of your choice, go for a nice arch that isn't drawn on with a solid line. "Try using a liquid liner to create the look of individual brow hairs when you're defining your brows," suggests Nick. "You'll get the fullness and strong shape of microblading without the commitment."
Have fun with eyeliner.
Since it's important to minimize colored makeup when you have highly colored hair, eyeliner is a great tool to use to define and enhance your eyes. Line eyes subtly in black or brown for day. For an evening look, try creating a cat eye with your liner.
Bat your lashes.
Another color-free way to define your eyes is with lashes. Black mascara is the go-to. False eyelashes are on-trend. "Throw some lashes on!" says Deney. It's a quick and easy way to wake up your entire face.
Tone on tone.
Avoid strong eye color, and use a tone-on-tone approach with the eye colors you choose. "If you're a unicorn hair color fan, sporting an array of rainbow hair colors, stick with natural tones on your eyes, like light golds and warm browns," suggests Deney. "If your vivid hair color is cool, I like pale, pale blue eyeshadow. If it's warm, say in the red/orange family, pale orange and rust makeup is a big trend this year."
LIPS
Stay nude with bright hair color.
The more vivid your hair color, the subtler your lip color should be. Stick with nudes, pale pinks or peaches or beige tones. Anything goes in terms of texture—matte, gloss, etc.—but keep color muted. The exception, notes Nick, is if you're sporting a pale hair color hue, like pink hair color or platinum blonde hair color. Then you can wear a statement lip infused with more color, like ruby red or burgundy."
CHEEKS
Pop of color.
With contouring and highlighting, a pop of cheek color is essential. "Rosy cheeks are very popular now, with every hair color," says Nick. "People are coloring their cheeks with crème blush, or even using their crème lipstick on their cheeks." Consider using a single crème shade on eyes, cheeks, and lips to achieve a truly monochromatic effect.