How to Choose the Best Gray Hair Coverage for Every Hair Color
Jackie Summers | November 28, 2018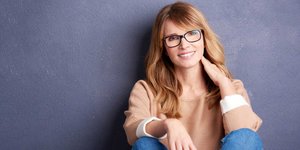 Deciding whether to cover your gray hair is a very personal decision. Some women love their gray hair and wear it proudly. Others prefer to cover their stubborn gray hair with hair color. Either way is A-OK, and nowadays there are many options for gray hair coverage, as well as for enhancing natural gray hair color. Here are tips from the pros at Matrix on the best gray hair coverage for everyone.
Best Gray Coverage If You Have Blonde Hair
Blondes can get away with less gray coverage than other people, because the silver strands often blend with the blonde hair and take on the appearance of highlights. This is especially true if your blonde hair is on the cool or ashy side.
Eventually, though, your hair color may begin to appear flat and too-ashy as the gray takes over the blonde. What's more, many hair stylists recommend shifting to warmer tones over time, which can be more flattering to a mature complexion. At this stage, your hairstylist may recommend adding some neutral or warm highlights and lowlights to your hair color, which will restore your shade to a natural blonde appearance.
The highlights will last several months, but you will probably have to visit the salon every four-to-six weeks to touch up the new growth at your roots and to refresh your lowlights.
Best Gray Coverage If You Have Red Hair
Red is arguably the trickiest hair color to produce on gray hair, because if the coverage isn't complete, or the wrong shade is used, you could wind up with an odd shade of pink. So leave things in the hands of a professional, recommends Donna Mann, Matrix Director of Educational Development.
For starters, it's essential to choose the right shade of red—cool or warm, says Donna, and a hairstylist will be able to analyze your skin and eye color to choose the best hue for you. "The grayer you are, the more prone you are to mishap," Donna adds. "Hair that's 75 to 100 percent gray, for example, requires warmth to anchor the formula. And if your hair is 50% gray or less, you really need two formulas—one for the white hair and one for your original color."
Additionally, hairstylists have products at their disposal that are formulated expressly to provide gray hair with the saturation, depth and warmth it requires to achieve a realistic tone. (That's true for every shade of hair.) "Matrix SOCOLOR Extra Coverage Permanent Haircolor or SOCOLOR Dream.Age offer copper and red series that are perfect for creating red shades on gray hair," says Donna.
Best Gray Coverage If You Have Dark Hair
Darker hair presents the highest amount of contrast with gray hair, especially if you're only partially gray. To cover your gray if you have brunette hair, you must first decide what type of coverage you prefer. If you like a fairly solid, "every-hair-covered" type of result, your stylist will choose an opaque formula like Matrix SOCOLOR Extra Coverage Permanent Hair Color. This award-winning hair color will cover your hair evenly and thoroughly, while softening the wiry texture that happens when hair loses its pigment.
If you prefer a more reflective type of coverage, your stylist may go with Matrix SOCOLOR Dream.Age. It will give your hair visible highs and lows, which your stylist can enhance even more by adding highlights to your overall hair color design.
Another factor to consider is your final shade. Even if your gorgeous, glossy, deep brunette hair color turned heads 20 years ago, it may not be the most flattering hair color for you today. Skin tones change with time, becoming sallow and losing vibrancy. To brighten up a complexion, it is often best to choose a hair color that is a few shades lighter than your natural hue. And, depending on your skin tone, you may wish to add some golden warmth or neutral mocha tones to the overall color, to prevent a too-ashy effect.
Finally, there's another "win" when it comes to covering gray hair. Two of the most common complaints about gray hair is that it's unmanageable and lacks shine. But hair color can improve both situations. "The right color makes gray hair softer, lustrous and more manageable," says Donna. For example, both SOCOLOR Extra Coverage and Dream.Age contain conditioners that transform the look and feel of the hair while covering gray."
Best Ways to Keep Your Colored Gray Hair Looking Great
1. Commit to regular touch-ups. New growth should be colored every four-to-six weeks to avoid the dreaded, white "skunk line" of demarcation.
3. Ask your stylist about a cuticle-sealing treatment. Hair color services open the outer layer or cuticle of the hair to allow the dye molecules to penetrate each strand. A natural origin acidic milk rinse, applied immediately after the service, seals the cuticle and prevents the dye molecules from escaping, so hair color lasts longer and stays vibrant.
4. Concentrate on conditioning. Regular deep conditioning is a must to keep colored gray hair soft and supple. One effective new conditioning trend is a butter-infused overnight mask—you work it into your hair before bed and when you wake up, your hair is silky and flexible. And there are no stains on the pillow—promise!
5. Style with heat protection. The heat from a blow dryer or styling iron can cause hair color to fade, so dial down the temperature, use a heat-protection product when you style, and if you can, air-dry your hair as often as possible.