10 Ways To Get Rid Of Frizzy Hair This Summer
Jackie Summers | June 15, 2017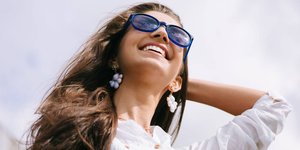 It's hot. It's humid. And then it happens. Summer is the season of frizzy hair, and few escape the situation. But you don't have to take it—there are strategies for fighting frizz. Matrix reveals the 10 ways to get rid of frizzy hair in this hot weather.
First Step: What Causes Frizzy Hair?
To conquer frizzy hair, it helps to understand what causes frizzy hair. Hair is composed of several layers, and the outermost layer—the cuticle layer—is constructed like the scales of a fish. When these scales lie flat, it's difficult for anything to pass through to the inner layers. But when these cuticles are raised, it allows the moisture from the humid environment to pass through and swell hair strands. Those puffed up strands take the form of dry, frizzy hair.
Thick, coarse and curly hair types are the most susceptible to frizz because these hair types are typically dryer, and dry hair is like a magnet for environmental moisture. What's more, the coily structure of curly hair forces the cuticle layer open, much more so than straight hair's structure. So if you're coarse and/or curly, hair frizz probably comes for you faster than for your fine-haired friends. Here's how to fight back!
1. Smart Sudsing with Shampoo for Frizzy Hair.
Dry hair is most prone to frizz, so start your frizz-fighting strategy in the shower—with deeply moisturizing shampoos and conditioners that prevent hair strands from getting too thirsty. Look for shampoo that is made from natural hydrating hair ingredients like coconut oil, shea butter, honey and yucca (which thrives in the desert because of its ability to retain moisture.)
2. Switch to Cleansing Conditioners.
One of the best frizz-fighters is the hair's natural oils, says Matrix Artistic Director Robert Santana, which is why he switches many of his clients from conventional shampoo to a cleansing conditioner during the summer. These formulas are gentle—they won't strip the hair's natural oils as they cleanse. They can replace shampoo entirely or be used as an alternate hair cleanser between regular shampoos. Robert recommends using a cleansing conditioner formula for damaged hair to really help keep frizz in check.
3. Assemble Your Anti-Frizz Hair Care Routine.
"I always send my clients home with a powerful anti-frizz system," says Robert. "For coarse hair, I recommend smoothing hair creams that contain shea butter. You can apply them to damp hair before blow-drying to achieve a sleek, long-lasting blowout. You can also scrunch them into damp curls for curl definition without crunch. I also recommend hair serums, which really help lock out moisture.
Here's a tip: most women apply hair serums top to bottom and then they can't understand why their hair looks like it has an oil coating on top. Instead, start with a few drops, emulsify the liquid in your hands and then begin applying from the bottom interior of your hair upward. Work up to the top to distribute the hair product evenly."
4. Fight Overnight with a Hair Treatment.
Night time is the right time to infuse your hair with extra moisture. Matrix Celebrity Stylist George Papanikolas advises his frizz-prone clients to hydrate hair while they sleep. "I tell them to work a styling cream or hair treatment oil through their hair before bed, then wind it into a bun. In the morning, they can shampoo and their hair will be much softer. Or, if they've applied a styling cream, they can simply release the bun and they'll have glossy, loose waves for the day."
5. Deep Condition Hair Once a Week.
Frizzy hair is like a wanderer stumbling out of the desert—it can't get enough to drink. So weekly deep conditioning hair treatments are a must, to provide the extra moisture thirsty strands crave. Try multi-tasking—work a rich conditioner into your hair, cover it with a plastic cap and head outside to soak up the sun. Deep conditioning + Vitamin D. Very healthy! (But be sure to wear sunscreen!)
6. Consider a Smoothing Hair Service.
There are more and more low-impact, permanent smoothing hair services available in salons that will control frizzy hair without sacrificing your hair's body. "Many of my frizz-prone clients start the summer with my hair conditioning cream smoothing service," says Robert. "Instead of processing the straightener for the full 50 minutes, I leave it on for 10 to 20 minutes, and I skip the flat iron step. This leaves plenty of curl and body while banishing all of the hair frizz. It lasts three or four months, and the regrowth is barely noticeable."
7. Spring for a Pro Blowout.
If you're getting ready for a special occasion, why not treat yourself to a professional blowout? Faced with your stylist's professional-grade blow dryer, products and skills, frizzy hair won't stand a chance. The dryer's heat will lock down those cuticles so tightly, there's no way the humidity from a sticky summer night air will be able to penetrate, and your hair strands will stay smooth until your next shampoo.
8. Opt for Ionic Blow Dryers.
When it comes to your DIY blowouts, it helps to have the right hair dryer. Ionic hair-dryers emit negative ions that help the cuticle lie flat, creating a glossy hair finish. As a plus, they also cause the water in wet hair to break down faster, which speeds up your blow dry considerably.
9. Do the Twist with Hair Buns and Braids.
Sometimes it doesn't pay to fight, and on those days, a messy bun or braid can be your best friend. Bundling your hair strands into a messy bun or plait smooths flyaway hairs, and if a few strands pop out, it's ok—that's why they call it a messy bun! If you have little fuzzies around your hairline that are detracting from the look, here's a pro trick: lightly mist hair shine spray or a lightweight hair oil onto a clean toothbrush. Then gently skim the treated hairbrush over the frizz.
10. Marry Well with the Perfect Wedding Hairstyle.
Summer is bridal season, and the last thing you want is to be a frizzy haired bride! "Here's a strategy that serves me well," says Santana. "I have my brides come in the day before the wedding for a shampoo and blow-out. This gives the hair 24 hours to 'calm down' before the wedding. The next day they return, and I complete the hairstyle, whether it's an upstyle or loose, romantic waves. If the weather is really fierce, I'll wrap their hair and secure it with a silk scarf on blow-dry day for extra protection."