Purple Shampoo 101: What is It & Why It is a Must for Blonde Hair
Jackie Summers | June 06, 2019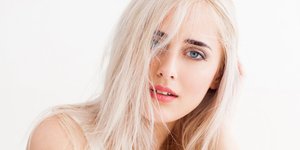 If you have blonde, silver or white hair that tends to get yellow, purple shampoo can be your new BFF. The shampoos traditionally have a blue or violet color, which neutralizes the yellow tones making the hair look clean and bright. Let's take a look at what purple shampoo is, who should be using it, how often it should be used and the 4 main causes of yellowing hair so you can do what you can to make the changes to fix it, long term.
What is Purple Shampoo?
Purple shampoo is purple colored shampoo that distributes purple pigment to neutralize brassy, yellow tones. Purple is used because, if you take a look at the color wheel, it is the direct opposite color of yellow. This means purple and yellow cancels one another out. So when using purple pigment on brassy, yellow tones it color corrects your hair's hue restoring it to its former bright, cooler color.
Who should use purple shampoo?
Purple shampoo is for those with light hair, salon achieved or natural, such as blonde, platinum, silver / gray, white, or pastel. Because it is made for light colored hair, if you're brunette you wont see any results. But, if you're brunette with blonde highlights it will maintain your highlights color. And if you have bleached hair, purple shampoo is a must have.
How often should you use purple shampoo?
If you can't seem to keep your hair bright, purple shampoo offers a good solution to keep unwanted warmth under wraps.
Alternate using it with color safe shampoos—or mix them together for less violet deposit. Start by using once a week and build up if needed.
If you start to notice a purple tone in your hair, put the purple shampoo down! Opt for a clarifying shampoo to remove the tone and keep your purple shampoo routine to once a week or less.
Say goodbye to the blonde's hair blues (or in this case yellows) and say hello bright bombshell hair!

What is the best purple shampoo to use?
Matrix pros love Total Results So Silver Purple Shampoo to reverse blonde woes. It not only works to neutralize yellow tones, it also keeps hair conditioned and vibrant, protects against fading, and moisturizes hair strands.
4 Reasons Your Hair Could Be Turning Yellow
Natural Underlying Pigment
If you have blonde hair: You're familiar with the term gloss or glaze (aka the step 2 or your coloring service), When hair is lightened, an underlining pigment of pale yellow exposed in the hair that's often "controlled" with a gloss or in-salon treatment. If you're stretching your time in between visits you may find that your hair starts to turn a yellow tone. This is likely because you're overdue for a color treatment. What you can do in the meantime, aside from incorporating purple shampoo into your cleansing routine, be sure to use a shampoo for color treated hair to help maintain your gloss between services.
If you have white hair: Sometimes when hair loses melanin (i.e pigment) and turns white or gray, there's still a residual tone of yellow left in the hair. This can leave hair looking dull and drab. Purple shampoo can help over time but for a lasting impact, request silver highlights or gloss in the salon.
The Environment Can Cause Damage to Hair Color
Pollution, smoke, chlorine from swimming can all contribute to yellow tones in the hair. Wear hats to prevent sun damage and protect your hair from environmental pollution. If you are a swimmer, opt for a swim cap. Be mindful that even your shower H2o can create mineral deposits of high iron. Install a water-filtering shower head to ban chemicals out of your water.
Hair Color Damage Caused by Styling Products and Tools
Shampoos, conditioners, hair sprays, waxes, aerosols, etc. can leave a yellowish deposit on the hair. This does not only happen on light hair, but it's harder to detect in dark hair. Even applying too much heat from a hot tool can create a yellowish tone. Always use a heat protectant spray when styling and invest in good hot tools that won't damage your hair during use. To balance this type of yellow pigment, first use a clarifying shampoo to remove yellow tone and then graduate to purple shampoo.
Health & Diet
Oils from the scalp, medication, diet and health conditions can contribute to yellow tinge in white or blonde hair. If you have any concern about your health or diet and how it can be affecting your hair, be sure to reach out to a doctor.