Here Are The Best Leave-In Conditioners And Treatments For Your Hair
Jackie Summers | October 09, 2018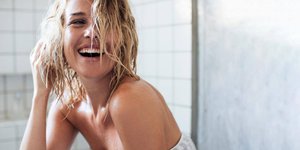 You cleansed with your favorite shampoo, applied your favorite conditioner, rinsed and towel-dried. Do you really need a leave-in conditioner also? Yes, says Matrix Artistic Director Michelle O'Connor. Leave-ins are like guardian angels for any type of dry or damaged hair, because once your hair dries, they keep watch over your strands-healing and moisturizing until your next shampoo.Nowadays there are many highly effective leave-in conditioning and treatment formulas, designed for a myriad of hair types, textures and needs. For best results, apply leave-ins to towel-dried hair and distribute with a wide-tooth comb. Here are the best leave-in conditioners for every hair type.
Best for: Cool blondes and brunettes who need smoothing and strength.
What it does: Prevents breakage, leaves hair feeling smooth and soft and neutralizes cool blonde and brunette tones to prevent unwanted warmth and brassiness. Your blonde highlights will sparkle!
Best for: Color treated hair that needs tender treatment.
What it does: This soothing spray revives color-treated hair 12 ways. Among its benefits are protecting hair color from fading and damage, detangling, adding silkiness and shine and providing moisture..
Best for: Hair that needs a moisture boost.
What it does: This fast-acting treatment instantly revitalizes hair fibers for long-lasting moisture and nourishment. The lightweight formula has a hair-compatible, low pH that smooths the cuticle, leaving hair soft, and shiny.
Best for: Any hair that needs long-lasting care.
What it does: A better question is what doesn't this treatment do? Among its 20 beautifying benefits—it nourishes, boosts shine, smooths the hair cuticle, prevents breakage and heat damage, detangles, moisturizes and so much more!
Best for: Brittle hair that's prone to breaking
What it does: This leave-in lotion actually goes to work on the hair fiber to repair and strengthen strands and prevent breakage. Your hair will be recharged.