Everything You Need To Know About Bleached Hair
Jackie Summers | May 30, 2019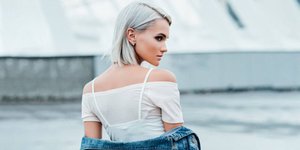 Whether you love to highlight your like baby pink or mint green, it's likely that hair lightener will be part of your hair color plan. Bleaching your hair is a must to achieve many hair color results. If you currently bleach your hair, toying with the idea, the pros at Matrix are ready with the answers to all your hair bleach questions.
What Is Hair Bleach And How Does It Work?
A hair lightener is generally comprised of a combination of ammonia and hydrogen peroxide. Working together, these elements first open up the cuticle surface of the hair strand, then penetrate the inner strand. Once there, they break up the natural hair color, giving the hair a lighter appearance.
Why Do You Need Bleach?
Hair lighteners are the most effective way to lift your natural hair colors for a highlighted appearance. In order to see the new hair color, you must also pre-lighten your hair in order to create a light "canvas" before toning it with a pastel or bright fashion color, unless your hair is already naturally quite light.
What's The Safest Way To Bleach Your Hair?
The number one safety rule is to leave hair lightening to the pros. An experienced hair stylist will understand exactly how to mix and apply the lightener, and how much your hair will or will not be able to take. For example, when touching up bleached hair, it's important not to apply fresh bleach over the previously-bleached hair. Doing so puts too much stress on pre lightened hair.
Hairstylists understand that while bleach is breaking down the pigment in your hair, it's also breaking down the structural bonds that give hair its strength and elasticity, or ability to hold its shape. Therefore, a pro will be able to assess the condition of your hair and will refrain from doing anything that will push it too far. Also, many hair pros use special bond-protection additives in their bleach formulas. These bonders do two things. First, they protect the existing bonds from severe damage. And second, they repair and restore the bonds that have already been damaged.
Who Should Avoid Bleaching Their Hair?
Anyone with extremely fragile or damaged hair should proceed with caution. It's also not advisable to bleach hair that has been recently relaxed or permed. And keep in mind that it often requires several sessions of lightening to achieve a desired effect, particularly if your hair is darker. In those cases, it's important to space out those sessions by every six weeks or so, over the course of several months, to allow your hair to recover between lightening applications.
What's The Best Way To Take Care Of Your Bleached Hair?
No matter what the end result, lightened hair requires loads of TLC, from the moment you leave the salon until your next appointment. Here are some bleached hair care rules to live by:
1. Keep building bonds at home. New shampoo and conditioning systems are designed to continue the work of the bond protection additives used in your lightening service to ensure your hair stays strong and healthy.
2. Blot don't rub after shampooing. Vigorous toweling can cause your hair to tangle, making detangling a damaging chore. So rather than rubbing, it's better to gently blot with a towel, microfiber towel or even a soft cotton t-shirt.
3. Always use a leave-in conditioner that will allow you to detangle your hair without pulling or snagging. And never brush your wet hair—use a wide tooth plastic comb or hair pik to detangle wet strands instead.
4. If your hair does incur some breakage as a result of bleaching, ask your stylist to recommend a fiber-strengthening regimen that will restore depleted levels of protein and moisturize hair.
5. Dry hair will become brittle and susceptible to breakage. If your hair feels dryer than usual after bleaching, add a moisturizing hair mask to your hair care regimen once or twice a week. And look for shampoos and conditioners containing lightweight natural oils that will re-hydrate your hair and leave it feeling soft.
6. Use thermal tools sparingly. Hitting your bleached hair with heat from a hair dryer, hair straightener and styling irons will put undue strain on strands that are already compromised. Air dry hair as often as possible and explore heat-free hairstyles and no-blow-dry-required styling products which will give you the shape and hold you need without the need to use hot tools. When you do blow dry or heat style your hair, opt for the lowest possible heat settings. Most styles can be achieved at temperature settings under 300 or 350 degrees.
7. Stay away from metal hair brushes. Metal bristles will pull and tear at tender, bleached strands, causing unwanted breakage and damage. A boar bristle brush is best for bleached hair—they glide through strands gently without causing breakage.
Finally, remember that one bleach, or bleaching service, does not fit all. Your stylist should create a personalized bleaching program--tailored for your hair type, condition and desired outcome—that will keep your lightened locks strong, healthy and resilient.