How to Care for and Tame Your Frizzy Hair, From Start to Finish!
Jackie Summers | March 02, 2021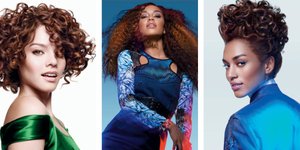 Let's face it, having the frizzies is not a lot of fun. With today's sleek styles, nothing puts a crimp in your look faster than frizzy hair. To best care for your frizzy hair, remember that what it really wants is moisture to soothe the dryness.
To keep your frizzy hair manageable, the key is to add moisture in the right way. If you don't, your frizzy hair will pull moisture from the air, and you most likely won't love the results. Because frizzy hair is dry, soaking up moisture from the air causes the cuticles to expand – and then, voila: frizz. Don't fret: the pros at Matrix offer these great tips on how to care for your frizzy hair and give it the moisture it craves.
How Did Your Hair Get Frizzy?
The first step in controlling frizzy hair is to understand what causes it. There are a number of factors that can cause frizz. Here are the most common culprits:
Dealing With The Elements: Climate Affects Frizzy Hair
Too much sun exposure can dry out your hair and cause frizz, as can an excessively dry or humid climate. Hair is sensitive to moisture levels in the air, so during times of humidity, hair is less flexible and more prone to frizzing. Less moisture and dry air makes frizzy hair prone to static and flyaways. This can be caused by weather or by heaters and air conditioners indoors. Combat these conditions by using a moisturizing shampoo and conditioner, followed by protective styling products.
Using the Wrong Products Can Make Your Hair Frizzy
Using drug store hair products can result in damaged hair and can create frizz. That's because many lesser-quality products contain alcohol, which is very drying and will make frizzy hair even frizzier. You may have to switch to salon-quality shampoos, conditioners and hairsprays, because they don't contain as many harsh ingredients.
Ethnicity: Some of Us are Born With Curly, Frizzy Hair
African-American hair has a tendency to be drier than Asian or Caucasian hair. Because it's generally curlier, the hair cuticles lie open and release moisture, which causes frizz. Even though African-American hair produces enough scalp oils, it tends to be dry because the tight curl and thick texture of the hair hinders the oils from reaching the ends. To combat this, use a shampoo and conditioner with humectants, and apply a leave-in conditioner. Finish by applying an anti-frizz serum or hair oil to your frizzy hair.
What You Eat and Drink Affects Frizzy Hair
A proper diet full of lean meats, vegetables, fruit and good sources of calcium, and getting the necessary vitamins, minerals and nutrients into your system are crucial to keeping your hair moisturized from the inside out. Vitamins that help prevent frizzy hair include complex B Vitamins and Vitamins E, A and C. If you don't get these in abundance from your diet, supplements can help. Drinking plenty of water (at least half your weight in ounces per day) is also essential to moisturizing your frizzy hair from the inside out.
Processing Can Make Frizzy Hair Even Frizzier
If you color and/or bleach your frizzy hair, or if you chemically straighten it, you may be adding to the problem. If possible, take a break from chemically processing your frizzy hair, or discuss it with your hairdresser beforehand.
Tight Hairstyles Can Create Frizzy Hair
Pulling your hair back into a tight knot or ponytail can cause the shafts to break, adding to the frizz and flyaways. Avoid wearing ponytails every day if possible, and when you do, use a covered band to protect frizzy or damaged hair.
How To Stop the Frizzy Hair Blues: Use the Best Hair Care Products
To keep frizzy hair adequately moisturized, there are a few products that are musts.
* Use A Moisture And/Or Anti-Frizz Shampoo: Look for a non-sulfate shampoo or a shampoo that contains a natural oil such as camellia that won't further dry out hair and will help tame frizz. These shampoos are particularly important if your frizzy hair is color treated. For fine frizzy hair, a root-boosting shampoo that restores moisture and adds volume will nourish frizzy locks without weighing them down. You'll also want to get a good dry shampoo for use between washings. It's best to shampoo only two to three times per week; the natural oils that build up are good at helping keep frizz at bay.
* Use a Clarifying Shampoo to Rid Frizzy Hair of Buildup
Silicone is found in many anti-frizz products because it really works to help tame frizzy hair. However, it can also build up on the hair, making it look greasy and dull. Use a clarifying shampoo once or twice a month to get rid of excesses.
*Use a Hydrating Conditioner
For frizzy hair, you'll want to look for a conditioner that is suited to your specific hair type. If you have fine or thin frizzy hair, use a moisturizing conditioner that you leave in for at least five minutes and then rinse out. Do this every time you wash your hair. If you have coarse, frizzy hair, look for a smoothing conditioner that will weigh your frizzy hair down a bit. If your frizzy hair is more wavy or curly, a dose of hydrating conditioner will tame frizz by coating the hair shaft, making it harder for external moisture to sink in.
* Deep Condition Frizzy Hair With A Mask Once A Week
This step is crucial to caring for frizzy hair. Treat your frizzy locks to a deep-conditioning hair mask at least once a week. A hair mask is a deep-penetrating, conditioning treatment that helps restore frizzy or damaged hair. These products take conditioning a step further with ingredients such as proteins, amino acids, natural oils and lipids, all of which can help combat frizz. These are beneficial to all hair types. If you have chemically treated hair, look for an anti-frizz treatment specifically designed for hair that has been relaxed, colored or otherwise processed.
* Use Hair Oil Treatments:
These products are not as heavy as masks, so they are good for finer frizzy hair because they don't weigh hair down. Choose an oil treatment with jojoba, vitamin E, coconut, olive or argan oil to help strengthen the cuticle and further prevent frizz. Just be sure to apply it on the lower portions of your hair so the crown doesn't get too flat. Oil treatments with natural oils are better at eliminating frizz than synthetic products because they last longer. As a side note, a dab of natural treatment oil rubbed into your hands and sparingly applied to your frizzy hair once it's dry can help tame static and flyaways. This is particularly helpful on hair that is naturally curly or kinky.
The Biz on Frizz: How to Dry and Prep Hair to Stop Frizz
After you have shampooed, conditioned and treated your frizzy hair, you'll want to continue to care for it with proper drying and protective measures. Here's how:
* Begin By Applying a Styling Product
Apply a styling serum, mousse or gel. If your hair is kinky or wavy, a light serum will help tame the unruly tresses. Distribute the serum with a wide-tooth comb, then let hair air dry or gently style it with a blow-dryer. For finer or thinner frizzy hair, a smoothing mousse or gel will control the frizzies without weighing the hair down. These styling products work by coating each strand to make the cuticle stay smooth.
* Squeeze Dry, Don't Rub Dry Frizzy HairThe next step will be to dry your frizzy hair. It's less damaging to towel dry your hair, but be careful not to rub it. Rubbing hair dry with a towel can roughen up the cuticle, making it more prone to the frizzies once it dries. Instead, squeeze hair dry with the towel. A highly absorbent microfiber towel will gently press the water out of your hair.
* Prepare Hair for Heat Drying
Heat damage can cause frizzy hair to look even more frayed, so if you are going to use a blow dryer or any other hot tool, spritz on a heat-protecting hair spray before blow-drying or styling with a flatiron or curling iron.
* Buy a Quality, Ionic Blow-Dryer
Ionic dryers do make a difference on frizzy hair. They reduce frizz by compressing the cuticle, which locks out puff-inducing moisture.
* Use a Diffuser
If you must use heat on your hair, stick to a blow dryer with a diffuser. When you blow dry, blast the roots only and leave the shafts and tips of the hair to dry on their own. While you dry, twirl a round brush through your dry locks. Don't do this on wet hair, and don't do it for a long time. But, in moderation, this process can help smooth out the cuticles on the top layer of hair.
* Brushing Properly Can Tame Frizz Without Heat
Brushing your frizzy hair with a boar bristle brush can carry the sebum from the scalp and evenly distribute it to the ends of the hair. This can moisturize the entire hair shaft and reduce the oil build-up at the scalp.
Putting Final Touches on Frizzy Hair
*Curling Iron: Once you have lovingly cared for your frizzy hair with the above steps, you should be good to go. But if you want to take your look a step further, you can use a curling iron to shape and smooth your frizzy hair. Make sure you've applied a heat-protecting hair spray, then wrap a few frizzy strands around the iron.
*Finishing Spray: To lightly hold your hard-earned style, spray a small amount of alcohol-free hair spray on your hair. Volumizing hair sprayis best on fine or thin frizzy hair. If your hair is processed, be sure to select a hair spray for color- or chemically treated hair. If your hair is kinky or wavy, try spritzing a high-gloss spray into your palm, rubbing your palms together and then smoothing it over your frizzy hair where the flyaways tend to pop up.