How to Properly Curl Your Hair with a Curling Iron – Avoid these 10 Hair Mistakes!
Jackie Summers | October 29, 2018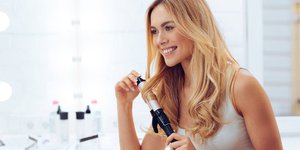 Whether you are a curling iron connoisseur or novice, there are definitely "best practices" to keep in mind when using this heat tool to ensure you are getting the most out of your hairstyle – and hair styling tool! Here are common curling iron mistakes and what you can do to correct them:
You're not prepping your hair properly
The Fix: You could cook a meal without salt and pepper but it tastes so much better when you season the food! You could curl your hair without using hair styling products, but the results will be so much better if you choose a few hair curling products that will enhance your hair type. Before you dry your hair, apply a volumizing mousse or hairspray if you want to thicken fine hair, or a hair smoothing cream if you want to fight frizz on thick hair. It also helps to choose formulas that offer a degree of hair hold.
You're skipping the all-important heat protectant
The Fix: Every thermal hair styling tool packs a lot of heat, and curling irons make direct contact with your hair. Matrix pros recommend a double dose of heat protection. Apply a heat-protection cream before drying your hair, and then mist your hair with heat protection spray when it's dry, before using a thermal curling iron.
You're grabbing too much hair at once.
The Fix: Curling too much hair at once will backfire because if the section of hair is too thick, the curling iron will not be able to heat through all of your hair, and your curl will fall flat. Pros recommend sections that are about one inch by one inch as a general guideline.
You're making your curls look too perfect.
The Fix: The curl or beach wave trend right now is to create lived-in hair shapes that don't appear too "done." The secret to this organic wavy hairstyle shape is to vary the sizes of sections that you curl, as well as the direction. So as you wave your hair, take some wide sections and some skinnier sections and alternate the direction towards and away from your face.
You're not omitting the ends.
The Fix: Another characteristic of lived-in beach waves or curls is an imperfect hair shape. Modern wavy hair isn't curled all the way to the ends—the focus of the movement is in the center of the hair strand. Of course, if you're going for a more traditional, formal curled hairstyle, by all means, curl each section all the way to the tips.
You're curling your hair before it's completely dry.
The Fix: This one is a big no-no! Curling irons are designed to create beach waves and curls in dry hair. To do so, they heat up your strands, and if your hair is wet or even just a little bit damp, it's way more susceptible to hair damage. So air-dry your hair completely before flipping the switch on your curling iron. And for more hair hold and polish, blow-dry your hair into the general shape and direction you want for your final hairstyle. This sets the stage for hairstyle perfection!
You're not letting your curls or beach waves "set."
The Fix: The secret to locking in a curly or wavy hairstyle is to first heat your hair thoroughly when it's wrapped around your curling iron. (But not too long or you'll cause heat damage!) Then allow your hair to cool completely before you touch it.
Here's a pro trick: after curling a section of hair with a curling iron, slip it out of the iron with the curl intact, and then clip the curl to your head as if it was a roller. Clip each section after you set it, and leave all of your hair clipped until it cools off. Then remove the clips and rake through your hair with your fingers or a wide-tooth comb for a firmer shape, or brush it with an oval styling brush for a fluffier shape.
You're using the wrong temperature.
The Fix: Every hair type requires a different heat setting. Fine hair should be curled with a low temperature; thick, coarse or curly hair requires more heat to get the job done. Bottom line? One temperature does not fit all, so purchase a curling iron that offers the temperature range that's right for your hair type.
You're using the wrong size curling iron.
The Fix: If you're looking for lazy beach waves and you're getting springy curls that resemble fusilli, look no further than the size of your curling iron. The fatter the barrel, the looser the wave and vice-versa. If you have a medium-length hairstyle and you're looking for those loose, 'it girl" waves, your best bet is a 1 inch or 1 ¼-inch barrel. If your hair is long, you'll achieve gentle beach waves with an iron barrel that's 1 ½-inch or 2-inches in diameter.
You don't know your angles.
The Fix: Curling hair with a curling iron is about geometry—angles matter. So if you want to create a tight, traditional, bouncy curl, hold your curling iron horizontally. If you're looking for a long, loose beachy wave, work at a vertical angle. And for hair volume at the root, work on a diagonal.