Summer Blonde Hair Color Forecast
Jackie Summers | March 02, 2021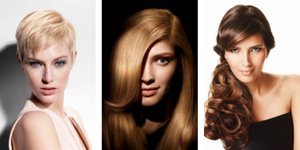 If your foil highlight hair color routine is making you feel as dull as a plain baked potato, now is the time to rev up your blonde. The fair-haired forecast for this summer, according to Matrix hair color pros, is chic, bright and sophisticated with occasional touches of creamy flair. Explore their 5 top trends, then huddle with your stylist to discuss the best way transform your blonde hair color from basic to bombshell!
Trend 1: Cross-Tone Blondes
A unique cross between violet and gold, these new blonde hues combine warmth with the violet finish of stainless steel. The resulting hair color tones are sophisticated, unique and slightly futuristic. They're also healthier and more vibrant than ever before thanks to a new Matrix hair color called COLORINSIDER. Formulated without ammonia and designed to inject color deep inside each strand for high resolution impact, COLORINSIDER is the next generation of hair color for blondes, and for every shade. Ask your Matrix stylist all about it!
Trend 2: Creamy Blondes
Rich and luscious, forget low-fat when it comes to blondes. Dazzling shades sported by celebrities like Claire Danes are laced with creamy goodness. Subtle tones of mocha, buttercream and vanilla are blended to produce the perfect balance of cool, warm and neutral and cool tones. To create these hues, Matrix hair color pros have discovered a secret weapon—a few ounces of COLORINSIDER Clear added to the hair color formula takes the edge off and produces crème de la crème perfection. The result? Out of this world color via the Milky Way!
Trend 3: Bling-Bling Blondes
Forget subtle. Inspired by the dazzling hair color sported by the likes of Gwen Stefani, Reese Witherspoon, January Jones, Cameron Diaz and Ashlee Simpson, these blondes are A-list and high voltage. Lighter, brighter and bolder, they're as icy and clear as an eight-carat diamond! Platinum, flaxen and champagne hair color tones flatter fair, ivory complexions and project the ultimate in confident femininity!
Trend 4: New Dimension
Subtle blends of dimensional blonde hair color offer easy-going alternatives to high-wattage hues. Sand, wheat or almond shades, intermixed with sections of honey and caramel also offer incandescent results. Seen on celebrities like Blake Lively and Faith Hill, these are youthful, accessible, "girl-next-door" blondes—inspired by a child's hair in sunlight.
Trend 5: Ombré v.2
If you're closer to brunette than blonde, ombré is a great way to combine the best of both worlds in a stylish way. Ombré's darker roots and randomly lightened ends evoke a casual, "I spent last month on the beach"-quality, and for several seasons, celebrities like Khloe Kardashian have embraced the sun-kissed look. This summer, ombré is going "uptown" with subtler gradations of melting color in place of high contrast, blonde tips. Think chocolaty roots and midshafts gradually progressing into sexy, tawny ends. Beach-y and cool!
Regardless of which blonde is in your summer hair color forecast, be sure to keep your hair and your hair color in optimum condition. Hello-Blondie collection features Flash Filler Sheer Mist, which fills and seals porous hair, plumping and softening strands for massive manageability. Total Results Color Care Shampoo, Conditioner and Intensive Mask preserve brilliant color, even after 45 washes. And Total Results Color Care So SilverShampoo is the blonde's best friend—it neutralizes unwanted brassiness, eliminates dull, yellow tones and illuminates highlights!
To find a salon near you that has your favorite Matrix products, as well as offers ColorInsider, check out our Salon & Product Finder!