What Are Underlights?
Jackie Summers | September 26, 2016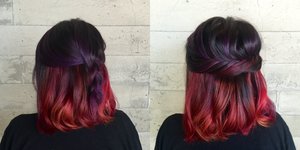 For those tempted to dabble their feet in trending fashion tones that are sweeping through our everyday world from light pastel hair colors to vivid jewel tones, the new hair color trend coined "underlights" just might be the gateway.
Operating on the premise of now you see it, now you don't, this trend is coloring the world in a new, enigmatic way. Because it's hidden in the interior of the hair and only fully seen when the hair is worn half up, the under layer of color aka "underlights" allows individuals of all ages, professions (and responsibilities) to wear vivid or pastel hair colors— and to cover them up.
Why is this hair color trend the hottest of the season?
It's livable. Since the color lives in the interior, there are no signs of visible regrowth which means: super low maintenance.
It's versatile. Remember the invention of zip-off pants to shorts? Belts that reverse from black to brown to prevent the clashing shoe belt crisis? "Underlights" offer another crucial solution: the ability to go from with having pastel pink hair or pastel purple hair with your friends back to natural just in time for dinner with Grandma Ida.
It plays to both sides of your split hair personality. It's like that addictive sweet and salty, we all have our own contradictions that keep us balanced. We can be the playful and trendy light-blue-haired- girl one moment and then the natural girl next door the next… Done!
It's a secret. There's this unexplainable delight in possessing a unique secret, being in the know. It's why after the prohibition, the Speak Easy still remains the preferred hot spot for purveyors of the cool. It's in our very nature to crave the unseen, long for the mysterious and unexpected. If you chose to keep mum about your hidden hair color strands of pink and blue hair, it's even more fun when you get to reveal!
How are "underlights" created?
It's all about the strategic placement. All of the hair above the parietal ridge (just where the head begins to round) is clipped away and untouched— this will create a veil of natural color when worn down or all pulled back. Next, select sections of hair below will be colored (the size and quantity of sections will be determined in the consultation.) Depending on the desired level of lightness, "underlights" may require pre-lightening first. glazed with Matrix Colorgraphics Lacquers or Color Sync Watercolors. Consult with your stylist to decide which is right for you.
Whether you love a juicy secret or you're a Secretary with swagger, business with a hint of Brooklyn fairy, tie your lavender hair in a bun by day— shake out that ballerina bun to reveal your inner mermaid.
If anyone asks us, um, we can't... Disclose the rest.
Can't wait to get the look? Find a Salon near you TODAY!