5 Celebrity Hair Stylist Secrets To Achieve Perfect Hair
Jackie Summers | September 12, 2017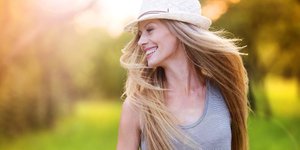 How do celebrities pull it off? Whether they're walking a red carpet or leaving the gym, their hair is always photo-ready. Matrix Celebrity Hair Stylist George Papanikolas—who works with high profile style setters like Khloe Kardashian, Madonna, Hannah Davis Jeter, Miranda Kerr, Lydia Hearst and Ana de Armas—knows exactly what it takes to step out with perfect hair every day. Here are his inside tips.
1. Start with the basics—a great haircut and great hair color that suits you.
The haircut should flatter your face, your body shape and the natural texture of your hair. If you have pin straight hair or wildly curly hair, don't fight it. It will just make styling your hair more difficult, and once you're exposed to precipitation or humidity, your hair will just revert to your natural state anyway.
The right hair color for you will make your skin luminous and your hair look shiny and healthy. As a general rule, George likes to choose a hair color shade that's close to his client's natural hair color—no more than one or two shades lighter or darker. If you highlight your hair, your hair stylist should weave in two or three complimentary colors for the most realistic result. If your hair stylist does balayage on your hair, the highlights should be concentrated on the middles and ends of your hair, and then feathered upward for the most natural effect. "And when it comes to balayage," says George, "a little goes a long way. You only need a few highlighted sections—focused on the areas around your hair part and around your face—for maximum impact."
This may sound basic, but so many people grab whatever is lying around, or whatever is on sale, and doing so can have a negative impact on your hair health. Your cleansing and conditioning routine sets the stage and treats your hair to the correct amount of nourishment and hydration. Conditioners will restore the moisture lost from hot hair styling tools, sun exposure and chemical treatments. Use a hair mask once a to help repair damage, restore shine and moisture. Our new favorite mask is a 60 second leave in – such a miracle worker! Also keep in mind there are conditioner formulas targeted to every possible hair type.
If you have fine hair, we recommend a gel-based formula that is lightweight and won't weigh you down! For very thick, course, curly or coily hair, we recommend a thicker formula..
Leave-in conditioners that double as hair styling cremes are also great for overworked, damaged hair.
You should also choose hair styling products that are formulated for your hair type, whether you have fine hair that needs extra hair volume, curly hair that needs curl definition & control or thick hair that needs taming.
3. Never let frizzy hair take over.
Fuzz and flyaway hairs don't serve any hairstyle. To keep hair sleek, always apply a hair styling gel, spray, lotion or crème to damp hair before drying. The heavier your hair, the richer the anti-frizz formula should be. If you blow dry your hair, apply a thermal protection formula, use a boar-bristle brush and direct the air flow from the hair dryer from scalp to ends. This will seal the cuticle and produce more hair shine. A high-quality flat iron will also produce a polished finish.
4. Pump up the hair volume.
Let's face it, nothing is more glamourous than a full mane. Body and hair volume always elevate your hairstyle. Limp strands simply don't cut it. George uses this strategy to produce full, voluminous hair:
1. Shampoo and condition the hair with thickening shampoo & conditioner formulas.
3. Blow dry hair with a large, round, boar-bristle brush and lift the hair at the roots—up and over—as you dry.
4. Once dry, divide your hair into sections, mist each section with more volumizing hairspray and wind the hair around a large curling iron. Heat through, keep each section coiled and clip it to the head.
5. "Set" your entire head with the iron.
6. When your hair is completely cool, unclip it and gently rake through with your fingers.
7. Flip your head over, hit the roots with hairspray and flip your hair back into place.
This can serve as your finished hairstyle, or as the foundation for an updo hairstyle, messy bun, braided hair style, etc.
5. Always have a backup hairstyle.
A sudden downpour, a missed flight, a faulty alarm clock—all can cut into your hair styling time or ruin a beautiful hairstyle. Then what? Savvy celebrities and celebrity hair stylists always have a fallback plan! A low ponytail is one option—mist your hair with a light hairspray and gather it at your nape. Wrap a strand of hair around the elastic hair band and tease the tail to dress up the hair look. Or grab a black velvet headband and place it an inch or two behind your front hairline. Tease the top crown area first to give the hair shape some volume. Instant chic!