7 Quick Ways To Upgrade Your Hairstyle
Jackie Summers | August 02, 2017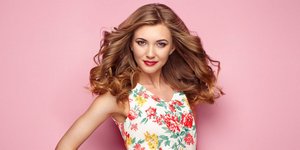 You're not in the market for any kind of big hairstyle change, but you wouldn't mind a small tweak or a fresh idea to update the hairstyle you have. An easy hairstyle that's quick, no-maintenance and, for the most part, entirely reversible. Here are seven quick hairstyle upgrade ideas.
1. Switch Your Hair Part
If you're a straight-down-the-middle or just-off-center type, consider doing something different. A hairstyle with a deep side part, for example creates instant allure with a peek-a-boo effect as the "heavy" side drapes over one eye, Jessica Rabbit-style. This deep side part works with every hair texture, from pin straight to sultry waves. For more on the middle part vs. side part….read here.
2. Try a Side Chignon
Rather than gathering your chignon hairstyle at the nape of your neck, consider moving it off to one side for a livelier, asymmetric take on the classic hairstyle. The side chignon is an especially pretty bridesmaid hairstyle for summer weddings. To get the hair look, simply gather your hair in a loose or tight side ponytail and secure the tail at the point where you would like the chignon to sit. (Keep your outfit in mind when making the decision as to which side to place the chignon. If your dress bares one shoulder, for example, place the bun on the bare side for balance.) Wind the ponytail into a bun and secure it at the base. Stretch the bun to make it larger and looser, and allow a few hair strands to fall freely around your face.
3. Braid Your Messy Bun
A messy bun has probably been your go-to hairstyle all summer long. And why not? It's a cool and casual hairstyle solution for the summer. Now, why not give it a twist? Throw your hair into a braid, pull it apart so it's, yup, messy, and then create your bun. The hairstyle will still be easy, breezy, but with lots more interesting hair texture!
4. Lose Some Length
It's hot, you're busy, it's time. If you have long hair, consider getting lob haircut that grazes your collarbone. If you feel like letting go of more length, aim for a bob haircut that clears your shoulders. "It's amazing how freeing it is to cut off a substantial amount of hair in the summer," says Matrix Artistic Director Danielle Keasling. "Clients instantly feel lighter; they start reaching for more feminine clothing and brighter makeup. It's a real pick-me-up!"
The shape of your lob or bob haircut is critical. Your hair stylist should avoid rounded ends that create the bowl-shaped "soccer mom" effect. And over-layering slides you into "Rachel" territory. This summer's best medium length haircuts are lightly layered, and blunt if you have fine hair or notched on the ends if your hair is thick.
"Styling medium-length hair to create texture is very important," says Keasling. Mist hair with a heat-protection spray and wind vertical sections around a flat iron or large curling iron. Tug the ends to stretch the wave so that it's loose and effortless. Then mist the waves with a salt-infused spray to create a matte, beachy hair texture.
Based on what's happening on red carpets and fashion runways, braids continue to command the spotlight. Just about every hairstyle looks better with a braided embellishment! If your braid repertoire is limited to the conventional three-strand type, why not add something new? One of the most versatile braids is the Dutch braid, which is essentially an inside-out French braid.
Here is a Dutch braid tutorial:
Divide the part of your hair you would like to braid into three sections—right, center and left.

Cross the right strand under the center strand.

Cross the left strand under the center strand.

Repeat this pattern, and each time you cross a strand, add in a bit more hair from the side to the section you are crossing.

Complete and secure the Dutch braid and gently expand the size by stretching it on each side.
6. Try a Teased Half Up Half Down Hairstyle
Half-up and half-down hairstyles are quick easy ways to dress up your look. Try a hairstyle with a teased, roughed up hair texture to prevent the half-up, half-down from looking too young or sweet. Apply a volumizing mousse to damp hair and air dry or dry with a diffuser to encourage your natural hair texture. Divide top and bottom from temple to temple, then divide the top section in half down the center. Subdivide each of the top sections and tease each subsection. Loosely connect the two teased top sections in the center back. Lightly backcomb the bottom section and spray with hair texturizing spray.
7. Crimp Your Hairstyle
There are two ways to achieve perfect crimped hair. One is modern—a hair crimping iron with narrow ridges on the plates. Simply section your hair and clamp and unclamp the iron as you move from top to bottom of each hair section. Or, you could go the old-school route and create your crimped hair look with teeny, tiny braids. Put in a no-blow-dry cream when your hair is damp, before braiding, to prevent frizz. Wait until your hair is completely dry to unfurl the braids.