5 Cute & Easy Braided Hairstyles For Everyday Of The Work Week
Annie Bergstrom | March 13, 2018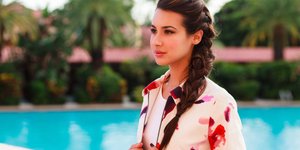 Are you a color-changing chameleon? A flat iron fiend who can't put the hot hair styling tools down? With summer approaching, it's no time to be a slave to the blow dryer just to walk into a thick haze of frizz inducing humidity. Whether you are looking to give your hair a rest for health purposes, or just want to simplify your morning hair routine, you can look cute quickly sans hot tools with a great air dry styler + a braid. We channeled our major festival FOMO into Inspo with these office-appropriate laid-back braided hairstyles. There's an easy hairstyle for you for each day of the work week so you can escape the heat while looking cool.
To Prep: When it comes to air drying hair, it's all about the hair products. I'm going to be talking a lot about Matrix's new Style Link BOHO stylers. With three unique formulas, you can use one solo or combine for the perfect hair cocktail.Air Dry Twisted BOHO defines and gives curls soft control, Air Dry Wild BOHO gives grip and hair texture for a lived-in hair look, and Air Dry Chill BOHO smooths and banishes flyaway hair. Follow with a nickel to quarter size amount (depending on hair length/thickness) of the BOHO styler that corresponds with your hair type.
What You'll Need: A few small clear or black elastics, depending on your hair color, and bobby pins.
Always remember, it is always easier to apply more hair product if needed than it is to remove too much of it! Ready? Let's roll into the week!
Monday: The Braided Headband
Determine natural fall of hair or the direction you want the braid to go in (left to right or right to left). Create a vertical ear-to-ear parting about 2 inches away from your hairline across the top of head. Secure the remaining hair out of the way with a clip.

Take a one inch section directly above the ear and divide into three strand. Begin French braid technique by adding a small amount of hair from in front of section each time you cross the strands.

Travel across the top of the head until reaching opposite ear, braid 2 inches down and secure with an elastic. This will create a braid that will lie flat to the head. Pin any shorter pieces with a bobby pin.
You can leave the braid loose behind your ear— maybe even throw a "hair ring" or two in! If your work environment is not hair jewelry friendly, pin the braid under the hair by crossing two bobby pins like a "X". For smooth and shiny hair, finish with a few spritzes of Raw Replenishing Oil Mist or for tousled and beachy hair, reach for Style Link Rough Me Up Sea-Salt Spray and mist through the ends.
Tuesday: Low-Loose Side Braid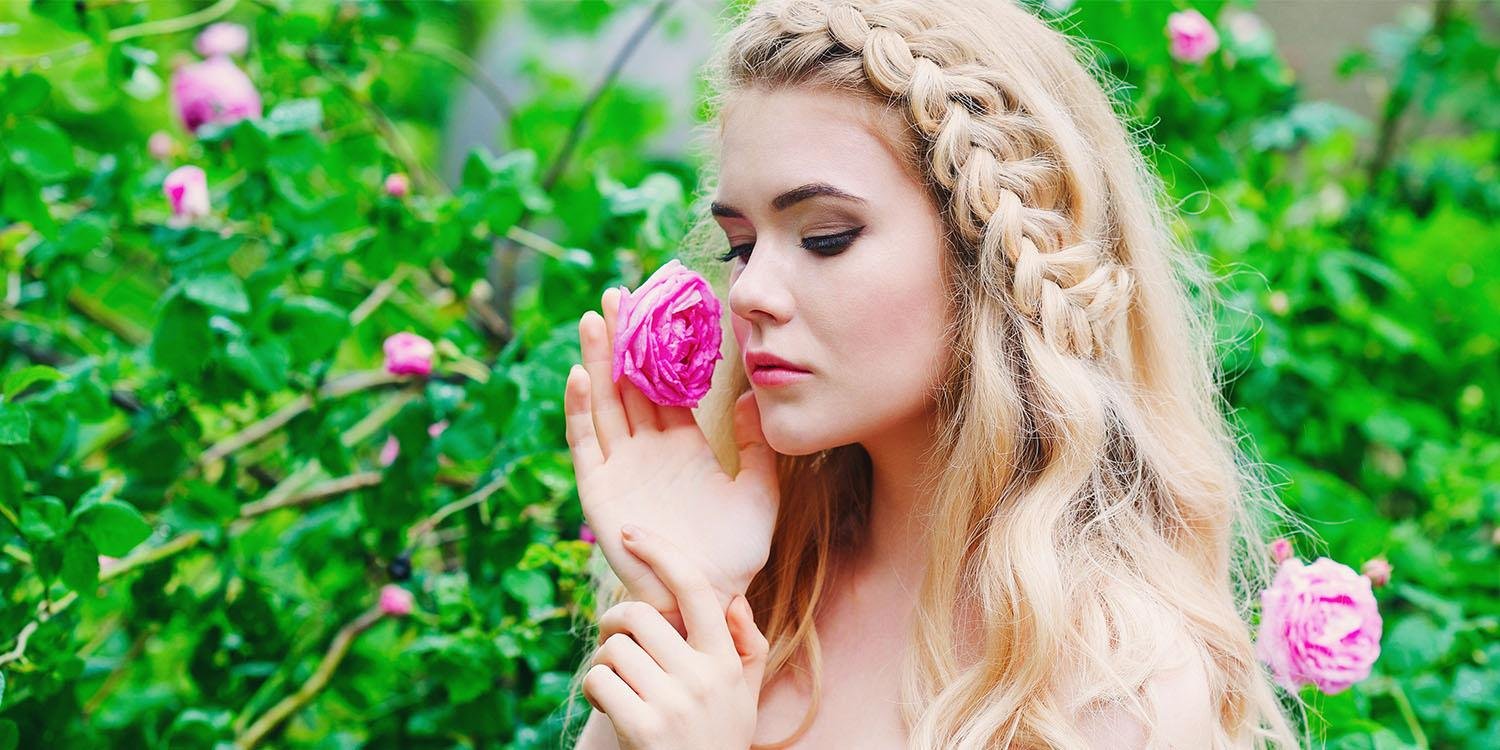 Prep hair with two pumps of Style Link Mineral Booster and a golf ball sized amount of Style Link Airy Builder on dry or damp hair, comb through. Create a diagonal section off a natural parting from temporal area to nape of neck. Don't stress too much with this one— the messier the sexier.

Start a traditional French braiding technique near hairline without using too much tension. As you work your way down, begin to raise your arms slightly higher if you can, this will create softness and may cause a few pieces to fall out around the nape. Alternate the middle pieces over and under to create inconsistency. Secure with an elastic.
DATE NIGHT HAIR TIP:
For an Oscar-worthy updo-hairstyle in 5 minutes, carefully hold just few strands at the bottom of the braid between thumb and index finger, slide the elastic upward with opposite hand toward the head to create a messy chignon. Pin all remaining hair into the chignon. Finish with Style Link Texture Builder Spray for a perfectly undone updo.
Wednesday: "Boxer" Braids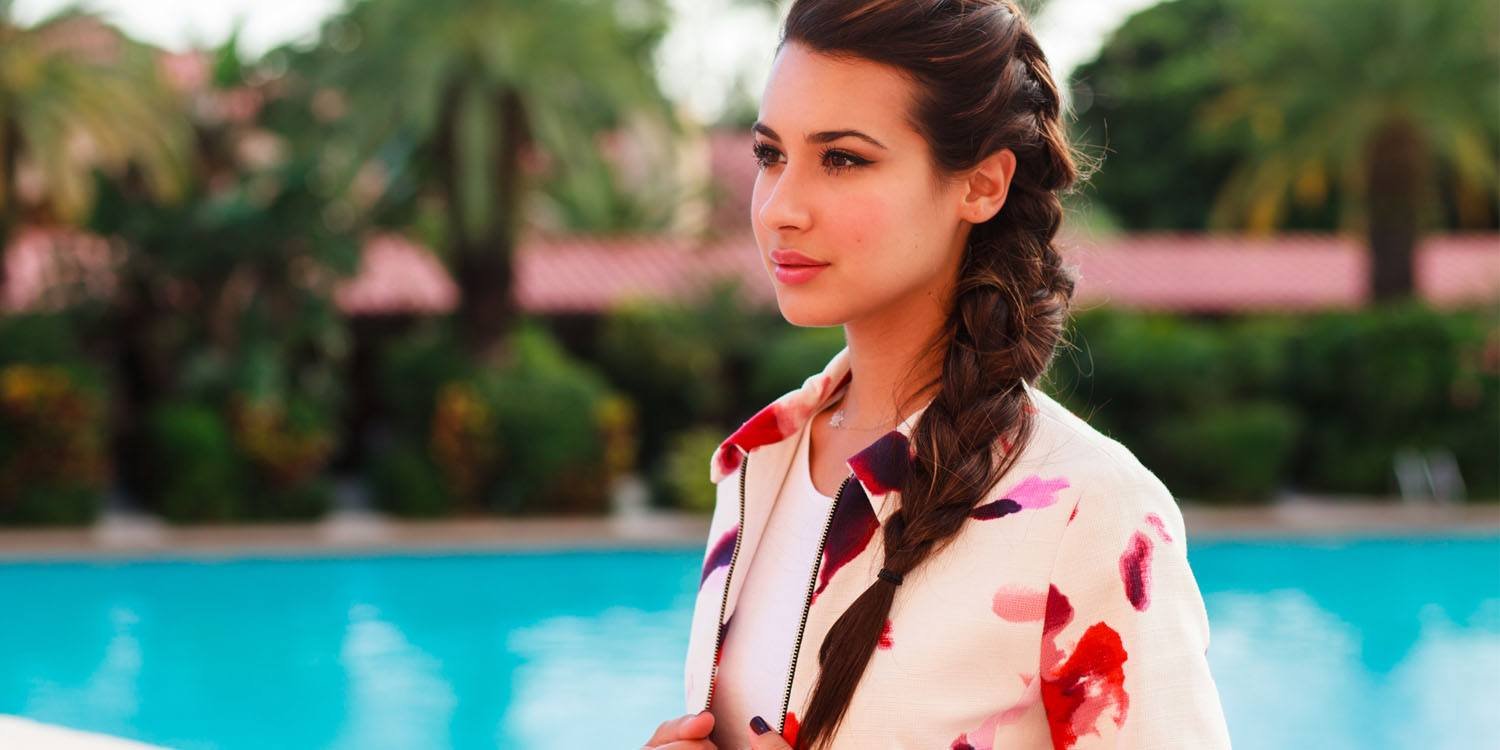 Apply a dollop of Air Dry Chill BOHO through damp hair. Create a part down the center of your hair using the end of a comb. Clip one side out of the way.

Take a small triangular section at the front of the hairline about 1 inch wide. A crucial point to remember when creating boxer braids is to weave each piece under, rather than over (just the opposite of a traditional French braid) to give it the visible "pop-out" effect.

Repeat the pattern of crossing right section under middle strand, and then the left section under the middle strand. Keep adding more hair (about 1/2 to 3/4 inch) from the section every time you weave a new section.

Continue the pattern down the back of the head, remembering to keep tension so the braid is tight. Secure at the bottom with an elastic and repeat on opposite side. Smooth flyaway hairs.
Keep those braids looking good from your morning Starbucks run to your evening post-work spin class with Style Link Style Fixer Hairspray. To keep the hair look overnight- try a silk pillowcase to eliminate tugging.
Thursday: Dutch Girl Wrap-Around Braids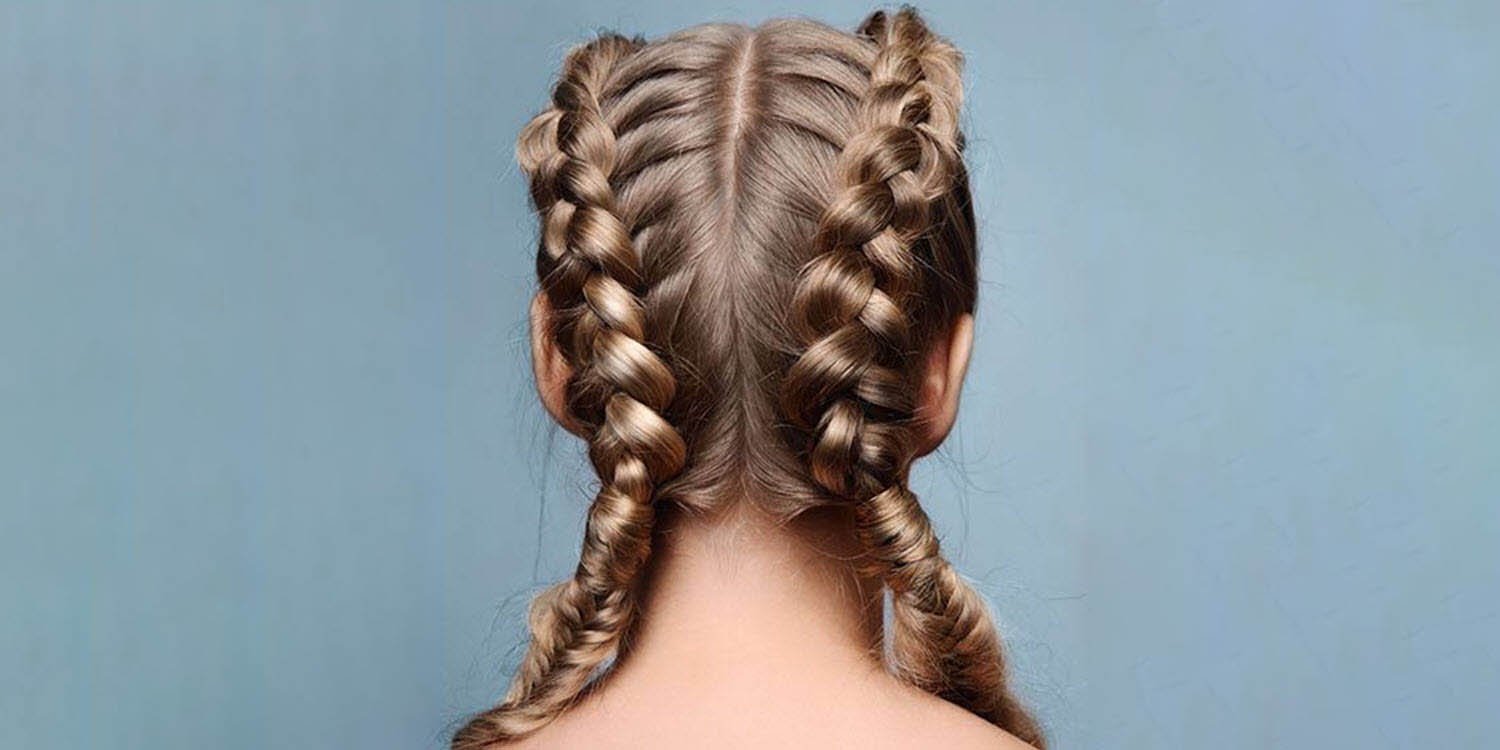 Your braiding skills are so incredible that in the words of Beyoncé, "You woke up like this." This, of course, referring to your flawless hair that between us just needs an update for that morning work presentation. Your secret weapon? Bobby pins!
Working off yesterday's braids, sprinkle a little Style Link Height Riser Volumizing Powder on the braids and gently pull them apart to expand. Cross the left braid up to the right and secure with bobby pins, repeat on the opposite side

.

Did you toss and turn overnight and yesterday's braids can't be salvaged? No worries, girl! Grab some Style Link Play Back Dry Shampoo and spray at the scalp area then brush through. Create the same center part as yesterday, securing one section out of the way with a clip.

Create a traditional three-strand braid, but instead of braiding straight down your back, over direct the right braid to the right while braiding, going in the direction up the head. Repeat the same technique on the left, pulling out to the left, securing both sides with elastics. Pull both braids up towards your face, creating a headband. Wrap the braids around each other and tuck the end in. Secure the hairstyle with bobby pins and Style Link Texture Builder Spray.
Friday: Festival-Inspired Braids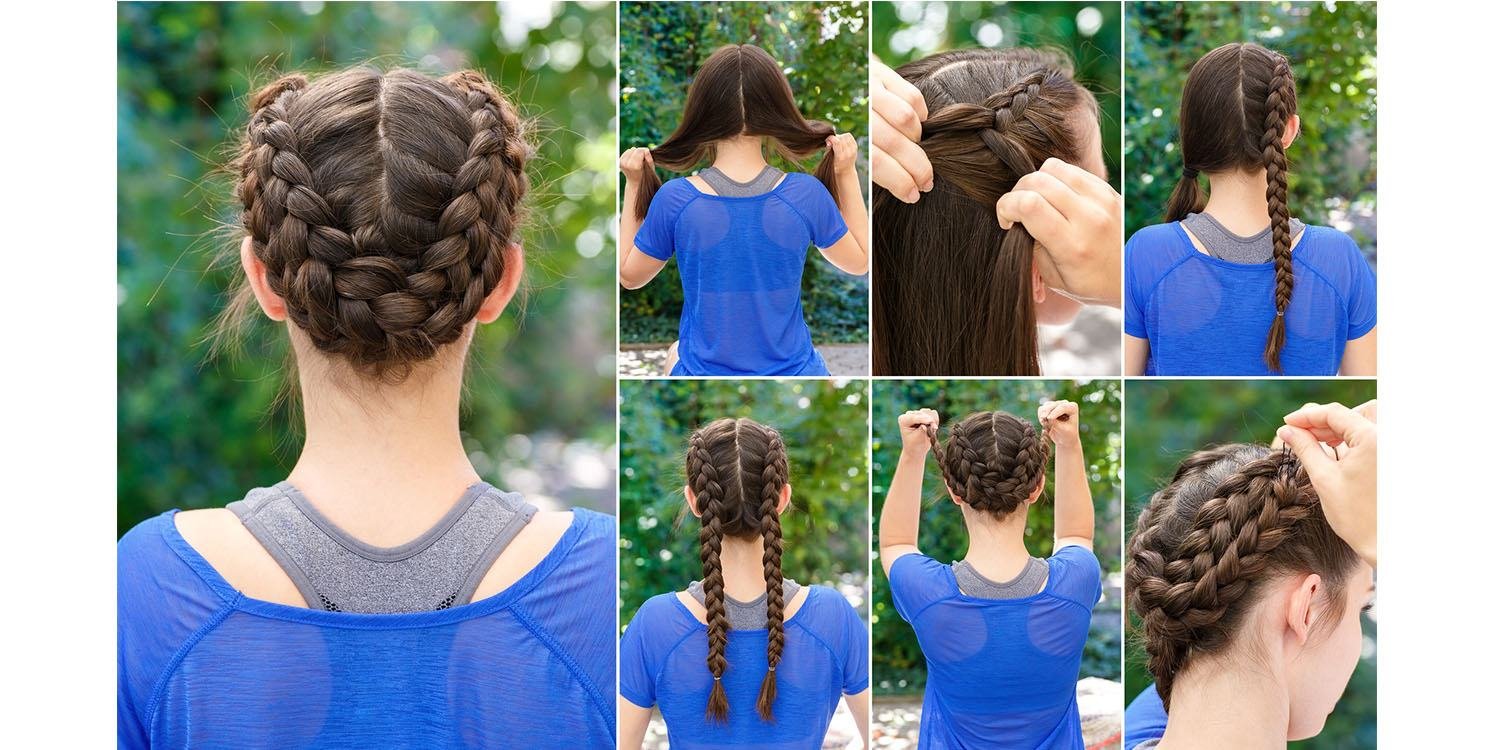 Cocktail a dime-sized amount of hair texturizing cream—I love Air Dry Wild BOHO — mixed with two pumps of Style Link Mineral Booster and apply to dry hair. Create a half ponytail, take a very small section of hair and wrap it around the elastic to hide it, spray with Style Link Super Fixer Hairspray and secure with a bobby pin

Place another elastic three inches down from the first. Split hair in half just above the elastic to create a hole for the end of the ponytail to loop through.

Put another elastic 3 inches down and repeat the looping through technique, pulling apart gently if needed to fan the "fishtail." Repeat this technique down the length of the ponytail.
For a little extra, create micro-braids, micro-fishtail braids or two-strand braids in the remaining day.
In addition to cutting back on the use of hot hair styling tools: blow dryers, flat and curling irons using salon quality hair products is crucial to ensuring hair health. Try using deep-conditioning clay masks on the weekends prior and post your hot tool hiatus to see a major transformation in your tresses.
Now that you don't have to be a slave to the blow dryer, you can definitely hit that early morning spin class… or the snooze button and sleep for an extra 15, we need beauty sleep no judgement here! More time for bath bombs and baking-- - I mean, yoga and juicing! You hair will be thanking you, too.
Healthy hair is happy hair, and happy hair is pretty hair.