Is Hair Slugging For You? Everything You Need to Know
Jackie Summers | August 16, 2023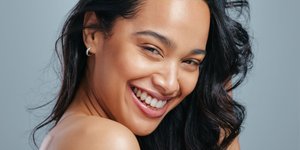 Search #slugging on social media and you'll be rewarded with an avalanche of options. Slugging has been trending for a while. It started as a skin care technique and it's now extended to other beauty treatments including nails, feet and hair. Curious as to whether hair slugging is right for you? Here's the scoop!
What is Slugging?
Originally derived from Korean beauty, skin slugging involves the use of an occlusive product like petroleum jelly as the last step in an overnight skin care routine, after cleansing and moisturizing. (It's named after the not-so-appealing slime that snails and slugs trail behind them.) Dermatologists say skin slugging helps minimize epidermal water loss, repair the skin barrier and support skin's own natural functions. Because it's so heavily moisturizing, it's ideal for dry and sensitive skin, and it promotes natural exfoliation. Docs recommend skin slugging once or twice a week, but it's best to follow your skin's lead; it all depends on skin type and skin health.
What is Hair Slugging?
Hair slugging is the evolution of skin slugging, although in reality, overnight treatments using ultra rich oils and creams aren't necessarily new. Hair slugging involves coating strands with a super moisturizing formula, covering the coated hair and letting the treatment get down to business overnight. Hair slugging fans say the practice leaves their hair soft, shiny and manageable and it really makes a difference for hair that is damaged.


How is Hair Slugging Done?
Start by cleansing your hair really well—you don't want the overnight formula to lock in debris, dirt or product buildup and you do want it to be able to penetrate your hair as much as possible without barriers. If necessary, shampoo and rinse your hair twice. Next, condition as usual with a daily, rinse-out conditioner to provide additional moisture, which the slugging will help "push" into your hair. Then while your hair is still damp, apply a thick cream like Matrix A Curl Can Dream Moisturizing Cream or a treatment oil like Matrix A Curl Can Dream Lightweight Oil or Food For Soft Oil. Avoid your scalp area—instead, concentrate on the mid-lengths and ends of your hair. Comb the cream or oil through your hair with a wide-tooth comb to ensure it's evenly distributed. Then give it about a half hour to let it start absorbing into the hair. At this point, lots of TikTok'ers like to gather their hair into a low ponytail and insert the pony into a long tube sock, roll up the sock and secure it all into a sock bun with a soft scrunchie. You may also opt to wrap your hair in a microfiber turban or lined shower cap while you snooze. Then…nighty night! The next morning, assess. If your hair feels silky and soft, simply style and go. If you prefer to rinse and re-shampoo and re-condition before styling, you'll still get the benefits of the slugging the night before.


Should You Do Hair Slugging?
If your hair is coarse, dry, damaged, and/or porous, it can't hurt to give slugging a try. As with skin slugging, you'll need to align the products you use and the frequency of your hair slugging with your hair type and condition. Thick, extremely dry, damaged hair is well-suited for heavier moisturizers like the A Curl Can Dream Moisturizing Cream, whereas a lightweight oil like Food For Soft Oil is best for medium or fine textures. If your hair is extremely fine, use a light hand when applying your slugging product and concentrate on the lower half of your hair strands. If your hair is extremely oily, slugging may not be for you. Along the same lines, if your hair needs loads of moisture and nourishment, you probably can do hair slugging once or twice a week or even more, whereas if your moisture needs are less intense, you might want to reduce your hair slugging frequency!