Dry Shampoo 101: Why You Need It and Which is Best for Your Hair
Jackie Summers | April 02, 2020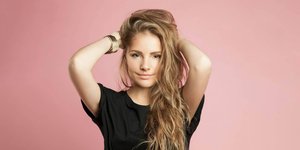 Your lip gloss doubles as eyeshadow. Your conditioner can pinch hit for shaving cream. Don't you just love multi-tasking beauty products? And without question, the MVP of multi-taskers is your dry shampoo. This mighty marvel contributes so much to your hair game. How? Let us count the ways!
1. It stretches your blowout for an extra day (or two or three.)
You spent good money for a full, fabulous, gorgeous professional blow-out, and you have no intention of washing that investment down the drain. Your dry shampoo will help you put off your next hair wash for a few days, keeping your scalp oil-free and your hair fluffy and bouncy.
2. It slows down color fade.
You can't stop admiring your new pink (or blue or green) hair color—it's so vivid and bright! But the quickest way to transform bright hair color into pale, barely-there hair color is with too-frequent shampooing. Swapping out as many shampoos as possible with your dry shampoo will stretch the life of your hair color for days and weeks.
3. It preserves your bleached or colored hair health.
Lightening your hair for highlights or to prepare it for a bright or pastel fashion hair color can often cause it to become a little more damaged than it was pre-color. And each time you shampoo, condition and blow-dry or flat iron your hair, it's damaged a bit more. Holding off on those lather, rinse, style and repeat routines by freshening your hair with dry shampoo will also slow down the damage caused by thermal styling tools.
4. It saves you precious getting-ready time.
Air drying your hair is nice, but many just can't pull off a wash-and-go routine. Many people must, or prefer to, style their hair completely each time they shampoo and condition. And on those days when time is short, or the snooze button got pushed one too many times, dry shampoo saves the day. You'll be ready to go in no time—no need to wash and restyle!
5. It prevents your hair from becoming too dry.
Natural oils from the scalp are often beneficial for keeping hair soft and hydrated. But when hair is extremely curly, or extremely long, those oils may not reach the lengths of the hair before they begin building up on the scalp. It will absorb build-up on the scalp and give those oils more time to moisturize the rest of your hair before being stripped away in the shower.
6. It adds volume to your hairstyle.
Mist your hair with dry shampoo when it's damp, then hit it with your blow dryer. The dry shampoo will swell the strands, giving you fuller, more voluminous hair.
7. It boosts your roots. Here's a trick.
When you're curling your hair with a curling iron or rollers, lift each section, backcomb the root with two quick strokes close to the scalp, mist the teased hair with dry shampoo and then curl.
When hair is fine or slick, it's hard to style into braids, buns or upstyles, and when you do finish the style, it won't stay. Spritzing dry shampoo on your hair beforehand will create a rougher texture that gives your braids and messy buns more grip and more volume. Your hair will be easier to style and easier to keep in place.
9. It makes your hair smell nice.
Another feature of many dry shampoos is a fresh, clean fragrance. So, as they absorb excess oil and dirt, they also remove unpleasant odors.
10. It revives your hair and scalp after the gym.
Soul Cycle before work? No problem! You'll get to that early meeting right on time (and look fresh and well-styled) thanks to your dry shampoo!
Here are the best dry shampoo choices for your hair needs according to the pros at Matrix:
Micro minerals not only absorb oils and impurities, they also infuse your hair with the texture and grip you need to rock effortless beach waves, braids and messy buns.
Your hair goals: Longer periods of time between shampoos. Use: Total Results Miracle Extender