11 Great Hair Style Ideas for Damaged Hair
Jackie Summers | July 09, 2015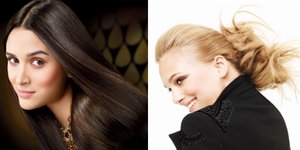 Dealing with damaged hair can be frustrating: You want your hair to look nice, but the tools and products you use to create your hairdo are often the very things that caused your damaged hair in the first place. Take heart! The professionals at Matrix offer these great ideas for styling damaged hair!
1. Great Beginnings: Start With the Right Shampoo and Conditioner
Shampooing and conditioning correctly are the keys to getting off to the right start in styling damaged hair. How you wash, dry and condition your damaged locks will determine your hair's health and how it looks. When selecting a shampoo for damaged hair, go for a professional product with restorative qualities. We sometimes opt for shampoo that lathers like a car wash, but all those suds can strip your damaged hair of its natural oils and cause further damage. Instead, opt for a sulfate-free, no lather, or no-poo shampoo. To protect damaged hair, don't shampoo more than two or three times per week. That's because shampooing too frequently can dry out hair and make styling damaged hair even more challenging. During the off days, use a dry shampoo to absorb your hair's oil. If you just really don't like the way your hair looks when you nix shampooing every day, try styling your hair in an updo or with a hat on the last day before time to shampoo .After shampooing, apply a hydrating conditioner to damaged hair. Look for one with plant-derived moisturizers and keratin to repair damaged hair. When applying conditioner, be sure to coat your ends. To enhance the conditioner's effects, try blow-drying the strands with the conditioner still on, then rinse it out.
2. How To Dry Your Damaged Hair Without Drying It Out
We all love the sleek bounce of a fresh blowout. But, blow dryers can damage the hair's cuticle and shaft over time, leaving hair looking dull.
The ideal cure for this is to allow damaged hair to air dry, and here's how to do it:
a) Squeeze water from the hair, then begin by blotting it with a terry cloth towel.
b) Apply a nourishing leave-in conditioner.
c) Gently press small sections to avoid roughing-up the follicle. (We recommend using a soft towel for this process. This is especially important with damaged hair because wet hair is fragile, and when it's dried aggressively with a scruffier towel, damaged hair can be stretched 50 percent beyond its original length. This can cause irreversible damage to the hair's texture, weakening it to the point of breaking.
3. Try A Towel-Dry Style for Damaged Hair
To create a soft style for your damaged hair while it's air drying, apply a replenishing leave-in conditioner, and pile the hair on top of your head. Pull the center of the towel taut against your forehead. Keeping your hair piled on top, gently twist both sides of the towel into long rolls above your ears. Tuck each end at the nape of your neck. Keep the hair wrapped in the towel for as long as needed to dry hair. Unwrap the towel to reveal soft waves.
Unless you get up very early, this towel waving technique is difficult to do in the mornings before work. It may be beneficial to start shampooing your hair in the evening. Give yourself ample time, however, so you don't have to go to sleep with wet hair.
4. Use These Blow Drying Techniques for Damaged Hair
If you must use a blow dryer, here are a few tips to help keep your damaged hair as manageable as possible and avoid further damage. Remember:
* Always use a heat-protecting shampoo and conditioner and apply a protective leave-in conditioner prior to blow drying.
* If possible, use an ionic dryer to reduce static produced by the blowout, and a paddle brush for sleeker tresses.
* Ideally, your hair should be 70 percent dry before you blow dry to reduce the risk of overheating and damaging wet hair.
* The closer you hold the blow dryer to your hair, the more damage it will cause. Start at the back of your hair, in the bottom area, and hold the dryer seven inches from your hair to prevent further damage.
* Keep the dryer at the lowest setting possible and move the dryer constantly to avoid overheating and causing more hair damage.
* Use a dryer with a nozzle attachment that will direct the flow of the air onto a small section. But don't hold the nozzle in the same place on your hair for longer than five seconds.
* Blow dry your damaged hair pointing the nozzle of the dryer toward the ends of your hair. This smooths the cuticle and prevents tangles. After blow drying, blast your hair with cool air for one minute to set the style and give it shine.
* Finally, don't try to style wet hair with a straightening or curling iron. Always blow dry or air dry your hair completely before using an iron. Wet hair is especially delicate, and direct heat can cause breakage.
5. Use the Right Products To Style Your Damaged Hair
Ideally, if you have damaged hair, you want to avoid using heat to style. Irons and hot rollers will further damage your hair. But, if you must use heat, always prep your damaged hair by using moisturizing shampoo and conditioner and applying a nourishing leave-in treatment to create a heat-resilient barrier. Apply the product when hair is freshly damp, and blow-dry as soon as possible to get the smoothest texture.
Try to use professional styling products whenever possible. Most hair sprays, gels, mousses and other styling products available at drugstores contain chemicals that damage your hair. Look for styling products with ingredients that are good for your damaged hair—like blue agave nectar or Tamanu oil.
When creating your style, here are some general tips to remember with damaged hair:
* For long-lasting volume and control, start with the basics by applying a mousse or gel directly to your roots when hair is still damp. Flip your head over and dry your hair upside down to create extra volume to your damaged tresses.
* Styling gel can also be used on dry hair to provide moderate hold. But don't overdo it; damaged hair will look stiff and clumpy.
* Tame flyaways and add shine to damaged hair by applying a dab of conditioning leave-in treatment to the more damage-prone ends, especially if you are styling with heat.
* A volumizing mist or hairspray can help achieve fluffy, natural volume.
* For big volume, apply a treatment serum, and then try lightly teasing damaged hair with a bristle brush while your head is upside down. Using a brush is gentler than a comb and can make hair look light and fluffy. Finish with a light hairspray to lock in volume.
* For wavy tresses, a pomade can help define and hold your damaged hair style. Wet your hands and rub a small dollop between your hands. Then, use your hands to style and texturize your damaged hair. Lightly scrunch and shape your hair while it dries to create the look you want. For a quick damaged hair pick-me-up, wet your hands lightly and re-scrunch the hair to add lift. Pomade is especially helpful on humid days.
* If you must use heat to style, use high-quality ceramic straightening and curling irons. Ceramic tools are gentler on damaged hair than metal and will provide a smoother, softer finish.
6. Try These Finishing Touches to Get the Look You Want Without Further Damage
If curls make you happy, one way to achieve no-heat curls in your damaged hair is to apply a moisturizing mousse on clean, almost-dry hair. Then twist the hair in a bun, or several small buns, on top of your head and let it sit for awhile. Take hair down to release lovely soft waves. Finish with a light hair spray to lock in the curl.
Velcro and foam rollers are also a wonderful way to achieve volume in damaged hair without the heat. Apply spray gel on damp hair, partially air or blow dry, then put the rollers in, starting at the crown. Lift your hair up and roll down to the crown for beautiful volume from your crown down.
To get even more volume in your hair from your Velcro rollers, try this technique: When hair is completely dry, wrap 2-inch sections around large Velcro rollers and blast each roller with a warm hairdryer for three seconds each. Spritz a light hairspray onto the rolled hair, and let the rollers cool down for a few minutes. Remove the rollers and lightly brush or finger comb through for fantastic volume.
7. Explore A Sweeping Pony Tail- The Damaged Hair Saving Grace
To create a chic but simple style that protects damaged hair, sweep the hair into a pony tail, and then gently push the top forward to add a little panache. Secure it with a coated elastic band, and add hair accessories if desired to dress up the look even more.
For an elegant variation on the sweeping pony tail, try taking a half-inch-wide strand from your pony tail and twist it around the elastic. Secure it with coated, tipped pins. To finish the look and prevent flyaways, spritz on a glossing spray or light-hold hair spray and smooth down with your fingers or a comb.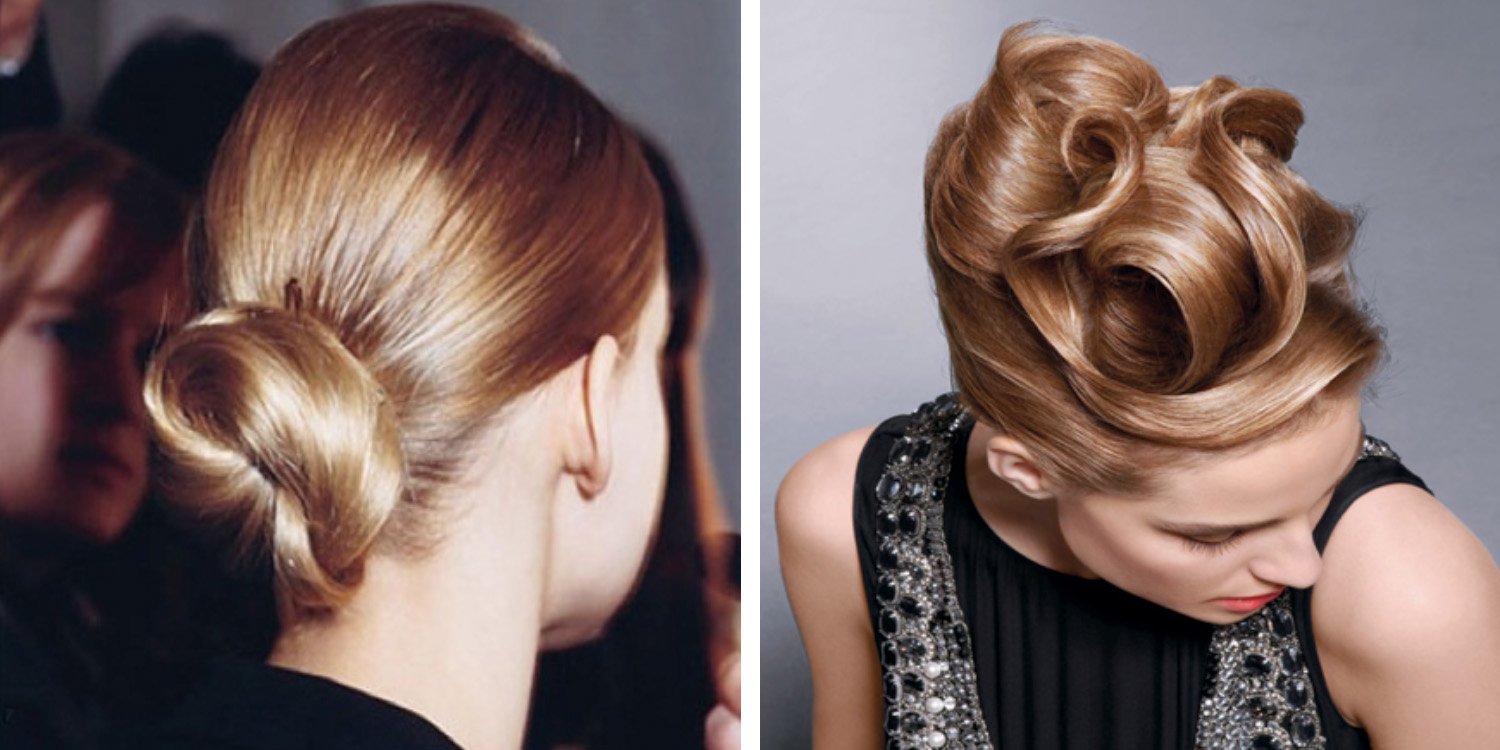 8. Opt For a Sleek Chignon- An Elegant Option for Damaged Hair
For another no-heat-needed style, use a nourishing shampoo and conditioner followed by a moisturizing leave-in treatment. Gently pull the hair into a low ponytail and secure with an elastic band. Wrap all of the pony tail around the band to form a bun. Then, secure the bun with bobby pins, and finish with a shine spray or gloss. Decorate with accessories to dress it up if desired.
9. Try an Urban Updo for Damaged Hair
To create an edgy but sexy look for damaged hair, start by building up the hair's defenses with a clarifying shampoo and conditioner to remove buildup, then apply a nourishing leave-in treatment. When hair is dry, section out front pieces and clip them aside. Twist the remaining hair into a bun, and secure it with bobby pins. Next, gently sweep the front pieces back toward the bun, giving them a little nudge forward before pinning them. Continue this until you achieve the desired look. Finish with a light hairspray or shining spray to control frizz and add sheen. To vary the style slightly, pull a few pieces out from the hairline, and spritz with hairspray to create chunky wisps.
10. For Damaged Hair, Keep it Simple During Down Times
When you are at home or in a casual setting, give your damaged hair a break by leaving it alone. Acceptance of what you have is key, and rather than fight it, work with what you've got. Use a nourishing shampoo and conditioner (if it's a wash day), apply a protective leave-in treatment and let it dry. Give it a light brushing and be on your way.
If you want to jazz it up a little, try this: Apply an anti-frizz crème on damp hair and blow dry. Part your hair on one side, and sweep any bangs or longer layers across your forehead and behind your ears (if they are long enough). Place a wide headband one inch back from your forehead for a playful look that doesn't require heat or product.
11. Avoid Additional Breakage on Damaged Hair
Bear in mind that if your every-day look is to pull your damaged hair into a pony tail and dash out the door, you could be adding to the problem. Regularly pulling at your locks can cause hair loss. And hair that grows in where is has been yanked out at the root can be weaker, which leads to further damage. If you need a quick style and want to get your damaged hair off your face, try braiding. The fringe benefit to this is that when you take the braid out, you'll be left with tousled waves.
Also consider alternating where your pony tail sits on your head. Switching up the location between a high, middle or low ponytail prevents too much tugging in any one place.