16 Ways to Restore Smoothness and Shine to Frizzy Hair
Jackie Summers | December 20, 2018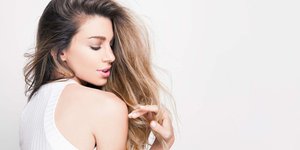 Frizzy hair is hard to love. It's not sleek and silky, it's not curly and adorable and it's not wavy and sexy. It's just…frizzy! With frizzy hair, you live in fear of rain, humidity or even perspiration, which can cause your hair to become even fuller and wilder! But there ARE solutions! The professionals at Matrix offer these tips on how to get your frizzy hair to look shiny, smooth and lustrous.
Frizzy Hair Smoothing 101: The Basics
The first step in getting your frizzy hair to do what you want it to do is to examine your hair-care regimen. Sometimes, with frizzy hair, less is more: fewer shampoos and processes, less frequent use of heat tools and decreased fussing over it can help reduce fly-aways. In other words, the more you play with your hair (blow drying, ironing, scrunching, etc.), the better chances you'll get frizz.
Here are a few tips:
Do Things Differently to Find Out What Works Best
Experiment with your routine, and try doing things differently if your current routine isn't adequately combating your frizzy hair. Do you shower in the morning? Try showering at night so that your hair isn't still damp when you leave for the day.
After you get out of the shower, try applying a little more product to your frizzy locks than you normally do. Sample a variety of conditioners and anti-frizz styling products to see which items your hair best responds to.
Pro Tip: After applying whatever anti-frizz hair products you select, try wrapping your hair in a clean T-shirt or a towel and wearing it to bed. In the morning, you'll unwrap your "package" to find smoother locks.
Moisturize Your Hair
Remember that what your frizzy hair really wants is moisture. If you don't give it the hydration it needs with moisturizing products and the proper care, your frizzy hair will get its moisture from somewhere else, like the humidity in the air. When this happens, you most likely won't love the results. It's also important to remember to use a hair mask once a week. Most hair mask formulas intensely nourish, revitalize and strengthen hair. We recommend the Total Results Miracle Creator Hair Mask.
Try Long-Term or Short-Term Relaxers To Help Smooth Your Frizzy Hair
If you can't live without your flat iron, and use it nearly every time you wash your hair, you might think about having a permanent hair-relaxing treatment. Short term smoothers are another option and can last as long as six months. These versatile smoothers offer a variety of options—sleek, straight hair to smooth hair with plenty of natural movement to enhanced, smooth curls with lots of shine. If you do opt for these treatments on your frizzy hair, however, be sure to keep your hair in prime condition by using plenty of nourishing masks, hot oil treatments and moisturizing products.
For details about these treatments, talk to your stylist or read this helpful Q and A that discusses the various types of permanent hair treatments.
Hydrating With the Right Products Can Help Restore Frizzy Hair
What you put on your hair certainly matters. If you want to smooth frizzy hair, you'll need to use a moisturizing shampoo and conditioner, followed by products specifically designed for this purpose. Purchase salon-grade products; those found in drug stores or supermarkets contain too much alcohol and will dry out your frizzy hair even more.
Select the best shampoo for your frizzy hair and don't over wash
If you have product buildup on your hair, the first step is to remove it with a clarifying shampoo. If the buildup is really bad, get a significant haircut.
If buildup isn't a problem, just use a gentle shampoo that contains organic moisturizers or oils or a cleansing conditioner. But don't shampoo too often: Shampooing can strip hair of its natural oils, which are great frizz fighters. Lather up frizzy hair two (or three at the most) times per week.
For the days in between washings, you can use a dry shampoo or baby powder to help keep oil at a minimum in frizzy hair. You can also skip the shampoo and just apply conditioner when you're in the shower.
Select the best conditioner to moisturize or nourish your frizzy hair
The right conditioner can be the best way to put moisture back into your frizzy mane. Use a hydrating conditioner with keratin, protein and/or natural oils. Natural oils are better than synthetic because they are absorbed into hair, and protein-infused conditioners will manage frizz and create shine. Synthetic silicon moisturizers, however, can lie on top of the hair, making it look dirty.
When conditioning, try both rinse-out conditioners and those that you leave in. For rinse-out conditioners, use them every time you shampoo your frizzy hair (unless it's super fine), then wash them out after 2 to 5 minutes. For leave-in conditioners, just use a small amount and apply as directed.
A nourishing conditioner can also be used for touch-ups on frizzy hair throughout the day. Try watering down a little bit of your conditioner and then using your hands to apply it to just the tips of your hair. This can leave your frizzy locks smoother and shinier all day long.
Deep Conditioning is Key to Longer-Term Victory in the Fight Against Frizz
For deeper conditioning, consider applying a moisturizing treatment or mask to your frizzy hair once a month. Leave it on for a full hour, using a plastic shower cap to help the product penetrate. Additionally, once a week, you can apply the treatment in the shower after shampooing. Leave it on for three to five minutes for quick hydration and then rinse it out.
Hot Oil Treatments Are Another Option for Dry, Frizzy Hair
They are simple to do at home and infuse frizzy hair with moisture and shine. Apply the hot oil treatment of choice to clean, towel-dried hair. Cover your hair with a shower cap or plastic wrap, and apply heat by sitting in the sun, using a hot towel or using your blow dryer. After heating the oil, allow hair to cool to room temperature, and then rinse with cool water. Hot oil treatments can be done one to three times per month on frizzy hair depending upon need. Proper use of these treatments can increase elasticity to frizzy hair and create sheen. Overuse can cause your hair to look greasy.
Finish With Frizz Taming Hair Styling Products
To hang on to the lovely smoothness you've worked so hard to achieve, use a smoothing serumfinish the look. Rub a small amount between your palms and fingers and smooth it over your frizzy hair. Once the hair is as smooth as it can be, keep it that way by spritzing on a light hairspray.
To Brush or Not To Brush: How To Discipline Frizzy Hair
Hair is complex, made up of three layers and thousands of cells. The reason it gets frizzy is simple, however. Your hair's outer layer, the cuticle, looks similar to a shingled roof. When hair is smooth, the many overlapping layers lie flat. But when you run a brush through it, those layers can lift.
To finish this list out, here are some thoughts about brushing frizzy hair and other tools you may use on frizzy hair:
Don't Brush Frizzy Hair When It's Dry
Because brushing disrupts the hair's cuticle, it can also stretch the hair and cause breakage. A better idea is to towel-dry your frizzy hair after a shower and brush, comb or finger-comb it while it's still wet. Then, add a small amount of moisturizing conditioner or your favorite anti-frizz product and don't brush it any more. If you need to comb your hair, do so with wet fingers. Finger combing with wet fingers can help tame frizz and de-tangle.
Choose The Correct Brush Size
If you use a round brush while blow drying to straighten or smooth your frizzy hair, use a medium round brush if you have mid-length to long hair, and a small round brush if you have shorter hair. Try to avoid using large round brushes, as they can be hard to work with. Turn the brush gently as you dry each section to smooth. Finish with a light hairspray or spritz on some smoothing gloss.
Choose the Best Bristles for Frizzy Hair
If you use a flat brush to straighten your frizzy hair while blow drying, be sure to use a natural boar-bristle brush. It can help carry your scalp's natural oil down to the ends. This can moisturize the entire hair shaft and reduce the oil build-up at the scalp.
Don't Over-Process Frizzy Hair
Relaxers, straighteners and coloring can cause brittleness and lead to breakage. Stick to salon products for these services, and be sure they're done by a licensed professional who can choose the correct formulas, products and techniques for your frizzy hair. When you get these services done, be sure to talk to your stylist about recommending deep conditioning and hot oil treatments or masks to restore moisture.
Don't Over Use Hot Tools on Frizzy Hair
Heat damages frizzy hair, so try to avoid using flat irons and curling irons as much as possible. Limit heat sources to a blow dryer with a diffuser whenever you can, and don't shower in scalding hot water. If something is hot enough to burn your skin, it burns your frizzy hair too. When you do use heat, be sure to prep your hair with a heat-protectant spray. When you use an iron of any kind, don't hold it in one place for too long.
Don't Blow Dry All of Your Frizzy Hair
When you simply must use a blow dryer, try drying the roots only to avoid drying out the hair shaft and frizzy ends. As with above, use a heat-protective product on your hair before drying it to retain moisture. For a natural air dry look, use air dry styling creams.