4 Reasons Your Flat Iron Is The Only Hair Styling Tool You Need
Jackie Summers | June 15, 2017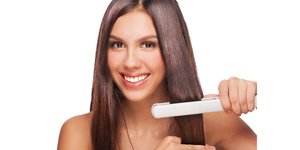 The array of thermal heat hair styling tools can be dizzying. Curling rods, hot rollers, styling cones, hair crimpers. This list goes on and on. If your budget and dexterity point to picking one hair tool to do it all, go with a flat iron. Here are four reasons why.
1. Obviously, you can smooth and straighten hair with a flat iron.
Straightening curly or wavy hair was the original intention of the flat iron, and nothing does it better. Flat iron-smoothed strands are shiny and glossy, and they can stay that way for days. The hairstyling pros at Matrix offer these tips for straight hair success with your flat iron:
Here's how to flat iron your hair:
Choose the iron that is the right size for your hair type. To flat iron fine hair or short hair, choose a flat iron with half-inch to one-inch plates. To flat iron long hair or thick hair, choose wider plates—1 ½ inches to 2 inches wide.

Choose the temperature that is right for your hair type. Fine hair needs a lower temperature than thick coarse hair. Matrix pros recommend setting your flat iron between 250 and 300 degrees if your hair is fine or damaged; between 300 and 350 degrees if your hair is medium and between 350 and 400 degrees if you have thick hair or coarse hair. Why is the temperature important? If it's too high, you risk damaging your hair. If it's too low, you will have to go back over each section several times, which can also cause damage and is a waste of time.

Never flat iron wet hair. Your hair should be dry before styling it with a flat iron. If you blow-dry your hair first, it will already be on its way to a smoother hair texture, so you won't need to apply as much heat with the flat iron. For extra heat protection, prep your damp hair with a moisturizing styling cream or hair treatment oil prior to blow-drying.

Divide your hair into small, fine sections. Trying to smooth too much hair at once prevents the section from heating evenly and you'll end up with an inconsistent shape. As a rule of thumb, each section should be no wider than the plates of your hairstyling iron and fine enough to see through

.

Comb, then smooth hair. You'll have more success straightening your hair if each section is smooth and tangle-free before you use the flat iron. So before you smooth, comb through each section first with the fine side of a comb.

Always use a heat protectant. Thermal protection products serve two purposes. They add moisture to your hair, which replaces the moisture that's removed by thermal hair styling tools. And they provide a barrier, which prevents hair heat damage. When applying a heat protection spray, divide your hair into sections and hold the nozzle 8 to 10 inches from your hair so it settles evenly. Be sure to mist both sides of each section.
slowDon't slow down down. As you move the flat iron along each section, hold the hair taut and keep the iron moving at all times. Don't pause while smoothing your hair. This ensures even heat distribution and hairstyling consistency.
2. You can also curl hair with a flat iron.
Do you love a full head of lush curls? Your flat iron can get the job done, and it's actually easier to handle than a curling iron.
Here's how to curl your hair with a flat iron:
Divide your hair into 1-2 inch sections.

Place a flat iron at the top of each section and turn it one-and-a-half turns away from your face

.

Pull the flat iron through the strand while maintaining tension on the hair.

Release the iron, keep the flat curl intact and pin it to your head.

"Set" all of your hair in this manner.

Mist the curls with medium-hold hairspray .

When the entire head is curled and cooled, release the clips, brush the hair gently with a flat, boar bristle brush and spray again with hairspray.
3. You can create beach waves with a flat iron.
Because of its non-cylindrical shape, a flat iron is actually the perfect tool for producing casual, easy, loose beach waves.
Here's how to create beach waves with a flat iron:
Isolate a section of hair and place the flat iron midway on the strand.

Begin twisting the flat iron away from the face. As you do, draw the flat iron downward while feeding the rest of the section through the flat iron.

About an inch or two from the ends, stop twisting and simply smooth the rest of the section.

Release the flat iron.

Move to the next section. Begin alternating the direction of each subsequent section, away from the face, toward the face, away, etc. Be sure the two front sections are directed away from the face.

Finish the entire head, then rake through all your hair with your fingers to blend the waves.
4. You can crimp hair with a flat iron.
Crimps put a cool spin on straight hairstyles. They also add intriguing texture to braids, updos and messy buns.
Here's how to crimp your hair with a flat iron:
Divide your hair into fine sections.

Braid each fine hair subsection. Extend the braid as close to the ends as possible.

Place a flat iron at the top of each braid, press and hold.

Move the iron along the entire length of the hair braid, pressing in the crimped shape. Curl the ends under before pressing.

Remove the braids and comb through.
One final note—when it comes to flat irons, say the pros at Matrix, quality makes a huge difference. Look for ceramic, titanium or tourmaline plate flat irons—all advanced materials that heat up quickly and evenly and keep your hair shiny and healthy. "A high quality flat iron will last years," says Matrix Artistic Director Daniel Roldan. "So spend as much as your budget will allow to purchase the best hair styling tool possible. It will definitely pay off in the long run!"