5 Pro Tips for Getting the Prom Hair Style of Your Dreams
Jackie Summers | March 02, 2021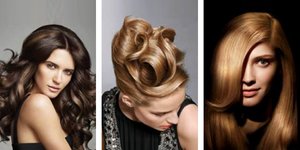 You may not live in Hollywood, but prom night is truly your red carpet moment. Your dress, your shoes, your make-up, your hairdo—everything must be perfect. The prom hairstyle team from Matrix offers these tips for your best prom 'do!
1.
Be Prepared.

Prepping your prom hairstyle properly is like eating a good breakfast. It will give your updo or other hairdo the energy to last for hours. Apply a styling product to damp hair to boost volume and control texture. Blow dry section by section with a round brush to smooth the ends and boost the roots. Then set your hair with a curling iron or hot rollers. Don't remove the clips or brush hair out until it's completely cool. Now you're ready for everything!
2.
Say Yes to the Dress.

Pick a hairstyle for prom that's perfect for your outfit. Are you wearing a one-shoulder gown? Go for a side-pony or bun (place it over the bare shoulder) Stepping out in a strapless? Scoop your hair up if you have a great neck—otherwise create luscious waves and wear it down. Think "opposites"—if your dress is sleek, put some fun curly or wavy texture in your hair. If the fabric is textured, opt for a smooth hair style. Going retro? Go all the way with a '50s bouffant, '40s glam waves or '20s

Gatsby

fingerwaves.
3.
Play Around With a Pony.

All thumbs? Consider the trusty ponytail. There are so many ways to dress up this long hairstyle! Here's a trendy version—mist dry strands with a setting spray for heat protection, body and hold, and set hair with a two-inch iron. Once curls are cool and firm, scoop your locks up high on your head, secure with an elastic band and wind a strand of hair around the elastic. Mist the tail with a flexible hair spray, tease it with an oval styling brush and voila! A dressy pony pouf!
4.
Strike a Pose.

No doubt about it—there will be cameras. Your mom, his mom, your girlfriends. Make sure you show up on Facebook looking your best. For a picture perfect look, the main thing is to banish every trace of frizz—nothing wrecks a prom hairstyle quicker. Shine is essential, too, so mist strands with a frizz-busting, shine-boosting formula.
5.
Do A Modern Twist.

Make your prom hairstyle your own by giving it an edge. First off, it doesn't have to be perfect—don't worry if a few tendrils float free here and there from your prom updo! If you're creating a curly prom hairstyle, mix up the size and shape of your curls. If you're going for waves, start the waves three inches from the roots and leave the ends out. Use products that offer touchable hold.Try not to overdo the accessories—one tiara could be one tiara too many. The idea is to find the prom hairstyle that makes you look and feel great, without looking or feeling like somebody else!

To find these products in a salon near you check out our Salon & Product Finder!