Best Conditioners For Your Hair Type
Jackie Summers | April 10, 2017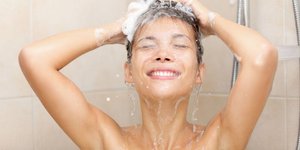 Conditioners are often the forgotten half of the shampoo/condition equation. You may spend loads of time considering your hair cleanser, but when it comes to what follows, any old thing will do. That's a mistake, though, because the right conditioner will support the good work of your shampoo and make it twice as effective. But the choices can be confusing. Leave-in conditioner or rinse out? Light as mousse or rich as custard? And what if you have fine hair? Should you use conditioner at all? The answers are: depends, depends and yes. Confused? Here is a guide for selecting the right conditioner for every hair type, curated by the pros at Matrix.
You Have: Weak Hair & Prone to Breakage
Best choice: Look for conditioners that contain arginine and soy, which will help restore suppleness, shine and movement to severely damaged hair.
You Have: Dull Hair
Best choice: Natural oils, like moringa and macadamia, provide dull hair with the moisture it needs to shine. Oil-infused conditioners promote luster, but the lightweight conditioners are immediately absorbed into the hair.
You Have: Dry Hair
Best choice: Dry hair needs lots of moisture to restore suppleness and shine. A leave-in conditioner is a great option—it instantly revives thirsty hair, and since you don't rinse it out, it keeps working all day long. Opt for a lightweight conditioner that will seal the cuticle and leave your hair soft and shiny.
Try this:Total Results Moisture Me Rich Moisture Cure Leave-In Conditioner
You Have: Platinum Blonde Hair
Best choice: If you're platinum blonde, it means you're in the salon frequently for applications of lightener and toner to maintain your lighter-than-light hue. A detangling conditioner and help strengthen your heavily-processed strands is the best choice. Bamboo and ceramides are excellent fortifying ingredients.
You Have: Oily Hair
Best choice: The last thing you need is more oil, so look for a weightless conditioner containing a soothing ingredient like mint leaf to add moisture where it's needed, while simultaneously refreshing your scalp.
You Have: Wavy Hair
Best choice: You have the hair type that all the girls envy—softly waved and beachy. Look for a conditioner that will support those waves as it moisturizes your hair—it will contain flexible polymers for enhanced texture.
You Have: Cool Brunette Hair
Best choice: You finally dialed in the creamy highlights of your dreams, and they're amazing in your dark hair. What's not amazing? When they turn orangey/brassy a few weeks after your last salon appointment. Luckily, you can bust the brass with a deep conditioning hair mask that neutralizes those unwanted tones as it conditions your hair.
Try this: Total Results Brass Off Custom Neutralization Mask
You Have: Frizzy Hair
Best choice: Everyone who battles frizz knows that humidity is hair's mortal enemy. The atmospheric moisture penetrates the cuticle and causes hair to swell. The secret is to combat this swelling with a leave-in conditioner that will smooth and protect each strand, preventing humidity from invading its space, while infusing hair with the healthy moisture it needs.
Your Have: Emerald Green and Lilac and Magenta Hair and…
Best choice: Maybe it's not all of those at the same time, but you find bright colors irresistible, especially when they're on your head! For hard-working hair like yours, you need a hard-working conditioner for color treated hair that will help prevent color fading, and at the same time, shore up the porosity that occurs from frequent color services.
Try this: Total Results Color Obsessed Conditioner
You Have: Bombshell Blonde Hair
Best choice: Look for a conditioner that not only softens and detangles your delicate blonde strands, but also one that fortifies it and maintains its brightness. Chamomile is an excellent ingredient for maintaining radiant, multi-dimensional blonde hair.
You Have: Overworked/Damaged Hair
Best choice: If your hair is over-processed, over-styled or over-manipulated, it could be brittle, weak and fragile. A conditioner formulated with keratin and silk provides reinforcement for damaged strands, leaving hair shiny and healthy-looking with improved elasticity.
You Have: Super Dry Hair
Best choice: If you can't seem to find a conditioner that's rich enough for your thirsty strands, switch to a creamy hair mask treatment. With a pudding-like consistency, a hair mask will cling to your hair, allowing ingredients like shea butter to penetrate and hydrate. Use it as often as you need—once or twice a week or even every time you shampoo.
You Have: Curly Hair
Best choice: Curly hair is often in need of lots of moisture to control frizz and define the curl pattern. Look for oils like jojoba in the conditioner—they provide equal amounts of needed nourishment and moisture.
Try this: Total Results Curl Please Conditioner
You Have: Fine Hair
Best choice: If you love the soft results you get from conditioner, but your fine strands can't handle the weight, try one of the new conditioners for fine hair. They contain glycerin for weightless hydration that won't squash fine hair.
You Have: Thick Hair
Best choice: Thick hair also tends to be thirsty hair since there's so much of it and your scalp's natural oils can only do so much. Help them out with a rich, nourishing hair mask packed with hydrating ingredients with the same moisture-retention properties as the aloe plant.
You Have: Uber Curly Hair
Best choice: Try a low-foam; silicone-, sulfate- and paraben-free; two-in-one cleansing conditioner to prevent drying out your curls. A natural additive like pomegranate will help enhance curl definition and bounce. Use it as your go-to shampoo, or alternate it with a conventional shampoo for curly hair.