The Best Curly Hair Products for You
Jackie Summers | September 24, 2018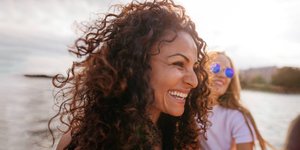 Curly girls, rejoice. Nowadays there are so many beyond-brilliant products and formulas for curly hair, you never have to suffer a bad hair day again. Matrix pros reach for these pro products day in and day out for their curly hair clients, and now they're revealing their secrets to all!
To Tame Your Normal-To-Coarse Curls
This powerful duo is a must for curly haired girls everywhere. They apply the Contouring Lotion to damp hair to add the light moisture that curls crave. Then, once curls are dry, they work the Super Defrizzer—a weightless gel—between their hands and gently scrunch it into their hair. This amazing formula adds definition and gentle hold while repelling frizz like a boss!
To Air Dry Your Curls
Curly girls know that sometimes the less you do to your curls, the better they look. This supple, curl-enhancing cream lets you skip the heat and go, go, go! Apply to damp hair and scrunch or twist the cream into your curls. As they dry, they'll become soft and defined, without developing frizz.
To Blow Out Your Curls
Style Link Blowout Skinny Queen
Sometimes even the curliest girl is in the mood to rock some straight hair. If you occasionally love to play it straight, start with this heat-protecting, smoothing, blowout cream. It will support the smooth-out, keeping your hair soft and frizz-free. "Start your blowout with a boar bristle brush," suggests Robert. "It will give you lots of volume. Then go back through each section with a cushioned styling brush, which will lock down the cuticle and amp up the shine."
To Repair Your Curls
When it comes to damage, curly hair gets hit hard. It's generally fragile to begin with, due to the coiled structure of each strand, and then it's frequently insulted even further by heat tools, mechanical manipulation with combs and brushes and over-exposure to the elements. If your curls require a serious fix, Robert recommends this leave-in, which reconstructs the hair fiber and reduces breakage. "I find curly hair tends to get especially weak at the ends," he says, "and this product gets right to work repairing the hair."
To Take A Curl Break
Matrix Opti.Smooth
This is the answer if you want a longer-term solution for managing or controlling curl that is too tight or voluminous, and for eliminating frizz once and for all. Opti.Smooth is formaldehyde-free and thio-based. There is a cold smoothing option that maintains curl, and a heat straightening option that smooths hair completely. There is also a 3-D Curl option for extremely curly hair that reduces curl size and banishes frizz. Many clients, according to Robert, get "Opti.Smoothed" with the cold option at the beginning of each summer to enjoy carefree hairstyling in hot, humid weather.