The 9 Best Hair Strengthening Treatments To Repair Your Damaged Hair
Jackie Summers | April 26, 2018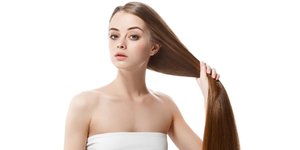 Broken hearts or broken promises, we can't do much about. Broken hair? Now that's where we come in! Hair breakage is one symptom of weakened, damaged hair, along with unruliness, dryness and frizz. How can you power up your weak and damaged hair? With hair strengthening treatments designed to repair and restore. Here are the 9 best hair strengthening treatments, according to the experts at Matrix.
Your hair: Fragile and dry
Try this hair strengthening treatment: Oil Wonders Indian Amla
Why it works: Ever wonder why women from Southeast Asia seem to have such glossy, gorgeous hair? It could be a secret ingredient called Indian Amla oil. This Oil Wonders formula contains the beautifully-scented oil, which renews fragile, weakened hair while enhancing softness and shine. Use it before styling on damp hair.leansing conditioner is a great alternative. This ultra-gentle cleansing
Your hair: Weakened and over-processed
Try this hair strengthening treatment: Total Results The Re-Bond
Why it works: This hair strengthening treatment is a three-part system that reinforces the hair structure that becomes weakened by hair color and texture-shifting services. Use it at home to revitalize, strengthen and smooth hair, and improve manageability. The system includes the Re-Bond Shampoo that whisks away the minerals, metals, and chlorines that build up on the hair; the Re-Bond Pre-Conditioner that penetrates deep into the hair fiber to reconnect and reinforce weakened hair bonds; and the Re-Bond Conditioner that seals and protects each strand from the inside out, leaving hair strong and healthy.
Your hair: Blonde and in trouble
Try this hair strengthening treatment: Total Results Hello Blondie Flash Filler
Why it works: Frequent lightening services can lead to a situation known as porosity, which means the outer, protective layer of the hair strand becomes compromised. This allows water and other things to penetrate through the outer layer into the hair's inner layers much too easily, which leads to moisture loss, frizz and unruliness. Flash Filler instantly seals and fortifies that outer hair cuticle layer, so you can continue living as the blonde bombshell you were meant to be!
Your hair: Long with loads of split ends
Try this hair strengthening treatment: Total Results So Long Damage Break Fix
Why it works: Long hair has been around awhile, which means ends can become weak, tired and frayed. This elixir reconstructs the hair fiber to help repair damage by resurfacing brittle strands. Hair becomes stronger, shinier and less prone to breakage.