The Best Thickening Shampoos, Conditioners, and Treatments for Fine Hair
Jackie Summers | October 22, 2018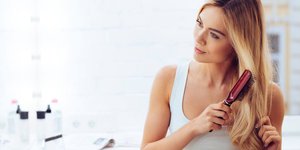 Thanks to significant advancements in modern hair care formulations, fine hair doesn't have to go it alone. There are lots of solutions for thickening your fine hair and infusing it with glamorous volume and body. The Matrix pros use and recommend thickening hair shampoos, conditioners and treatments, and here they reveal their favorites!
Best Thickening Hair Shampoo and Conditioners for Fine Hair
Why you need it: This lightweight, silicone-free shampoo contains protein, which helps boost the structure of fine, limp hair. It leaves hair fuller with lift that really lasts.
Best Treatments and Masks for Fine Hair