Curl Talk: 9 Curly Hair Tips For Summer
Jackie Summers | June 30, 2017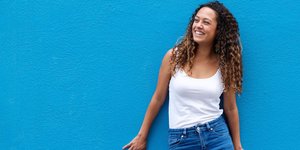 Calling all curly girls. Summer is the season of equal parts joy and frustration for your curly hair. It's joyful to enjoy the warm weather by wearing curly hairstyles that are more casual than your winter norm. But it can also be a time of frizz, unintentional damage and curl unruliness. Matrix Artistic Director Michelle O'Connor offers up nine tips for nourishing, hydrating and controlling your curly hair. Learn how to take care of curly hair…all summer long!
1. Turn Down the Direct Heat from Hair Styling Tools.
All the hot tools you use for smoothing—hair irons, blow dryers, hot combs—are drying your hair at a time of year when you need moisture the most. And ironically, hot, humid weather forces you to use your hair tools even more often. Try to embrace your natural hair texture as often as possible in hot summer months and give it a rest from thermal styling. A whole new range of air-dry styling creams will help give your curly hair structure and fight frizz for heatless hair styling. Apply the hair creams to damp hair and twist small sections to help define your curls. Wait until your hair is completely dry, then unfurl each curl carefully with your fingertips.
2. Get a Cute Curly Haircut.
The most modern short curly hairstyle is a rounded shape that softly frames the face. The edges remain blunt to keep the perimeter crisp and curls are cut in clusters in order to sculpt the shape. With a great foundational haircut in place, styling your curly hair will be easier!
3. Minimize Hair Heat Damage.
Of course there are bound to be days when nothing but a blowout or flat iron hairstyle will do. So when you do use hot tools, follow these steps for minimizing hair damage.
1. Set hair dryers and irons on the lowest possible setting for your curl texture and density. If your hair is fine, that means between 250 and 300 degrees. If your hair is medium and average, go for temps between 300 and 350 degrees, and if it's thick or coarse, you can handle settings between 350 and 400 degrees.
2. Don't use heat on hair too frequently. If you can switch off between thermal styling and heatless hair styling, you'll greatly reduce the hair damage and allow your hair to recover between bouts with the blow dryer or hair iron.
3. Try to avoid direct heat on hair. Use the diffuser attachment on your blow dryer. If you're flat ironing or curling your hair with an iron, take small sections that allow you to smooth or curl with one pass rather than repeatedly running the hair iron over the same section.
4. Use heat protection hair products. This is another ideal strategy for preventing heat damage on hair. Apply a styling cream with heat protection properties to damp hair before blow drying, and use a heat-protection spray with all of your hair iron work.
4. Use hair products that contain moisture.
Moisture is essential for curly hair. So the rule for curly hair in the summer is to choose moisture-rich hair products from start to finish. That means moisturizing shampoos, moisturizing conditioners and moisturizing styling products. Ingredients to embrace include coconut oil, shea butter and honey. Ingredients to avoid include alcohol and oil-absorbers like grapefruit or clay, which will be too drying for your curly hair type.
5. Deep Condition Hair Frequently.
Now isn't the time to scrimp on hair treatments. If you typically apply a moisturizing deep conditioner once a week, go ahead and use it every time you shampoo your hair during the summer months. On lazy Sundays, apply the conditioner, wrap your hair in a plastic cap and sit under a dryer or in the sun for a super dose of deep conditioning power.
6. Embrace Indirect Heat for Styling Hair.
Heat that doesn't touch the hair directly—hood dryers, steamers, diffusers--increase the power of hair moisturizers and conditioning treatments, and reduce direct thermal assaults on curly hair.
7. Swim Safely
Before diving into the pool, protect your hair by misting it with water and applying a few drops of hair treatment oil. Filling the hair with moisture instead of water will prevent it from swelling. After swimming, cleanse your hair with a clarifying shampoo, followed by a moisturizing conditioner.
8. Supplement Shampoos with Cleansing Conditioners
You may be inclined to shampoo more frequently in the summer—and you should to remove perspiration and product buildup. But during these months, consider alternating your regular shampoos with conditioning cleansers to avoid moisture depletion. For example, if you shampoo twice a week, switch to one shampoo and one co-wash.
9. Try the Flexi Rod Set
This go-to hairstyle fur curly hair is cute, low-impact and helps define curls and control hair frizz.
1. Cleanse and clarify hair, focusing on the scalp to remove buildup. Condition and detangle hair with a wide tooth comb.
2. Divide the hair into manageable sections. Make sure each section remains wet. Spray with water or leave-in conditioner or hair setting lotion if necessary. Wrap each section onto a flexi-rod, bending it in a V-shape at the top to hold hair in place.
3. Sit under a hood dryer or allow the hair to air dry.
4. Gently remove the hair rods, and avoid disturbing the curls.
5. Gently separate the curls with your fingers.
6. Work a hair treatment oil or hair serum into your hands and spread the formula gently over the hair to seal the cuticle and repel hair frizz.
7. For more hair volume, place a comb or pick at the scalp and pull gently to fluff. For even more hair volume, comb the curls. For more curl definition, rake through with your fingers. Or, simply leave the curls intact.