How To Deal With Split Ends & A Dry, Itchy Scalp
Jackie Summers | February 23, 2018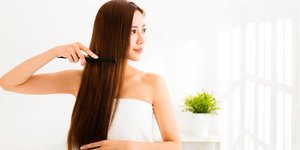 Dry itchy scalp. Split ends. Roots and tips. These two situations can really have a powerful effect on the health and overall appearance of your hair. Here are professionally-recommended remedies for dry, itchy scalps and for split ends from the pros at Matrix, which will result in gratifying hair turnarounds in no time at all.
How To Combat Dry, Itchy Scalp
Dry scalp is just the beginning. Once your scalp is dry, it's only a matter of time before your hair starts to look dull and dry as well. The good news is, the opposite is also true. Your scalp is (pardon the pun) at the root of it all, and if your scalp is healthy, your hair is likely to look glossy and healthy! Here are a few effective dry scalp remedies to consider. (Your hair will benefit, too!)
1. Condition and Moisturize Your Dry Scalp
Conditioners and treatment masks are good for dry hair, and they're also great remedies for restoring moisture to thirsty, dry scalps. To treat your dry scalp, apply a rich, moisturizing hair mask or hair treatment oil liberally and work it in with your fingertips. Cover your head with a plastic hair cap and wait for about 20 minutes. For even more hair moisturizing goodness, sit outside in the sun or under a hood hair dryer. When time is up, remove the hair cap, shampoo and rinse thoroughly.
2. Massage Your Dry Scalp
A dry scalp could be a sign of poor circulation. The best strategy to boost that blood flow is with a vigorous massage. Just move your fingertips in small, circular motions all around your head. (If you can convince someone else to do the massage, even better. So relaxing!) You can also multi-task by performing the dry scalp massage while your conditioning hair mask or oil is processing.
3. Rethink Your Shampoo
A couple of things could be amiss with your shampoo. It's possible that your dry scalp is clogged with buildup from hair styling products or other debris, which is causing it to feel dry and irritated. If you think this is the case, try shampooing with a clarifying shampoo that will whisk away all of that scalp buildup and leave your dry scalp feeling fresh and tingly. Another possibility is that you are using a shampoo that is too drying. Try switching to a moisturizing shampoo formula that won't strip away the natural oils that your hair and scalp need to be healthy.
4. Hydrate Dry Hair from the Inside Out
This one's pretty simple. If you're putting enough water in your body, your chances of eradicating dry scalp, hair and skin go way up. It's understandable—you get busy and before you know it, the hours have gone by and you haven't had a drop to drink. But try to be mindful of keeping up a steady intake of H2O throughout the day. You'll see an amazing difference, promise!
Put An End To Split Ends
Solving the problem of split ends requires a two-part approach. First you must get rid of the split ends that you already have. Then you must figure out why you got those split ends in the first place, and fix the problem. It's likely that your ends split because your hair is fragile and/or damaged. So the solution is to strengthen your hair, and restore it to health, which will prevent split ends from reoccurring. Here's how.
1. Trim your hair
The best way to rid your hair of split ends is to cut them off. This is not what you want to hear if you have long hair, or if you're trying to grow your hair long. That's why many hair stylists will offer a service called hair "dusting" which involves micro-mini nips to the ends of your hair and removes only a teeny, tiny amount of length. A few regular hair "dustings" should take care of your existing split ends without thwarting your hair growing efforts.
The wash cycle of your regular hair care routine can be hard on delicate hair with all of that scrubbing and rubbing. So do a suds assessment, and if your shampoo isn't a gentle formula for damaged hair, switch it out for one that is. And when you do step into the shower, it helps to lower the impact on your hair by mixing some shampoo and water in your hands and creating a creamy lather first, instead of depositing a dollop directly on your hair and whipping it up, which causes tangles and leads to increased stress on your hair strands.
3. Commit to regular hair strengthening treatments.
Regular hair mask treatments for damaged hair will fast-track hair healing, help mend your split ends and keep your hair strong enough to resist new damage. Look for formulas that actually rebuild hair structure while also providing moisture and nourishment for your hair.
4. Reconsider your hair color.
If you're going heavy on the hair bleach, of if you have been changing hair colors every time there's a full moon, it may be a good idea to give the hair dye a rest for a little while. Too-frequent chemical hair treatments of any kind can deplete your hair's strength and overall health. If you decide to keep up your hair color, consider exploring gentler, low-ammonia, demi-permanent hair color formulas and talk to your hair stylist about adding reparative and preventative hair bonders to your hair color formulas.
5. Check your hair brushes and combs.
One of the biggest culprits when it comes to split ends is a comb with spurs and burrs that grab and tear your hair, or a hair brush with stiff metal bristles. If your hair tools are guilty of snagging and damaging your hair, toss them and invest in higher quality combs and natural bristle brushes that will treat your hair with the care it needs and deserves!