Hair Hacks for Blondes
caryn vanderbilt | February 09, 2018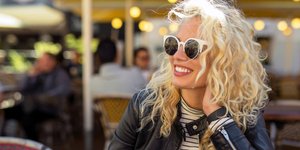 really have more fun? This question is just one of many cliches we will hear throughout our lives. We know we have to work hard to keep our hair healthy and shiny, and our hair color looking fresh. We know it is both a commitment of time and money to have Pinterest-worthy hair every day, and no, it is not always fun. However, there are a few tricks of the trade to help make your blonde life a little brighter and easier. These 5 Hair Hacks will keep you selfie-ready all day long!
Hair Hack #1. TURN DOWN THE HEAT!
We tend to love things that are HOT; like lattes, the beach, and celebrities. Nevertheless, our hair, on the other hand, does not! We hit our hair with extreme temperatures several times throughout the day. This can be especially concerning for blondes because we have already put our hair through some stress to achieve the bombshell blonde hair looks we love.
We start the day with a hot shower. Steam and hot water will swell the cuticle layer of our hair, causing frizz, which will make our hair look dull and unruly throughout the day. Then we repeatedly dry our hair at very high temperatures, which not only removes the surface moisture but also removes the moisture in the internal structure of the hair. This can cause the hair to become weak and brittle. Heat styling tools like our smoothing and curling irons have temperature settings that may reach up to 450 degrees! At these high temperatures, especially on blonde hair, we can easily burn the hair enough that it actually changes color. Studies show that blonde hair, natural or professionally lightened, will start to turn golden in color when heated to as little as 250 degrees!
The solution seems simple: turn down the heat! It will take some time to get used to, but challenge yourself to start new hair care habits. When you shampoo and condition use cooler water and always finish with a final rinse of cold water to add shine and seal the outer cuticle layer of the hair. When you blow dry try a low heat setting, and use long, slow passes across each section of hair. Most blow dryers have a cool shot button that you can use to finish your look, and much like the cool rinse after conditioner will help add a smooth, shiny finish. With your hot tools, turn the temperature down as low as it goes. Try one to two slow passes with the iron. If that doesn't do the trick, then turn it up little by little until you get the desired look. The lower the temperature setting, the happier your hair will be.
Hair Hack #2. BECOME A SHAMPOO SNOB
There is nothing better than walking out of the salon with perfectly toned blonde hair. Many of us know all too well that keeping that perfect hair color tone for several weeks can be a challenge. Luck for us, there are now products that help us maintain a brilliant salon blonde by simply shampooing our hair.
All hair has warm undertones, which are yellow, gold, and orange. When we lighten hair, these warm tones are exposed. The proteins that make up our hair strands are yellow in color, which is why we cannot simply remove them with lightener. If we lighten hair enough that we remove all yellow color, we have broken down those proteins enough to cause breakage in the hair. So if we cannot remove them, our only option is to neutralize them, or "tone" them away. Our color wheel tells us that to neutralize orange or gold tones, we need to apply a blue color, and yellow tones neutralize using violet. This is the process your colorist has gone through at the salon. It is not something that you can simply do at home, but you can help maintain the look they have achieved, and add longevity to the perfected shade with your products at home.
A purple tinted shampoo by Matrix Total Results called SoSilver has the perfect amount a violet color that deposits on the hair when you shampoo. For darker blondes fighting golden or brassy hair, look to a blue-violet color depositing shampoo like Brass Off No two blondes are alike, so not everyone will need to use these shampoos in the exact same way. Some people can use them daily, others maybe only weekly to monthly. Your colorist will know what specifically your hair needs, and can guide you as to how often to use these toning shampoos in your blonde hair care routine at home.
Hair Hack #3. MOISTURIZE!
I am not very sure when, as human beings, we became so dry! We have moisturizers for our face, our hands, our feet, our body, for daytime, for nighttime, for aging, for redness, for acne, and the list goes on and on. We are drinking more water than ever before, and seeing the benefits of it. With all of these moisturizing options, we have learned something. We do need it, and it does help! The question for me remains, why are so many of us not moisturizing our hair?
Whether you are someone who lightens your hair often, styles it with heat tools or even a low maintenance natural blonde, your hair is craving moisture! Evaporation can pull moisture from our hair by doing nothing more than stepping outside on a hot summer day. A lack of moisture can do several things to our hair. For our hair to have bounce, it has to be flexible. Think of an old rubber band or hair tie. As it gets old, it dries out. You may still be able to stretch it, but it never bounces back to its original shape. You can twist it, but it won't spring back and untwist. When you pull it, it may even break instead of stretching. Well, our hair is the same way, and as it gets dry, it can stretch out, lose its shape, and break off.
As we lose moisture from our hair, it also becomes porous. Up close, it looks like a piece of Swiss cheese. If I were to lay a piece of Swiss cheese on a table, pour milk on it, and pick it up...well the milk would fall right through. If your colorist applies a color or toner to your hair, and it is porous, there isn't an even canvas for the color. Your color result may be uneven, splotchy, or simply wash right out of the hair. So maintaining moisture balance at home is imperative for blondes.
There are several products that will help your hair stay hydrated in between salon visits. The first would be a great shampoo and conditioner that you can use alongside your toning shampoo. The name of the product usually gives it away, and your hairstylist can help point you in the right direction.
Next, are leave in moisturizers that can be sprayed in or massaged into the hair as a cream. These are topical and sit on the surface of the hair to help lock in moisture. Your hair stylist can help you choose which is best for you. Last but not least, there are treatments for in-salon or at-home when the highest levels of moisture are needed. These treatments can be back bar services that penetrate deep inside the hair strand, over-night treatments for at home, or styling aids that you apply before drying. The Total Result Miracle Creator Multi-Tasking Hair Mask is my new obsession for all things moisture in keeping my blonde hair healthy at home. The name is long, but so is the length of time it leaves my hair feeling nourished and shiny!
Hair Hack #4. DRY SHAMPOO IS BLONDE HAIR'S BEST FRIEND
Many will agree the hardest part about being blonde is the upkeep. Life makes it challenging to get back to the salon every time we start to see a shadow of new growth coming in. There is one simple product you can use at home to take the edge off that line as it grows out until you see your colorist that will not harm your color in any way. Two of my favorite words in the English language: dry shampoo!
There are three reasons why dry shampoo can be blonde hair's best friend. The first reason and the most obvious is that it allows you a day to skip shampooing and blow drying your hair. Dry shampoo is a spray in powder that helps absorb the excess oils and dirt from our hair. This is helpful because when we avoid excessively cleansing our hair, we give our hair color and toners more longevity.
The second is the texture and volume we can gain by applying dry shampoo. The lightweight powdery texture of dry shampoo allows the hair to gain some fullness. When hair lays flat against the head, any line of new growth will be much more visible. Therefore, by adding some volume at the base, we are naturally softening the look of this line of new growth.
The third reason dry shampoo can be great for blonde hair is in the color of the product. Every dry shampoo is a little bit different, to suit every hair type's individual need. Some have a light powdery color to them. While this may not be great for a dark brunette, this is a game changer for a blonde. While the light color is not intense, it can be just enough to soften dark new growth and blend away a harsh line.
While dry shampoo is very easy to use, there are a few tips that can give you a better result. Lift hair in sections, and spray toward the base of each section. Play with the distance that you spray from to find which works best for you. For fine hair, further away may be better. After applying your dry shampoo, allow it to sit for a few minutes, and then brush it through the length of your hair. Last but not least, my favorite tip for using dry shampoo is to use it before you go to bed. This allows the product to have a head start in keeping your blonde hair fresh.
Hair Hack #5. IF YOU CAN'T BEAT 'EM, JOIN 'EM!
If being blonde is your jam, but you simply cannot keep up with the Kardashian's, there is another way to go. Thankfully, another huge trend right now is a Shadow Blonde. This is the perfect combination of a shadow base shade with balayage or babylights melting from the base. This trend lets you have the best of both worlds. You can keep your bright, brilliant blonde while allowing the base hair color shade to mask your new growth and blend the two.
The Shadow Blonde trend can be a little more cost friendly for those on a tight budget. While you still need to keep up with touch ups and toning, the amount of time between lightening services can go much longer. Not only is this trend time and budget-friendly, but all ages can wear it. Whether you are young and just starting to color your hair, or young at heart and blending away greys, this shadow blonde is a great way to wear a modern blonde look.
I leave you with one last cliché; work hard, play hard. We can all have fun, shiny, Pinterest worthy hair. It is a commitment that takes time and patience. Remember that beautiful hair is an investment. So take care of it and protect it.