hairstyles-to-complete-your-halloween-look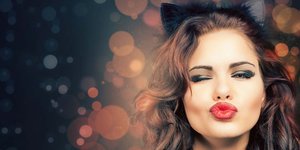 The leaves are falling, the temperature is dropping and the nights are getting shorter. Before you know it, there will be jack-o-lanterns lining porches, fake cobwebs in the trees and time for you to decide which Halloween look you'll be sporting at this year's party. Costumes are a dime a dozen, and makeup surely helps, but nothing completes your Halloween look more than the perfect Halloween hairstyle to tie it all together. Nail this year's costume with these perfect Halloween hairstyles.
Nail this year's costume with these perfect Halloween hairstyles:
MEOW! Every Halloween party needs its cute feline friend. Textured curls paired with fuzzy ears are sure to make any kitty get all the good candy.
Step 1: On damp hair, layer Style Link Blow Out Skinny Queen and then Style Link Blow Out Curvy Queen. Using a round brush, blow-dry for volume.
Step 2: Apply Style Link Airy Builder and comb through until dry.
Step 3: Use a curling iron or wand, wind the hair around the barrel while holding the ends. Direct the hair away from the face until reaching the center back. Allow curl to gently drop. Repeat on the other side until reaching the center back and continue to the top.
Step 4: Direct head to the side and comb through from underneath to loosen but maintain the shape. With head still to side, spray with Style Link Texture Builder Hairspray from underneath.
Step 5: With fingers, separate strands and apply a mix of Style Link Mineral Booster and Over Achiever to the ends. Mist lightly with Style Link Mineral Rough Me Up and scrunch to create beachy waves.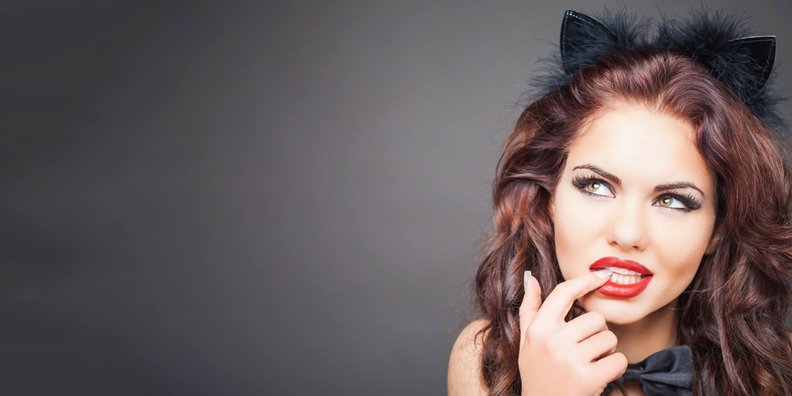 Hairstyle For Your Wonder Woman Costume
You don't need super powers to achieve this polished Wonder Woman blow out, but you will need a blow dryer, a round brush, Matrix Style Link Big Queen blowout cream and High Amplify Proforma Hairspray.
Step 1: Apply blow out cream evenly through damp hair. This heat-protecting hair cream adds full-bodied hair volume and lasting hold to any style.
Step 2: Begin blow-drying your hair while lifting at the roots. When hair becomes semi-dry, divide hair into four sections: one at the crown, two on each side and one in the back. Working your way from the back and sides to the crown of your head, use your round brush to pull each section of hair upwards as you blow dry towards your roots.
Step 3: As you reach the tips of your hair, roll your brush back down to your head as you continue to blow dry. On your last round, tilt your brush at the tips so it's vertical. Twist the brush so the hair wraps around it, and hold the dryer there for a few extra few seconds. This will add extra bounce and body to your completed look.
Step 4: Once hair is dry, hold your High Amplify Proforma Hairspray 8-12 inches away and spray. For maximum hair volume, lift hair and spray closer to your roots.
Hairstyle For Your Skeleton Halloween Costume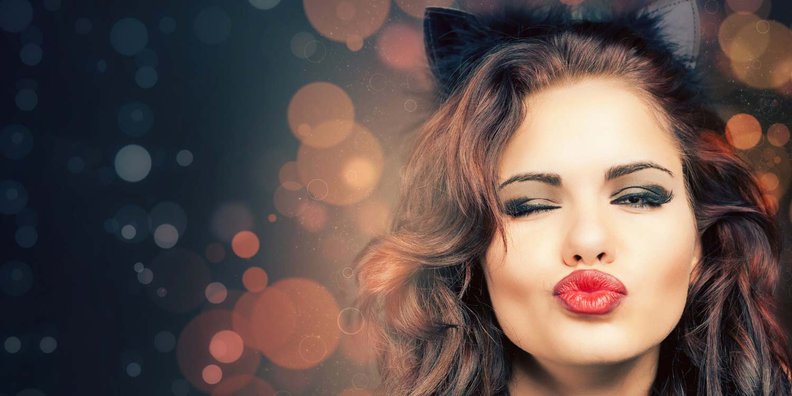 Just because you're lifeless for the night, doesn't mean your hair needs to be. Grab your favorite Matrix styling sprays, a comb and some bobby pins to finish this sleek skeleton Halloween look with an easy voluminous up-do.
Step 1: Prep your dry hair with a few spritz of texturizing spray for some added hair texture. Create a section of hair at the crown of your head, and gently backcomb to add hair volume.
Step 2: Pull hair back into a ponytail, secure with a hair tie, and begin to twist the length of the ponytail. Coil the twisted ponytail into a bun shape, securing the sides of the bun with bobby pins.
Step 3: Finish the look with a light mist of hair shine to add a glossy shine, and smooth any flyaway hairs.
Hairstyle For Your Vampire Halloween Costume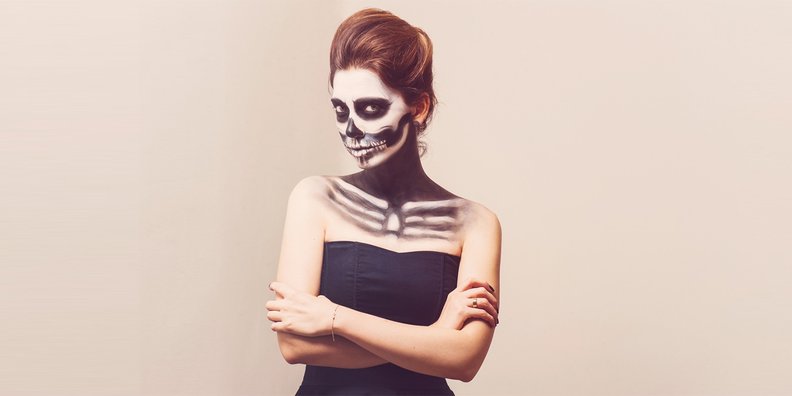 Sink your fangs into this sexy vampire Halloween look by finishing it off with a slicked back, high ponytail. All you will need is your flat iron, Matrix Style Link Heat Buffer spray and Style Fixer finishing hair spray, a hair tie, a bobby pin and a flat brush.
Step 1: Spray your dry hair with Matrix Style Link's Heat Buffer spray. This will protect your hair while giving you that smooth and shiny finish – without the hair damage.
Step 2: Flat iron your hair until it's fully straightened.
Step 3: Pull your hair into a high ponytail, using your flat brush to smooth any bumps. Take a small piece of hair from the bottom of your ponytail, and wrap it around the base, covering the hair tie. Secure with a bobby pin.
Step 4: Keep this sleek and sexy look in place by spraying Matrix Style Link's Style Fixer 10-12 inches from your hair. This will provide lasting hair hold and shine with a dry finish, locking out humidity.
Hairstyle For Your Mermaid Halloween Costume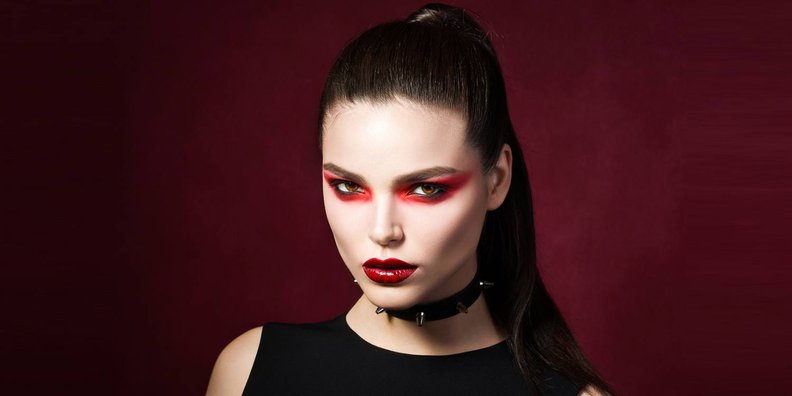 Make some waves with your Mermaid Halloween costume by adding a thick, texturized side braid to the look. Before you begin, make sure to have your sea salt spray, an elastic and Matrix's Over Achiever Hair Cream, Paste & Wax.
Step 1: The more hair texture, the better the braid so be sure to spray a generous amount of the sea salt spray to dry hair before starting. If your hair is on the straighter side, feel free to curl your hair beforehand if necessary.
Step 2: Pull your hair to one side and French braid. If you do not know how to french braid, a regular braid will do just fine! Secure with elastic. Pull out some face-framing pieces to add to the textured, undone look.
Step 3: Apply a small amount of Over Achiever Hair Cream to your fingertips, and pull at the sections of your hair to loosen the braid, giving it more width.
Hairstyle For Your Warrior Costume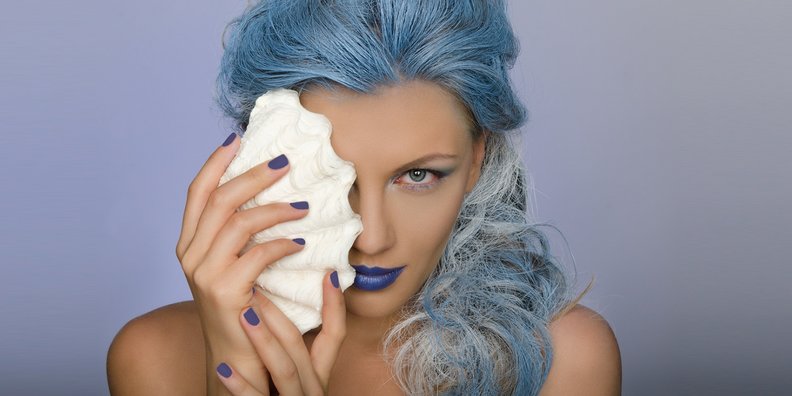 Everything about this costume is strong and fierce! A powerful side braid is the hair style of choice for any female warrior. We recommend a thick rope braid.
Step 1: On damp hair, distribute Biolage R.A.W. Bodifying Jelly throughout using a wide tooth comb.
Step 2: Using a large round brush, blow-dry starting at the nape and working up the head using horizontal sub-sections.
Step 3: Overdirect all hair to the left side to prepare for the braid.
Step 4: Create a rope twist braid starting at the front right hairline.
Step 5: Direct diagonally toward the left, following the front hairline.
Step 6: Continue using diagonal partings, feeding hair in from the top and underneath.
Step 7: When reaching left ear, continue braid down the length and secure with elastic band.
Step 8: Deconstruct braid to loosen, using the Biolage R.A.W. Texturizing Styling Spray
Step 9: Add hair accessories throughout the braid to compliment the look.
Hairstyle For Your Kitty Cat Costume