How To Take Care Of And Style Your Hair For The Perfect Selfie
Jackie Summers | June 01, 2017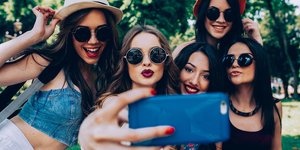 Do you have Instagram-envy? Do you gaze at the selfies in your feed, displaying your friends' cute or sexy hairstyles, and secretly wish your hair could be equally photogenic? Feel some of that Insta love with these tips for raising your own selfie hairstyle profile.
Attend to your hair health
. In photos, damaged hair doesn't lie. The camera sees dry hair, dry split ends, brittle or over-processed strands, even the results of a dry scalp. Assess your own hair damage honestly and then get busy with hair repair before you proceed with any more selfies. That could mean seeing your hairstylist for:
A trim to get rid of dry, broken ends.

A deep conditioning treatment to restore moisture to parched hair.

A reparative hair treatment to add protein to weak strands.

A scalp treatment to rebalance and soothe.

An rx for an at-home hair care strategy for ongoing hair repair and hair restoration.
Get a grip on your flyaway hair.
Nothing wrecks a photo faster than a fuzzy halo of dry hair around your head. Before you flip the camera around, check for flyaways and tamp them down. Here are a few pro hairdresser tips:
Mist a hairbrush with hairspray and gently brush through your hair.

Spray the palms of your hands with hairspray and lightly pass them over the surface of your hair.

Spray a toothbrush with hairspray and tap it on the fuzzy little baby hairs that sprout up along your hairline.
Amp up the hair shine.
Dull hair is the death of a photograph—you want it to shine and shimmer!
Here are a few ways that Matrix pros achieve maximum hair shine:
Start in the shower with a sugar-infused exfoliating shampoo and conditioner that will slough off surface build-up and leave hair soft and shiny.

See your stylist about a metallic-toned color gloss. Demi-permanent hair glosses serve as a sheer overlay of color for your hair, and in the same way that gold, copper and silver metallic threads create dazzling shine when woven into fabric, one of the modern, metallic gloss shades will add even more shine to your hair color.

Look for an ionic blow dryer that encourages faster evaporation and therefore cuts down on drying time that can damage and dull your hair. Also, aim the blow-dryer downward on the hair strand, to prevent the heat from roughing up the outer cuticle layer.

Always apply a heat-protectant for hair when you use a hot dryer or iron to prevent dulling thermal hair damage.

Prep damp hair with a shine-enhancing hair cream or hair lotion before styling your hair.
Give your hair color a check-up.
Brassy hair tones, grown-out roots and faded hair color are not the stuff of "likes" in your selfies. Your hair color needs to be fresh, even, on-tone and on-point. If it's not, make an appointment with your hairstylist to get your hair color up to speed before capturing it in photographs.
Do the ultimate selfie with soft waves
. There's a reason long, soft waves are the most-photographed hairstyles on social media. They show off the highs and lows of your hair color to perfection. It's a feminine hairstyle, and the movement of the waves flatters nearly every facial shape. Hey, if it's good enough for Victoria's Secret models, it will work for you! Here, Matrix Celebrity Stylist Victor Mendoza shares his hair wave strategy:
Apply smoothing hair cream to damp hair and "rough dry" with fingers to retain the natural hair texture.

Once hair is dry, mist with a heat-protection spray.

Wind vertical subsections around a curling iron, simultaneously twisting the strands as you work them around the barrel.

Allow each section to heat thoroughly before releasing it from the iron. Drop the curl into the palm of your hand and let it cool for a moment before letting go. Gently tug at the tip of the section to stretch out the curl.

Once all the hair is twisted and cool, mist the midlengths and ends with a texturizing finishing spray, squeezing and tousling the hair as you spray to encourage texture formation.
Build in more hair volume.
Full hair is photogenic hair, so before you shoot, give it the biggest possible boost. Mendoza uses this hair technique at photo shoots for smooth, voluminous, long-lasting blowouts:
Combine a smoothing hair cream with a pump of hair volumizing booster to the root area of damp hair.

Work a volume-building hair mousse through the midlengths and ends.

Blow dry the hair using a large round brush, lifting and directing each section in the opposite direction and aiming the dryer at the roots to encourage lift.

At the ends, roll the hair around the brush to create a soft curl.

Once the hair is dry and cool, mist it with a volumizing hairspray for touchable body.

Finish by working a weightless, gloss-boosting hair serum through the ends.
Photograph your hair to its best advantage.
Like everything else, there are some specific ways to shoot your hair so it looks its best:
Bring all your hair forward—it will look full and lush and nobody can see the back of your head anyway!

Do a hair flip right before you take the shot. Bam! Lioness hair!

Find your best angle. You can practice in the mirror before making a decision. Most people recommend a slight tilt of the head and turning your face a little off to the side.

Find the best light, which is generally outside or in front of a window. Your hair will look so shiny! Be sure the light is in front of you when you shoot, not behind. If you're outside, stand in the shade if the sun is high because otherwise it will cast shadows on your face. Sunset is the ideal time to shoot—when the light is low and glow-y.

A little makeup can't hurt—especially lipstick and mascara to define your best features.
This is really the bottom line. If you're rocking a hairstyle that works for your hair, your face shape and your life—one that makes you feel gorgeous and confident—your joy will shine through in every photograph, no matter what else you do!