How To Talk To Your Hair Stylist To Get the Very Best Hair Color
Jackie Summers | March 10, 2017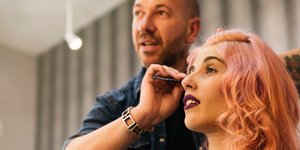 Maybe you've been gazing with envy at your sister-in-law's honey highlights for years. Perhaps your favorite actress just hit the red carpet in the most amazing red hair, and you KNOW you could rock that shade as well as she does.
Or possibly you've been scrolling through hundreds of pink hair images because, well, why not? Whatever the situation, you are now ready for some major hair color. So you made the appointment and you're prepared for your life to change.
Ultimately the salon experience will be relaxing and pampering—you'll flip through a magazine or even catch a few zzz's while you wait for the foils to come out. But first, there's the consultation. This is the make or break part, where you talk, your stylist listens, she talks, you listen, and together you reach agreement on what exactly is going to happen to your hair. The goal on both sides is supreme satisfaction, post-salon bliss and you becoming the object of your squad's hair envy. And for that to happen, you must do a little bit of preparation.
Follow these nine steps for talking to your stylist, and you're guaranteed to get the hair color of your dreams!
1. Show AND Tell
You can go on and on about the caramel and mocha balayage you're picturing in your mind's eye…and you should. But you should also bring lots of pictures. (Pretty sure hair is why Pinterest and Instagram were invented. You can also find loads of hair inspiration here too.) If you can't find a picture that depicts the exact shade you want, don't be afraid to go the "one from column A and one from column B" route. In other words, you can tell your hair stylist, "I like the color of the highlights in this picture, but I like the base color in this other picture." She'll get where you're going.
2. Be Yourself
If most of your days involve the gym, followed by the workout you receive wrangling a dozen toddlers in your pre-school class, don't put on your once a year, la-di-da dress and go into the salon pretending you're fancier than you are. Your stylist needs to know what your life is really like so she can make sure the color she creates fits into that lifestyle— otherwise it could be stressful trying to maintain the color and style.
3. And Be Realistic
This comes under the category of "know thyself." As in know that your hair length, texture, condition and even your age are all factors in what you can and cannot do with your hair color. Sure, nearly anything is possible, but are you really prepared for the many, many visits it would take to lighten your mid-back-length dark brown hair to platinum blonde…and keep it that way? Probably not. Your hair stylist will tell you what's doable and what isn't, and you should pay attention to her.
4. Understand the Skin in the Game
Your complexion has everything to do with the hair colors that will look best, and those that won't. If you're a pink-cheeked porcelain doll, for example, rich chocolate brown or sandy beige hair will be amazing on you. Golden blonde hair, on the other hand, will make you look like you ate bad mushrooms. To make it easy for your hair stylist to assess your skin tone, skip the HD foundation and keep your face as bare as you dare.
5. Be Aware of the Condition Your Hair Is In
Modern hair color is a marvel. It contains so many conditioning and nourishing ingredients, it's almost healthier to color your hair than not. Almost. Because hair color is still a chemical treatment that alters the structure of your hair in order to change the shade. So if your hair is starting out damaged, there's only one way to go and that's more damaged. If your stylist suggests conditioning treatments or adding one of the new bond-strengthening systems to your service, do as she says. And if she feels your hair isn't fit enough for the color you want at this point in time, be patient and let her work with you to get it into shape before you hit the tint.
6. Learn Some Language
. You don't have to earn a cosmetology license, but it helps if you're on the same page with some of the most commonly used hair color lingo. Here are a few to get you started:
1. Highlights: Lightening select strands in the hair with hair color or lightener.
2. Balayage: Hand-painting highlights in areas where the hair would lighten naturally from exposure to the sun or over time.
3. Ombré: Creating hair color on the ends that contrasts dramatically with the rest of the hair.
4. Sombré: Creating hair color on the ends that contrasts more subtly with the rest of the hair.
5. Color Melt: Combining multiple shades in one hair color design, and blending them so they melt together seamlessly, without visible lines of transition.
6. Single Process: Any hair color service that is done in one step, such as permanent color that lifts and deposits
7. Retouch: Adding color to newly-grown hair in order to match the existing color.
8. Glaze: Using a demi-permanent or semi-permanent hair color to enhance, enrich, change, match, tone down or intensify natural or color-treated hair while harmonizing contrast.
If you aren't familiar with a term your hair stylist uses, just ask. She'll be happy to explain!
7. Don't Keep Secrets
Full disclosure about prior chemical services is critical for your hair stylist to formulate your color properly. Are you sure last summer's keratin straightener is completely grown out and not worth mentioning? Mention it anyway.
8. Be Clear About the Future
By this point, it's pretty much a given that you'll walk out of the salon with glorious color. But then what? Talk to your stylist about how long you can expect your color to last, how often you will have to come back to the salon to keep it up and how much that will cost. If you're not thrilled about the answers to any of these questions, the two of you might want to rethink your color plan.
9. Bring Your Hair Stylist Home
Well, of course she can't be there every morning with her blow dryer and her fancy brushes and gorgeous-fragranced products. But she can teach you how to style your hair yourself, and she can definitely provide you with the topnotch hair products she uses to help your hair color last longer and your hair stay healthy and strong.