How to Wear Vivid Hair Color to Work
Jackie Summers | March 21, 2018
Are you a unicorn in a world of ordinary brown horses? Do you yearn to sport mermaid hair color or rainbow layers but worry your boss will frown on your flamboyance? Do you eagerly follow all the newest hair color trends, but worry that they won't work at work? Take heart. "Everyone can wear exciting hair color shades," notes Matrix Director of Education Donna Mann. "It's just a matter of selecting the right technique and placement for you and your personality." Here's how to wear your favorite to work, no matter what you do for a living!
Location, Location
Bright, vivid hair color can be worn in so many ways. If you're in a career that celebrates personal expression—rock musician, tattoo artist, video game designer—go ahead and go for full, root-to-tip unicorn hair color. Hair color formulas today offer an endless array of shade options, from metallic rose golds or smoky violets to eye-grabbing and vivid ocean blues, emerald greens or fuchsia pinks.
If your job is a bit more chill, you can still incorporate your favorite mermaid hair colors into your look. According to Donna, consider adding a few peek-a-boo panels or hidden layers that are nestled underneath your natural hair color. They're incognito when you're at work, but after hours, you can sweep your hair up and bam! There they are!
If your workplace is a bit more flexible, how about trying some colorful ombré or Blonde Balayage layers, or placing a few eye-popping pieces of color within your bangs? Shadow roots are another popular hair color trend—your stylist will place an unconventional color at the roots that gradually melt into the rest of your hair color.
Consider Hair Color Options Like Rose Gold, Silver or Platinum Blonde.
You don't necessarily need to sport a full head of grape hair color to stand out. There are subtler hair color options that still tell the world you're chic and in-the-know on all the latest hair color trends. "Rose gold is a beautiful hair color," notes Donna. "It's a cross between pink and coral, with a beautiful, metallic finish." Smoky or silvery blue, grey or lilac tones are also popular. When applied with skill, these hair color shades can be crazy sophisticated. And you can never go wrong with a clean, clear, bright platinum blonde. Blonde hair color elevates any look to new levels of chic!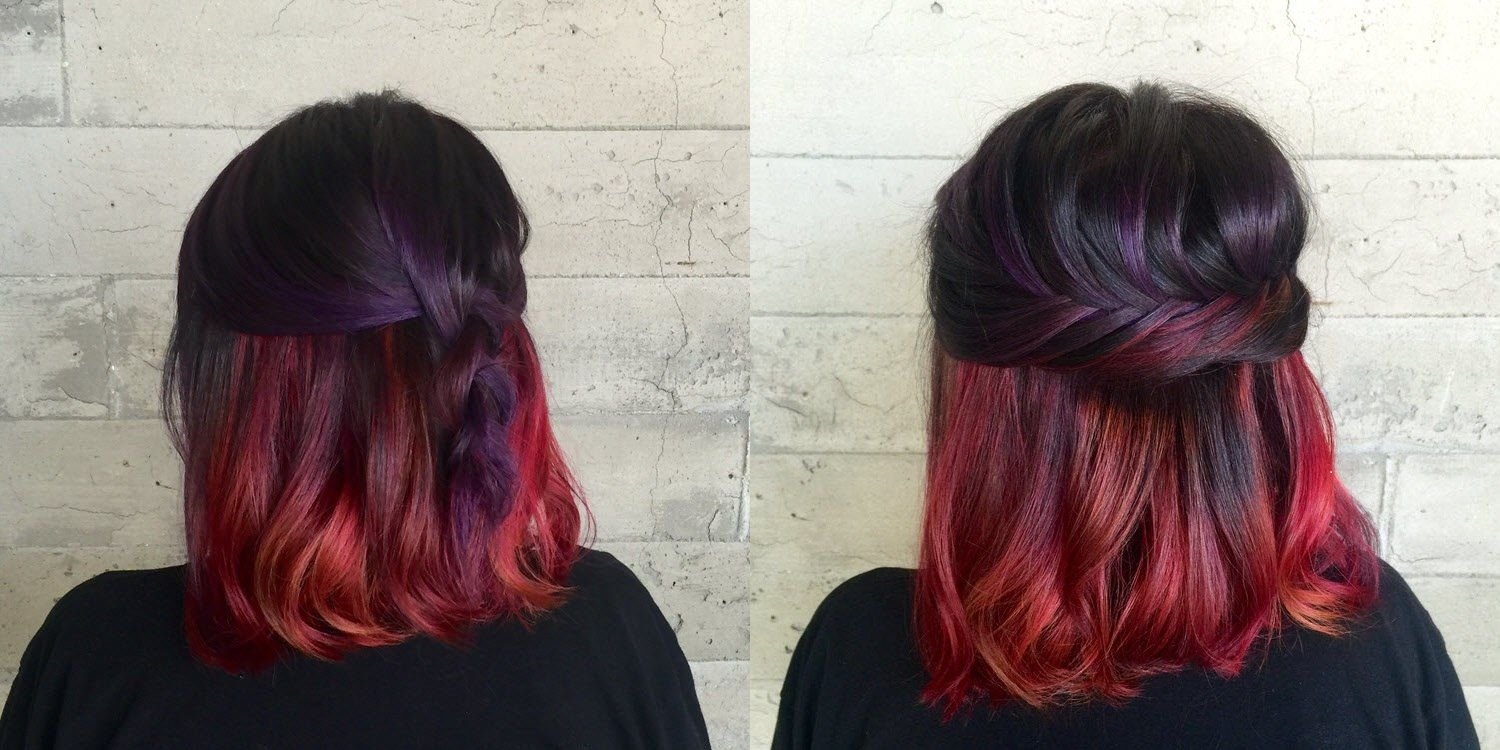 Choose a Flattering Hair Color
Even if you're straying from the conventional blonde/brunette/red hair color choices, the basic rules of hair color apply. As you scroll through the rainbow, keep in mind that cool colors will flatter cooler complexions and warmer colors will flatter warmer complexions. Those rules should guide your hair color choices, whether you're considering a fiery mix of gold and crimson, or a cool, powdery blend of carnation pink and bluebell.
Work with a Pro
You may be tempted to go the DIY route, but trust us—don't. Applying unicorn hair color or any unconventional shade requires vast amounts of skill and experience for a healthy, shiny, sophisticated-looking result. And healthy and shiny is what you must go for if you're going to be sporting your sassy hair color shade in a professional environment. It's often not the actual hair color that can bring down your look, it's colored hair that's dry or damaged. A professional will make sure damage doesn't happen, with knowledge of how much color your hair can handle, and tools like hair bond restoration formulas and deep conditioning hair masks.
Keep it Up
Regardless of the shade, salon-fresh hair color is always Insta-worthy. But the key to looking polished at work is to be sure it stays that way. That means regularly-scheduled retouches to avoid visible roots, lines of demarcation or fading. Use sulfate-free shampoos that are formulated to prevent hair color from fading prematurely. Add deep-conditioning hair masks to your hair care routine to retain the moisture your hair needs. Protect your hair from thermal styling tools with thermal protection cremes, and air dry your hair whenever possible. However, in a professional setting, your colored hair should be well-groomed and frizz-free. There's a world of difference between fuzzy unicorn hair pulled into a sloppy ponytail, and mermaid hair that's blown out and sleek or curled into luscious ocean-inspired waves!
Make Sure Your Makeup and Wardrobe are On Point
"If you have statement hair," observes Matrix Artistic Director Nick Stenson, "you can't be lazy with your makeup and wardrobe. These must support your look." That means giving some thought to your work outfit each day and selecting pieces that are trendy and flattering. And save the bare face routine for the weekends. Even a quick makeup application of foundation, blush, brows, lashes, and lips will ensure you look put-together at work!
Be Realistic
Have a clear understanding of your workplace environment and culture. If in doubt, check in with management about what is and is not allowed on the hair color spectrum. If the boss gives you the green light, go ahead and unleash your inner unicorn. If not, you don't have to give up your hair color dreams entirely—just reduce the volume a bit!