Need to Know Frizzy Hair Styling Tips & 6 Frizzy Hairstyles for Your Hair Type
Jackie Summers | March 02, 2021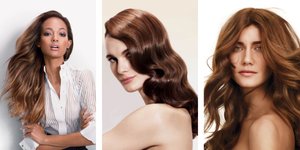 When styling frizzy hair, there are three primary factors to consider in getting the look you want: the right cut, a hairstyle that works with your natural texture and the best product for the job. Thankfully, texture is in again, so with a little help from the pros at Matrix, you can work with your frizzy hair and achieve head-turning styles.
How To Wear Frizzy Hair - Long, Short or Somewhere in Between?
Deciding on what length to wear your frizzy hair will depend upon the amount of damage you have, the texture of your hair and how thick or thin it is.
If your frizzy hair is seriously damaged, a shorter cut will be the fastest way to restore it to better health.
If your hair is naturally wavy or kinky and fairly healthy, a longer style will help weigh it down and tone down the frizz.
If your frizzy hair is thick or wavy, you can wear it shorter by having multiple layers cut or razored in to thin the hair out and avoid the unwanted poof. A good razor cut can be a beautiful way to reduce heaviness in thick or curly hair that is frizzy.
If your frizzy hair is thin, ask your stylist to add just a few simple layers to make it appear thicker.
Almost anyone with frizzy hair can wear bangs, unless your hair is naturally very curly. If this is the case, try having your stylist cut in a few soft tendrils around the face.
Tip: Is there someone with frizzy hair whose style you admire? Ask her who cuts her hair.
Which Products Work Best When Styling Frizzy Hair?
Product usage on frizzy hair will depend upon what look you are going for, but as a rule of thumb, use salon-grade shampoos, conditioners and styling enhancers. They contain less alcohol, so they won't damage frizzy hair.
Shampoo Tips For Frizzy Hair
When shopping for a shampoo formulated for frizzy hair, look for those with natural oils to help tame your tresses. Don't shampoo more than twice a week if possible; shampooing too frequently can strip your hair and create more frizz. If your hair needs a pick-me-up, use a dry shampoo in between washings.
If your frizzy hair has damage due to build-up from product, hard water deposits and minerals, a good clarifying shampoo can help. Build-up can cause the ends to split and feel brittle, adding to the frizz problem.
Conditioner Tips For Frizzy Hair
When selecting a conditioner for frizzy hair, look for one with moisturizers such as aloe vera, glycerol, panthenol or proteins. Active components such as macadamia nut oil, argan oil, shea butter or wild briar oil coat each strand of hair with a fine protective layer and help make frizzy hair lay flat.
Anti-Frizz Hair Treatment Tips
Protective products such as hair serum or a protective gloss or gel get your frizzy hair ready to face the day after shampooing and conditioning. For more intense hydration on frizzy hair, use a treatment mask once a week, or a hot oil treatment once a month to deep condition.
For quick pick-me-ups during the day, detangling spray can be spritzed on your frizzy hair. Just spray it on and run your fingers through your frizzy parts to calm them down.
Frizzy Hair Styling Ideas: Yes, Your Hair Can Look Pretty!
Because texture has reemerged as a fashion trend, hair that's not so smooth and controlled can serve as a fun accessory whether wearing it up or down. The new way to wear texture is to have just enough messiness to be sexy. Styles with just enough frizz to stay fluffy and soft can create charming, disheveled looks.
1) A Long and Loose Hairstyle For Frizzy Hair
These looks are especially great if your hair is thick or wavy and on the longer side. Your natural texture will create the body this look needs, and soft pieces set apart and defined with a curling iron give the style definition.
What to Do: Apply a light, leave-in conditioner through clean, damp hair. Lightly blow dry hair with a diffuser, scrunching as you dry, or air dry and scrunch every few minutes. Finish the look by wrapping a few random pieces of hair around a large-barrel curling iron, keeping the ends loose. If needed, rub a little hair oil or gloss between your palms and smooth it over your hair to keep the texture sexy and touchable.
To vary this style, try adding a headband. Pull the hair back with a band while it's still damp. This will smooth the frizzy hair at the crown while leaving texture on the ends. This is a great alternative when you are short on time. When you pull the headband off later, you are left with lovely, smooth body on top.
2) A Tousled Bob For Medium Length Frizzy Hair
For midlength frizzy hair, a textured bob is a simple, sexy style that is perfect in the workplace or at play.
What to Do: Apply a volumizing mousse to shampooed frizzy hair while still damp, and let it air dry or lightly blow dry with a diffuser. As with Long and Loose, finish the look by wrapping a few random sections around a large-barrel curling iron. Shape the pieces with your fingers. If necessary, spritz on a little light-hold hairspray to keep the waves in place.
3) A "Kinky and Loving It" Option for Long or Short Frizzy Hair
If your hair is extremely kinky and thick, this throwback to the Afro style of the '70s is perfect for you.
What to Do: Cleanse your frizzy hair with a gentle shampoo and deep condition with a mask or hot oil treatment. While your hair is still damp, rub a few drops of hair oil into your hands and smooth it through your hair from scalp to ends. Apply a moisturizing leave-in conditioner, and finish the look by building the volume you desire with a pick or your fingers.
4) An Undone Updo Hairstyle For All Lengths of Frizzy Hair
This volumized updo style dresses up or down and works beautifully with frizzy hair.
What to Do: Spritz your scalp with a dry shampoo to add volume to your frizzy hair. Curl your frizzy hair with several large Velcro rollers and let air dry, or use hot rollers until they cool. After removing the rollers, tease your hair at the crown with a fine-tooth comb. Finish the style by pulling your hair up into a sloppy bun, keeping a few tendrils loose in the front. Secure the bun loosely with pins, and adorn with accessories if desired to dress up the look. Spritz on a light hairspray to hold the style.
5) An Untidy Fishtail Braid For Medium and Long Frizzy Hair
For medium-length and longer frizzy hair, pulling the hair back into a loose fishtail braid can create a romantic, feminine style that works with both thin and thick tresses. This look is a bit more time consuming, but worth the effort. It's casual enough for day, but can be dressed up with stylish accessories for a night on the town.
What to Do: After shampooing, use a mousse or gel on damp hair and work it through. After air drying, use a large-barrel curling iron on a few sections of hair, then tease your hair at the crown to add volume. Gently pull your hair back section by section into a low ponytail, and secure with a coated elastic band. Divide your hair into two sections, and take a small section from the outside of one half, and pull it over to the other side. Repeat this on the other side, and continue alternating in this way until the whole head is done. Tie it off with a ribbon or elastic band, and cut the first band to loosen the braid and create a feminine softness. If desired, you can add a disheveled look by pulling out a few tendrils from the front. To create a more put-together look, spritz on a light hairspray or smooth over with a very small amount of gloss.
6) A Bulky Bun for Naturally Curly Frizzy Hair
This polished look works with frizzy hair of any texture, but is especially nice for those with natural curl. Think of this as a ballerina bun on steroids.
What to Do: If your hair does not have natural wave, add the needed texture by using a volumizing shampoo and then working mousse through your damp hair. Let your hair air dry, or, if you are in a hurry, lightly blow dry with a diffuser, scrunching hair with your fingers as it dries. Next, spritz your frizzy hair with dry shampoo, and brush it into a high ponytail at the crown. Secure the ponytail tightly with a covered elastic band. Taking 1-inch sections, backcomb the hair in the ponytail to add as much volume as possible. Complete the look by wrapping the hair around the base of the ponytail, creating a big bun. Pin it in place, and add hold by using a light-hold hairspray or gloss. To add glam, adorn with accessories as desired.
Only Smooth Your Frizzy Hair Once In A While And Use the Best Tools
If you crave a smooth, sleek style sometimes, go for it. Just keep in mind that the heat needed to get that look can cause damage to your frizzy hair. On those occasions when you just have to go straight, be sure to use heat tools safely and sparingly.
Prep your frizzy hair for heat by using a moisturizing shampoo and conditioner and applying a nourishing leave-in treatment to create a heat-resilient barrier. Apply the product when hair is freshly damp and blow-dry as soon as possible to get the smoothest texture.
When using a blow dryer to straighten, use a diffuser attachment to avoid direct blasts of heat to frizzy hair. While drying, use a quality boar-bristle brush and straighten the hair section by section. The boar-bristle brush will help distribute the natural oils from the scalp onto the hair.
If using a flat iron to straighten, invest in a ceramic iron. It's faster and less damaging to your frizzy hair. Iron the hair straight section by section.
To finish your straight look, spritz on a light hairspray, or rub a small amount of gloss or gel into your palms. Smooth the product onto your frizzy strands lightly to keep the frizz down. This can be repeated throughout the day as needed when frizz begins to pop back up. Detangling spray can also be used as a smoothing agent.