11 Hairdresser Secrets For Making Your Blowout Last
Jackie Summers | April 25, 2018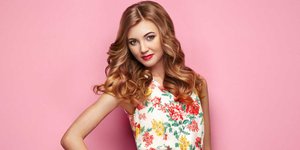 Whether you're a "won't leave the house without perfect hair" type, or you invest your time and effort into the occasional blowout, you hope to stretch each blowout for as long as possible to maximize your hair straightening efforts. So how do you maintain day one perfection through days three, four, five or more? Here are tips from the hairdressing pros at Matrix for making your blowout last.
Prep Properly.
The secret to a long-lasting blowout begins before you even pick up your blow dryer. Namely, it's all about using the products your hair needs. For example, if your blow-out pain point is fine hair that doesn't hold its shape, prep your hair with a volumizing product—like a lightweight mousse-- that will plump up strands. If your hair is thick and full and you're prone to frizz, get the upper hand with a controlling styling hair crème which will repel fuzz and flyaway hairs.
Divide and Conquer.
The biggest mistake people make when blow-drying, according to Matrix Artistic Director Michael Albor, is not getting all of the hair completely dry. So don't rush it. Take the time to divide your hair into small, fine sections, and move your brush and blow dryer carefully from scalp to ends, as many times as it takes to get each section of your hair completely dry.
Round is Best.
Blow drying your hair with a ceramic or boar bristle round brush gives you the biggest boost for your buck. The longer your hair, the larger the brush should be. Also, a larger hair brush will produce a straighter result; a smaller brush will lead to a tighter curl. As you dry, direct each section in the opposite direction for more lift at the roots. Then release it and keep your hands off until it's completely cool. You can also create a barrel-shaped curl while your hair is still warm and clip it into place. "Set" your hair all over and wait until it's cooled down to remove the clips.
Flip your Head Over.
Droopy roots are the bane of any blowout-lover's existence. To get maximum volume at the roots, mist damp hair with a targeted, root-boosting spray, then flip your head over and direct the blow-dryer nozzle directly at your roots.
Know Your Spray.
Hairspray can be your blowout's best friend if you know what type to use and how to use it. According to Michael Albor, a working spray is meant to go on wet and is used to help shape and set the hair. Mist working spray on each section before blow drying. An aerosol spray locks in the shape once it's finished. "Aerosol hair sprays are meant to go on the hair dry," explains Michael, "so they should be held 12 to 14 inches away from the head. You shouldn't wet the hair. When used properly, aerosols will give you amazing humidity resistance and style retention."
Pop it on Top When You Sleep.
Gathering your hair into a loose, messy bun before bed is the best way to make your blowout last overnight. Find a hair tie that won't create a crease—Scrunchies work well, as do claw-style hair clips. You can also wrap your hair in a silk turban to make your blowout last longer.
Use a Terrycloth-Lined Shower Cap.
If your hair is fine, moisture will cause it to flatten. If your hair is full, moisture produces frizz. So protect your blowout in the shower with a snug-fitting, terry-cloth cap to prevent the steam from wreaking blowout havoc.
Practice safe sweating.
You don't have to skip the gym, but it's wise to protect your hair from perspiration. Pop an absorbent cloth headband on before your workout to prevent delicate baby hairs around your hairline from frizzing up.
Refresh Your Roots with Dry Shampoo.
Your oil glands may not have received the memo that your goal is to stretch your blowout as long as possible, which means your scalp could become oily before you're ready to shampoo. That's why dry shampoo is the blowout's best friend. It will absorb oil at the scalp, refresh your ends and even give your hair more body.
Refresh with Your Blow Dryer.
Here's another trick that will revive your blowout quickly. If you wake up on day three or four and your blowout has lost its shape, grab your round brush and blow dryer and go back through your dry hair, section by section, just as you did when it was wet. The heat from the dryer will restore the shape and remove any bumps or creases that may have formed.
Try a Roller Boost.
If the top is falling flat, consider popping a few large Velcro or hot rollers in on top for an instant boost. "I find that hot rollers make life so easy," says Michael. "I'm using them more and more in the salon and on my photo sets. Mist the hair with a thermal protection hairspray before setting, and you'll find the set lasts even longer."