The 10 Best Strengthening Shampoos for Your Troubled, Damaged Hair
Jackie Summers | June 01, 2017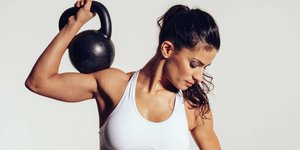 Weak in the knees is a good thing—it means you're crazy in love. Weak hair is another story. It generally means your hair strands are damaged or dry or malnourished. How can you strengthen hair? Start with a hair strengthening shampoo. The pros at Matrix round up the 10 best strengthening shampoos for every hair situation, whether it's a little weak or a lot.
Your hair type: Extremely fragile, wispy, breaks easily, unmanageable
Try this strengthening shampoo:
Here's why: It features technology called Intra-Cylane plus bamboo and ceramide to repair and strengthen fragile strands. According to Matrix stylists, when used with FiberStrong Conditioner and Intra-Cylane Fortifying Cream, your hair will be 12 times stronger after one application.
Your hair type: Stressed, sensitive, prone to hair breakage
Try this strengthening shampoo:
Here's why: Recover is a natural-origin formula, which means your already-stressed hair won't be exposed to sulfates, silicones, parabens or artificial colorants. What it will receive is an abundance of yucca, derived from the root of the yucca plant and containing carbohydrates, proteins and amino acids; and goji berry, a fruit extract rich in polyphenols and amino acids. These nature-loving ingredients work together to leave hair three times stronger, when Recover Shampoo and Conditioner are used together.
Your hair type: Extremely lifeless and tired from over-processing with chemicals like hair color or straighteners
Try this strengthening shampoo:
Here's why: It's packed with pro-keratin and silk, two ingredients that are like bench pressing for your hair. Keratin is the protein that is actually found in the hair, and silk is nature's strongest fiber (just try to snap a silk thread!) This shampoo also locks in moisture, and the Matrix experts swear that over-processed hair is 90 percent more conditioned after one application, when combined with Keratindose Conditioner and Pro-Keratin Renewal Spray.
Your hair type: Blonde or heavily highlighted, limp, hard to style
Try this strengthening shampoo: Total Results Hello Blondie Shampoo
Here's why: You adore your lightened locks, but frequent bouts with bleach can cause them to become brittle and dry, which can lead to hair tangling and dullness. This weightless shampoo for bleached hair will soften and revive overworked light hair so it's supple and manageable. And because it contains chamomile, it will also keep your blonde hair color bright and on-target.
Your hair type: Extremely fine, shedding, breaks easily
Try this strengthening shampoo:
Here's why: Experts say that clogged follicles in the scalp can inhibit new hair production, which leads to thinning and ultimately to hair breakage. This gentle shampoo for thinning hair removes the impurities that clog follicles. Hair looks instantly thicker and fuller, and over time, thinning and hair breakage are reduced as follicle obstructions are discouraged.
Your hair type: Curly and delicate
Try this strengthening shampoo:
Here's why: Curly hair is like cashmere—it looks best with delicate cleansing and minimal manipulation. This cleansing conditioner for curly hair eliminates the heavy detergents, sulfates, silicones and parabens that can stress out curls, and as it gently cleanses, it also infuses thirsty hair with the moisture and condition that curly textures crave.
Your hair type: Super dry and weak
Try this strengthening shampoo:
Here's why: Dry hair leads to depleted, weakened hair, so the right kind of nourishing moisture is essential. Formulated with arginine and soy, this hair formula cleanses and conditions severely dry, damaged hair to help restore suppleness, shine and strength.
Your hair type: Dull and coarse
Try this strengthening shampoo:
Here's why: Coarse hair is especially prone to dryness, and once hair becomes too dry, it's compromised and will become flyaway, dull and difficult to detangle. The lightweight moringa, macadamia, coconut and almond oils in this shampoo will infuse coarse, dry hair with the moisture it needs, keeping it supple, strong and manageable.
Your hair type: Oily and lifeless
Try this strengthening shampoo:
Here's why: It's kind of a vicious cycle. Your scalp produces an excessive amount of oil, which prompts you to shampoo more often, with shampoos meant to cut through the oil. But what happens is all that lathering stimulates even more oil production, plus strips away the moisture your hair needs to remain smooth and supple. This cooling shampoo for oily hair will whisk away the excess scalp oil and control oil production without drying out the rest of your hair. Healthy balance is restored!
Your hair type: Long and frayed at the ends
Try this strengthening shampoo: Total Results So Long Damage
Here's why: Long hair is like the timeline of your life—the ends have been with you for years, and have been weakened by long-term exposure to weather, thermal tools, combs and brushes, hair color and more. This shampoo contains a unique ceramide complex that helps boost strength to your long hair, controls hair breakage and encourages healthy hair growth.