The Most Important Discovery to Protect Your Hair and Hair Color – Everything You Need To Know About Hair Bonders
Jackie Summers | March 20, 2017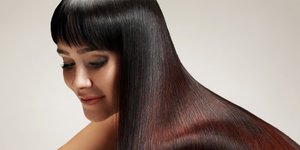 Beauty Scientists have been hard at work and they've come up with yet another discovery that changes everything when it comes to hair color.
It's unique. It's revolutionary. It's protection for your hair that can't be attained in any other way. Hairstylists everywhere are calling it life-changing for their clients. The product is a bonder and here's everything you need to know.
1. It's actually not hair color
BOND Ultim8 Bond Protecting System is added into your hair color formula to repair and protect your hair during your color service.
2. It's protection for your hair
Here's why. The bonds that form the structure of healthy hair are constantly under attack. Hair lighteners, permanent hair color, demi-permanent hair color, smoothing and perm services, thermal tools, mechanical tools and environmental aggressors can all lead to the undoing of these structural bonds, leaving hair damaged, weak, dull and lifeless. BOND Ultim8 Bond Protecting System takes up the challenge—protecting existing bonds, preventing further bond breakage and remarkably transforming the outcome of salon services. Now, whether you're a salon-born blonde, devoted to your grey-coverage color services or tempted by every new mint, pink or coral hue that comes along, you can rest easy knowing there's a scientifically advanced way to spare your hair from damage and elevate it to the healthiest possible level.
3. There are several bond systems on the market but only BOND Ultim8 covers these eight important benefits.
Here they are:
1. Helps prevent hair bond breakage
2. Helps protect hair bonds
3. Helps keep hair bonds strong
4. Preserves the entire hair bond network
5. Helps prevent hair breakage
6. Enhances smoothness in hair
7. Increases softness in hair
8. Produces healthier looking hair
4. The BOND Ultim8 System has three steps. The first two steps are performed by your hair stylist hand and the third step is all you!
1. Step 1- Amplifier: This formula is added to any Matrix hair color or hair lightener to protect hair as it processes. This step doesn't take any additional time and does not alter the color performance in any way.
2. Step 2 – Sealer: This deep conditioning treatment helps seal in the benefits of Step 1 and adds further protection. It's applied after the hair color is processed and rinsed, and processed for 10 minutes at room temperature. The hair is then rinsed, shampooed and conditioned with your preferred hair products.
3. Step 3 - Weekly Sealing Treatment: This essential follow-up formula perfects fibers and provides additional nourishment at home, following the in-salon service.
5. The Weekly Sealing Treatment for at-home use also offers eight benefits!
1. Prevents hair breakage. Lots of things can weaken strands—we're looking at you, flat iron and blow dryer! This treatment is your hair's super hero, making it strong and impervious to hair breakage.
2. Adds flexibility to strands. The willow tree bends so it does not break, Grasshopper, and the Weekly Sealing Treatment keeps your hair as flexible as a willow branch.
3. Boosts hydration in hair. Not only does the Weekly Sealing Treatment prevent moisture from escaping, it also infuses your hair with more of the hydration it needs.
4. Smooths hair strands. Frizz? Flyaways? History with this powerful formula.
5. Softens your hair. Nothing is worse than running your fingers through your hair and feeling stiffness, snarls, coarseness. This treatment makes it soooo soft to the touch!
6. Increases hair shine. Hair stylists know that shiny hair is everything when it comes to killer hair color. No shine is no good—color needs it to look vibrant, rich and luminous. You can check the shiny hair box with Weekly Sealing.
7. Produces healthier-looking hair. Like, shampoo ad healthy.
6. You can (and totally should!) get the treatment even if you
don't color your hair

.

Bond Ultim8 can be performed as a standalone treatment as well the next time you visit the salon for a haircut. Talk to your stylist about BOND Ultim8 if you:

1. Have gotten straightening or other treatments (keratin, relaxers, perms etc.)

2. Use heat or thermal tools frequently (blowdryers, hair straighteners, curling irons)

3. Spend a lot of time in the sun, ocean, pool and outdoors

4. Are just living life and you want to protect your hair!
7. Celebrities are in on the secret
Stars change hair color as frequently as they change their wardrobe, and they can't afford anything less than perfection. Celebrity stylists like George Papanikolas swear by the Bond Ultim8 System for his famous clients—like Khloe Kardashian – "I can push hair color further, take my clients blonder, and process their hair more often," George reveals. "They love it, and now they all stop me before I begin every color application to be sure I've included Bond Ultim8 in their formulas!"
To learn more about Bond Ultim8, speak to your stylist today!
Looking for a new salon? Check out our salon locator tool and learn more about how to find the right stylist for you.