13 Trending Purple Hair Color Ideas
Jackie Summers | July 16, 2019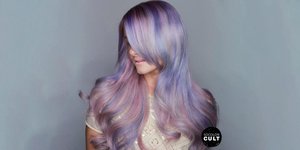 Ever since you dunked your hair in grape Kool-Aid, you've had a fascination with purple hair color. The good news is the once-kiddie hue is all grown up, thanks to modern hair color formulas like Matrix which offers a wide range of sophisticated purple color effects. Here's a selection of the newest shades, proving that purple reigns!
Power Lilac Hair Color
Hair Color Credit: @uggoff
Wild thing! You make our hearts sing! Purple hair color becomes psychedelic when it's combined with saffron, fuschia, orange, blue and green in this mind-blowing mix! Know that this type of hair color design is extremely advanced and requires the experience and precision of an expert, so leave it in the hands of your hairstylist and don't attempt it at home!
Royal Orchid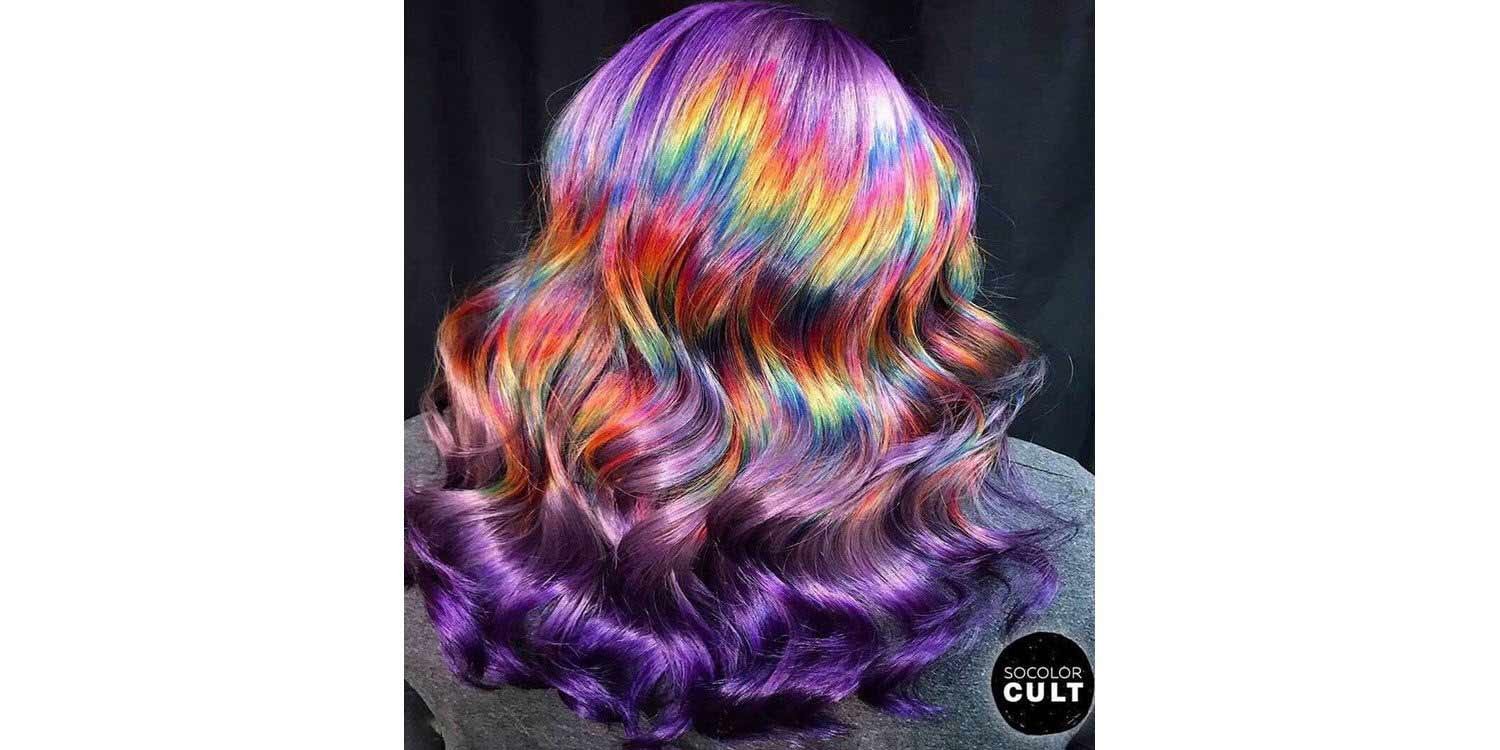 Hair Color Credit: @amandaepsteinhair
Elegant red violet and orchid hues combine to produce a standout purple hair color. Short haircuts are always enhanced by bold hair color—it adds drama and punch to simple shapes. If you're opting for cool purple hair color, keep it vibrant and on-tone with twice-weekly applications of a blue- or purple-toned shampoo.
Shiny Plum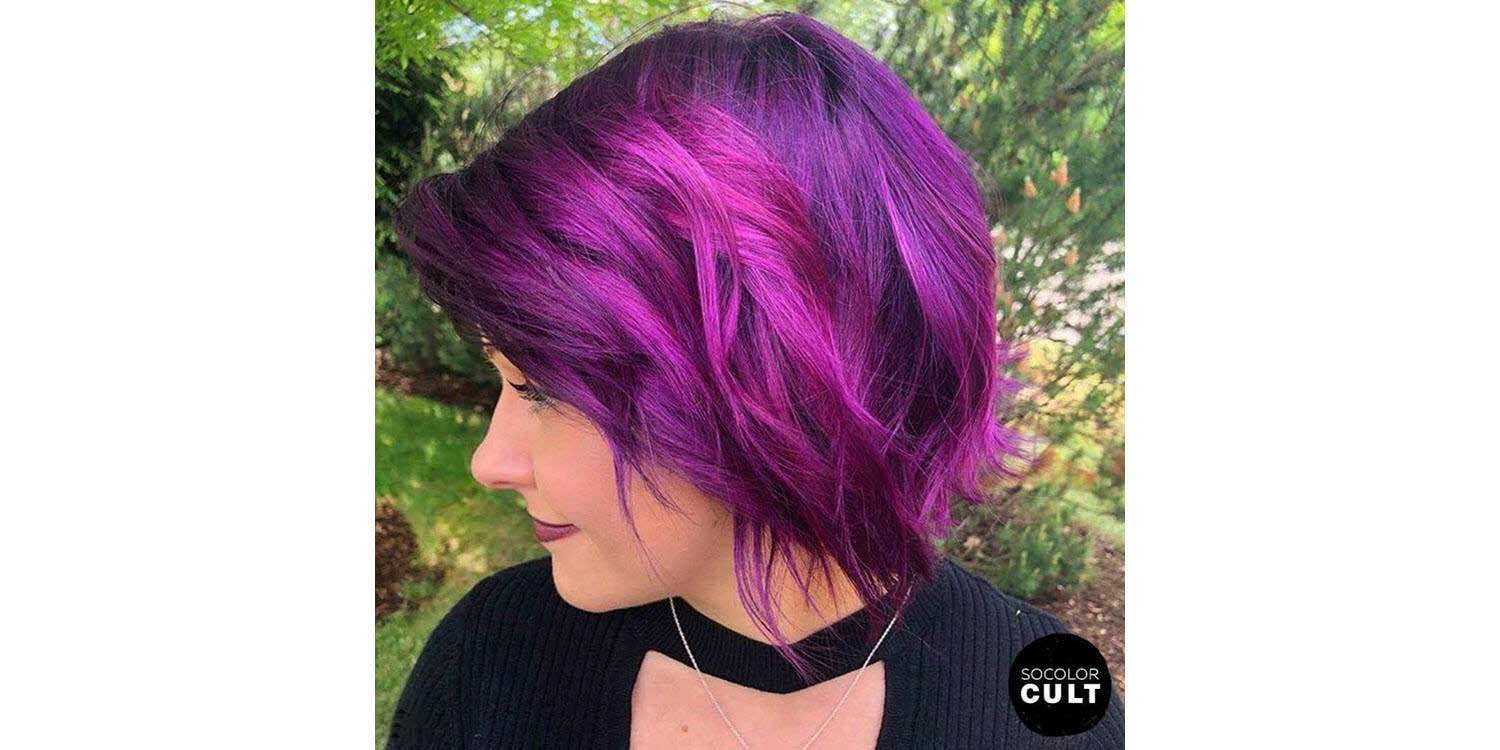 Hair Color Credit: @bartekjanuszhair
Enhance your great lengths with truly one-of-a-kind purple color and eye-grazing bangs. A rich purple base comes to life thanks to shimmering light lilac highlights. The shiny, swingy long hairstyle with a squared-off fringe brings a strong, French girl vibe to the overall effect. With any hair color, dry hair is never a good idea—it leads to premature fading and a dull overall look. Keep hair color glossy with a system of lightweight, oil-based moisturizing hair care designed for porous hair.
Smoky Purple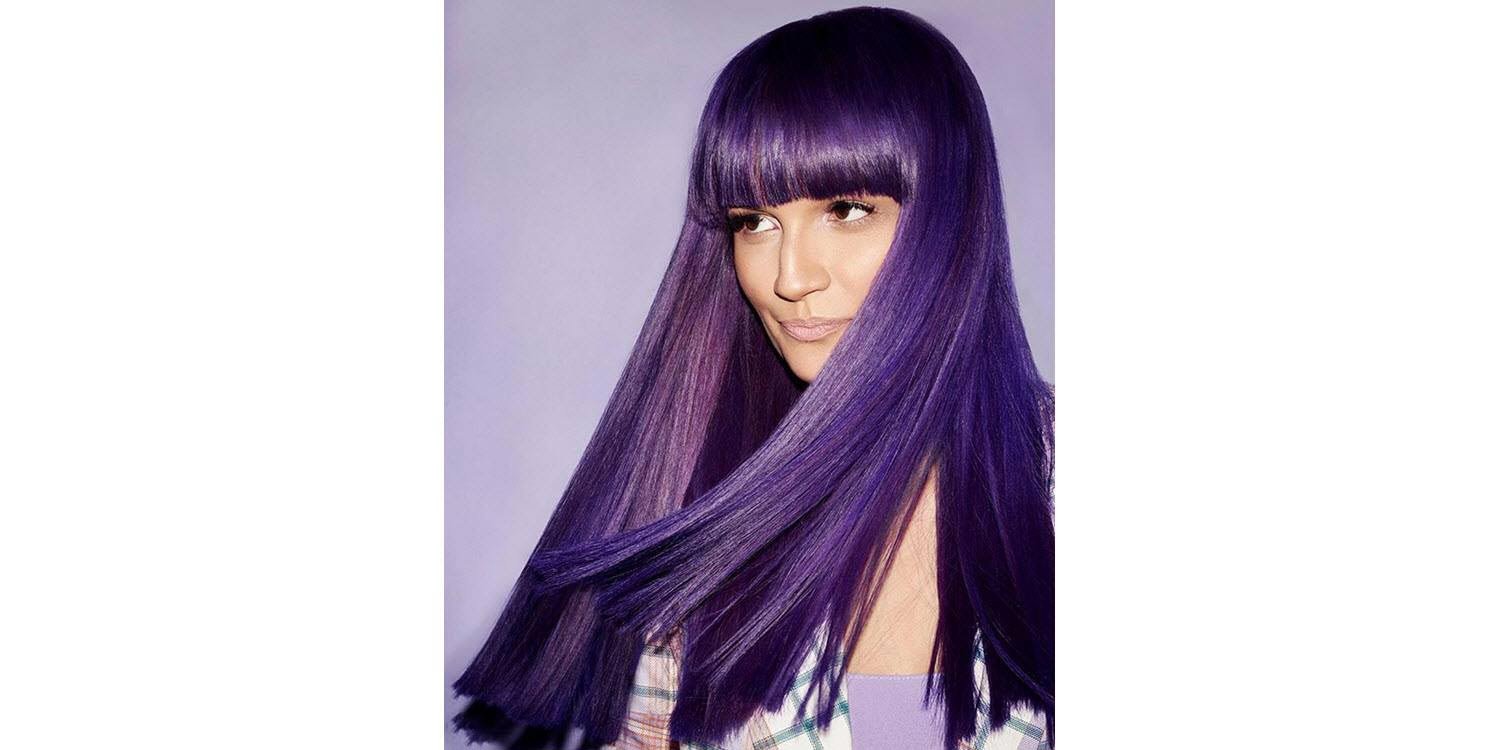 Hair Color Credit: @cxsglam
Cool, elegant and sultry, this design proves purple color can be sophisticated. Smoky purple is a lovely, deep and dusty violet tone that will change character in every light. Long, color-treated hair can be prone to breakage, especially on the ends where it's especially fragile. A hair strengthening treatment reconstructs hair's inner layers, and adds moisture, elasticity and shine.
Violet Balayage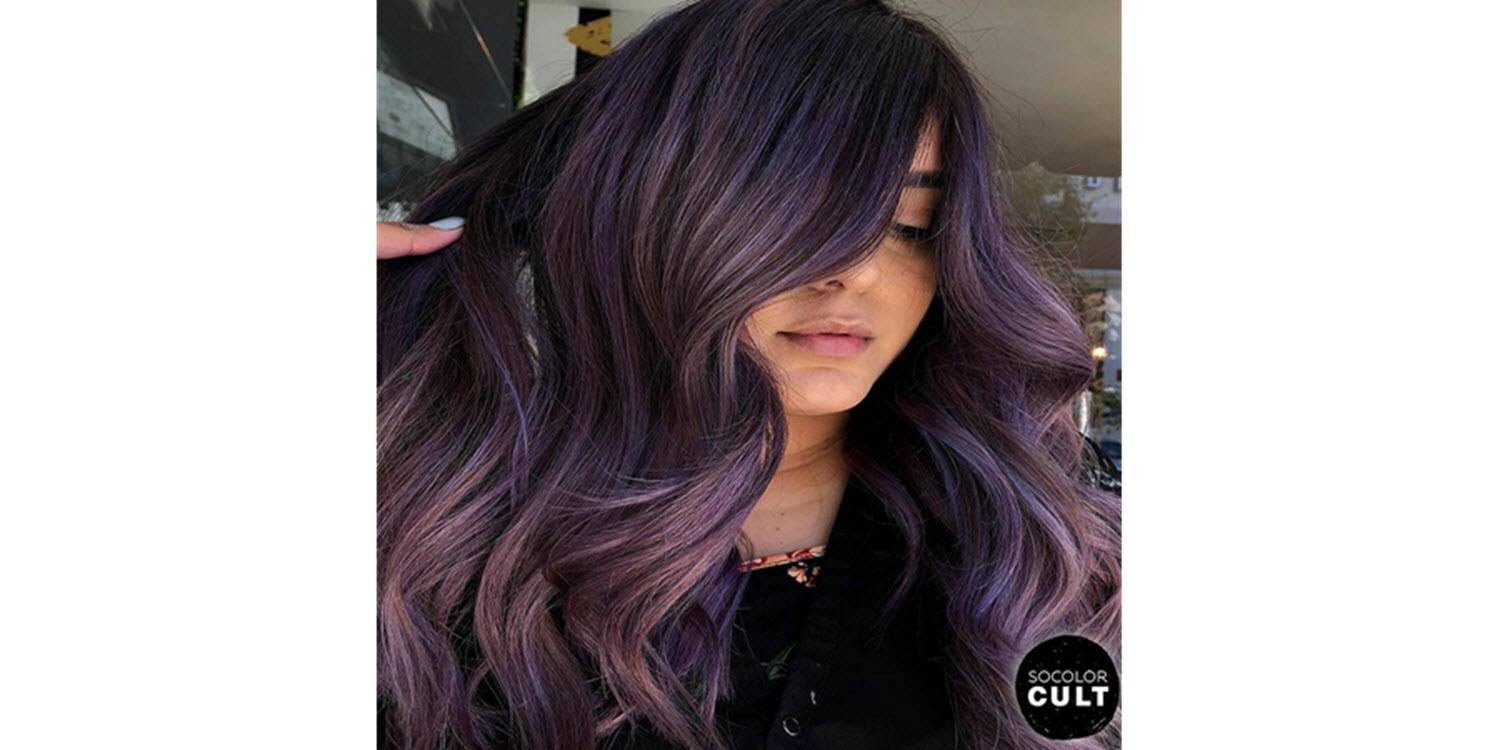 Hair Color Credit: @philipwolffhair
Pastel violet balayage highlights add a unique dimension to purple hair. For best results, your stylist should use a side-brush technique to blend the highlights on the strand. This prevents a solid line of demarcation.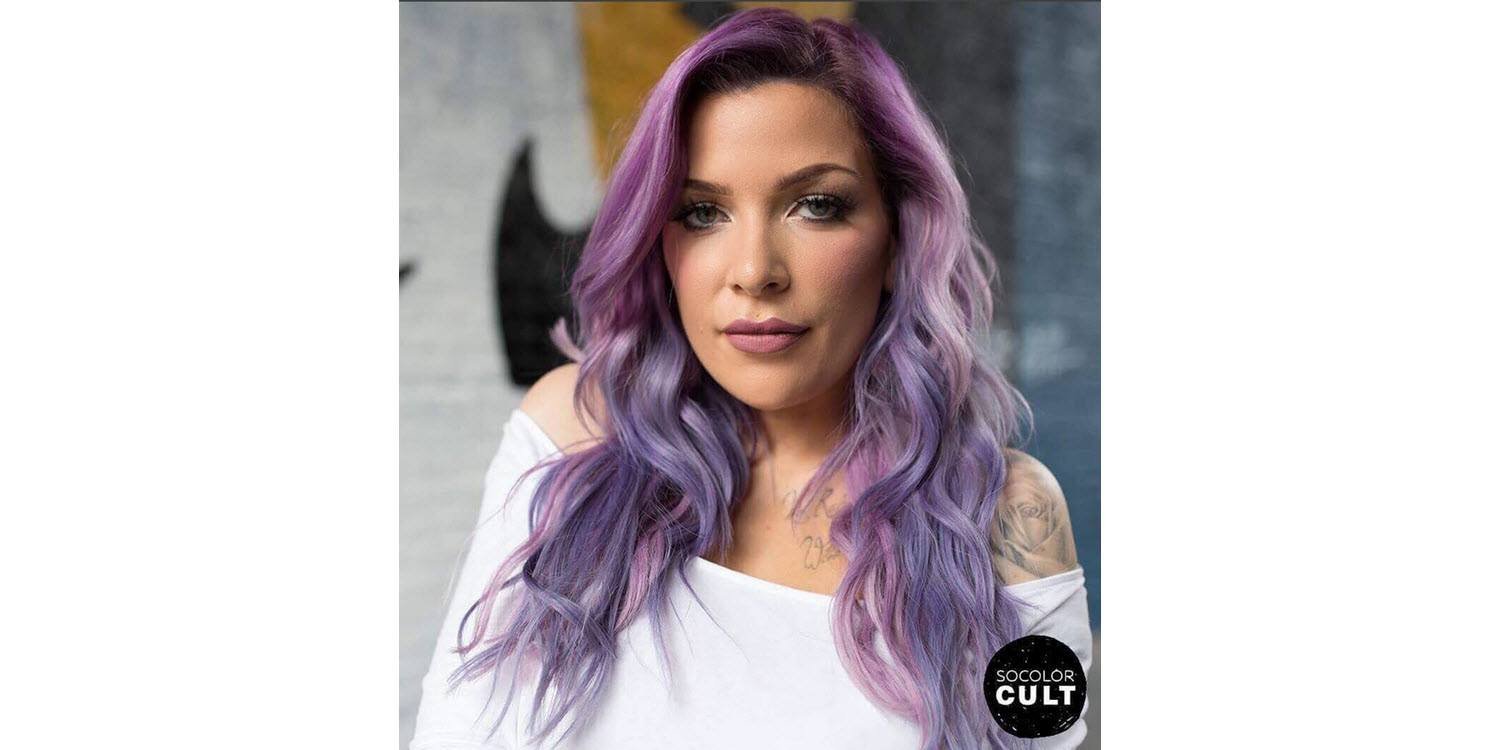 Now that women's soccer champ Megan Rapinoe is sporting the hue, lilac has emerged as the shade of power, confidence, excellence and inclusion. And when lilac is threaded through with tones of silver and periwinkle? Stand back. This is purple hair color designed for global domination! Keep it looking fresh with a purple shampoo that neutralizes unwanted warm tones and helps hair stay healthy and conditioned between color appointments.
Purple with a Shadow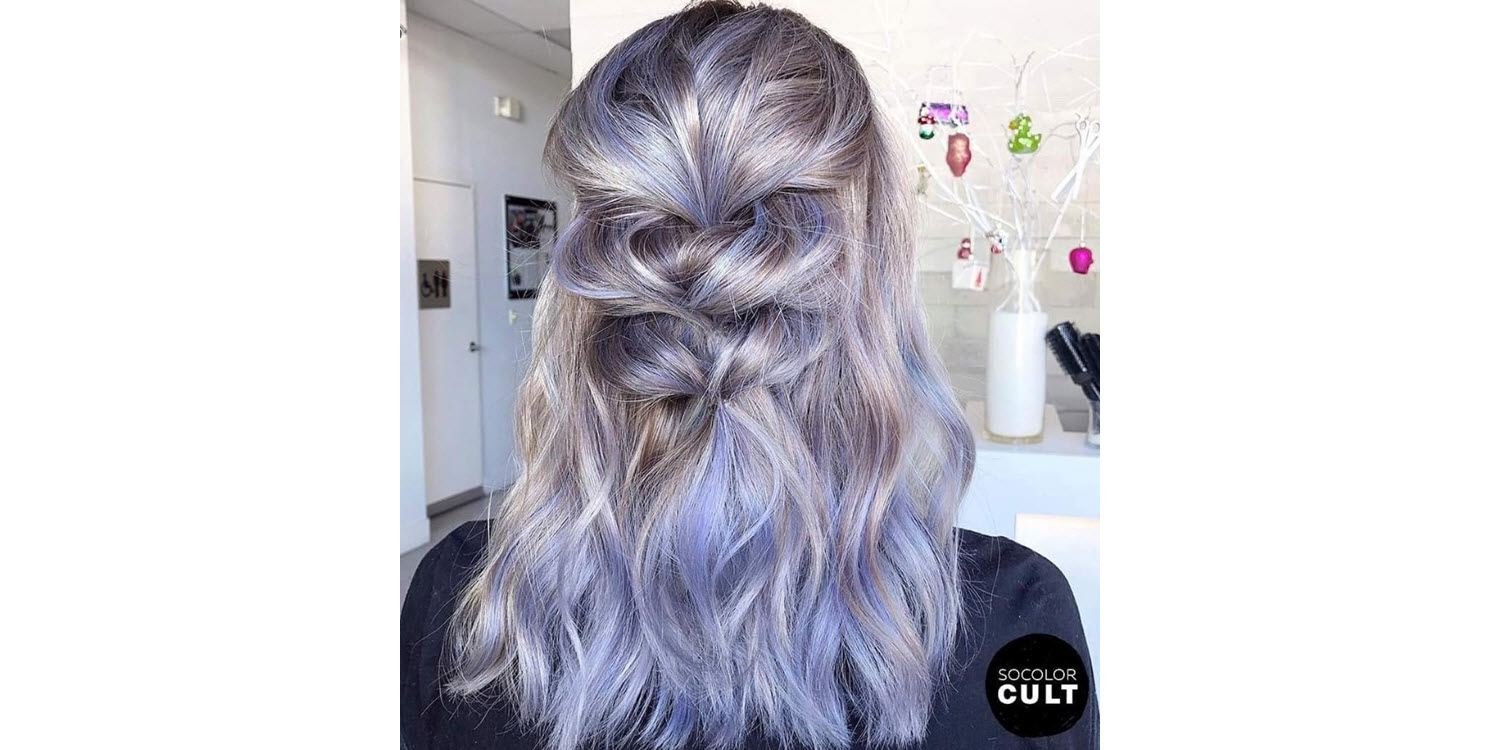 There's nothing like a sleek, simple, swingy bob haircut to show off bold purple hair color. The design of this purple hair is inspired by the haircut—the longer surfaces are a bit lighter, while the graduated, shorter pieces on the bottom are a deeper version of the purple shade. Keep color looking extra shiny by applying a hair treatment oil prior to blow drying.
Berry Blend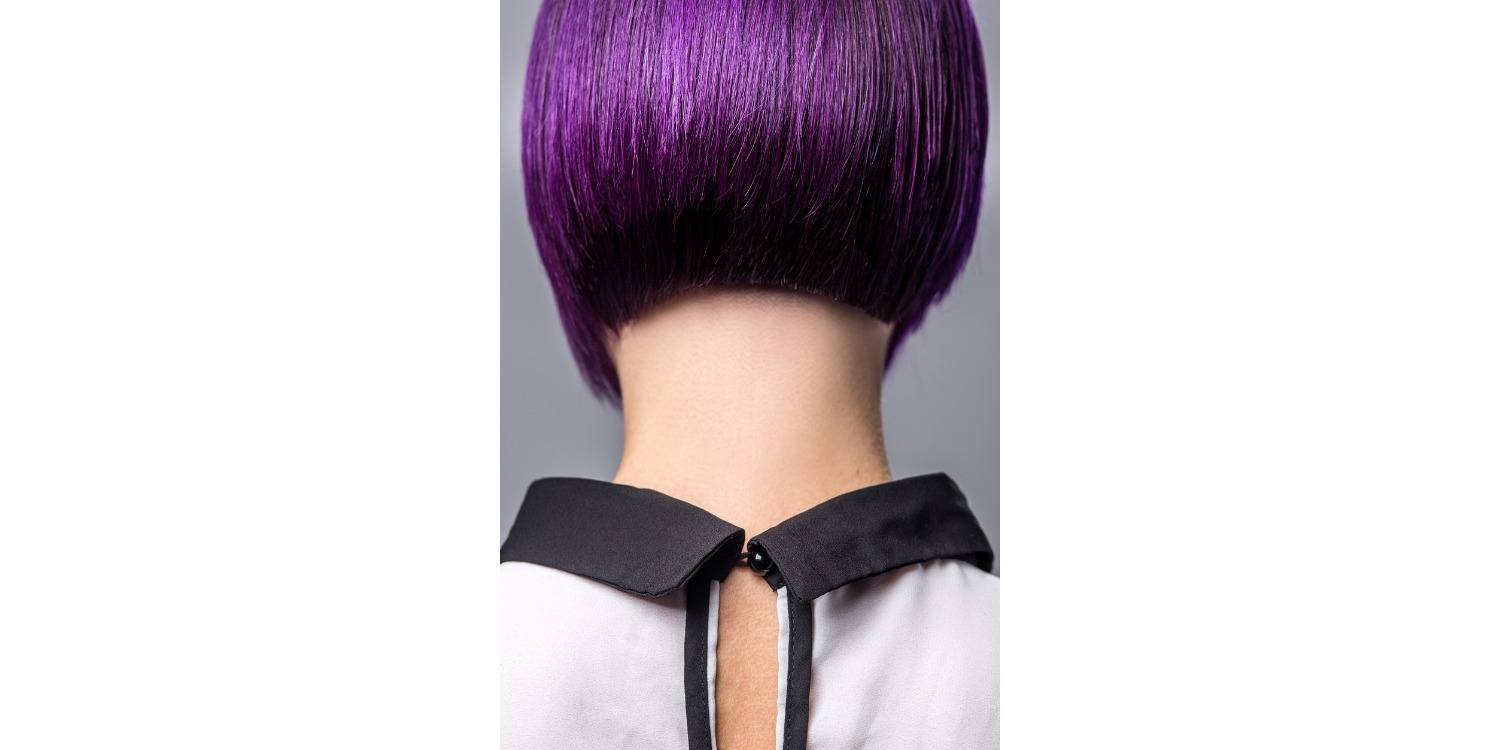 Hair Color Credit: @nikita_jane_hair
Cool pastel shades of violet, blue and rose quartz have the effect of a watercolor in the rain in this hand-crafted color melt. A pale lavender/blonde base supports the look. To keep lightened hair as healthy as possible, treat your strands to regular re-bonding treatments at home. These formulas keep the structure of hair intact and prevent damage from thermal tools and environmental exposure.
Deep Purple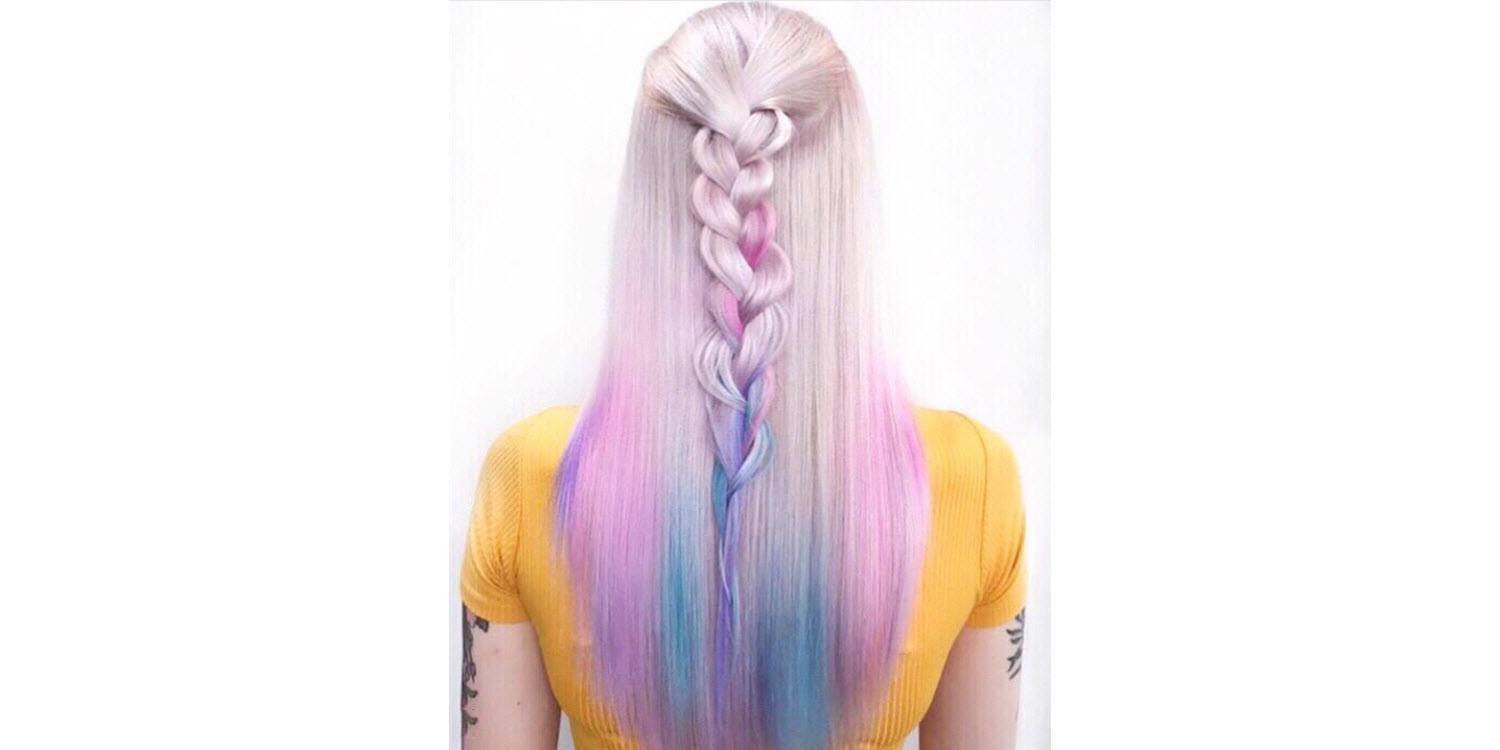 Hair Color Credit: @jaymz.marsters
Naturally dark hair colors get the royal treatment with a deep purple transformation. To show off this purple hair to perfection, apply natural-origin smoothing styling milk before blow-drying to polish and smooth your hair.
Lavender Macaron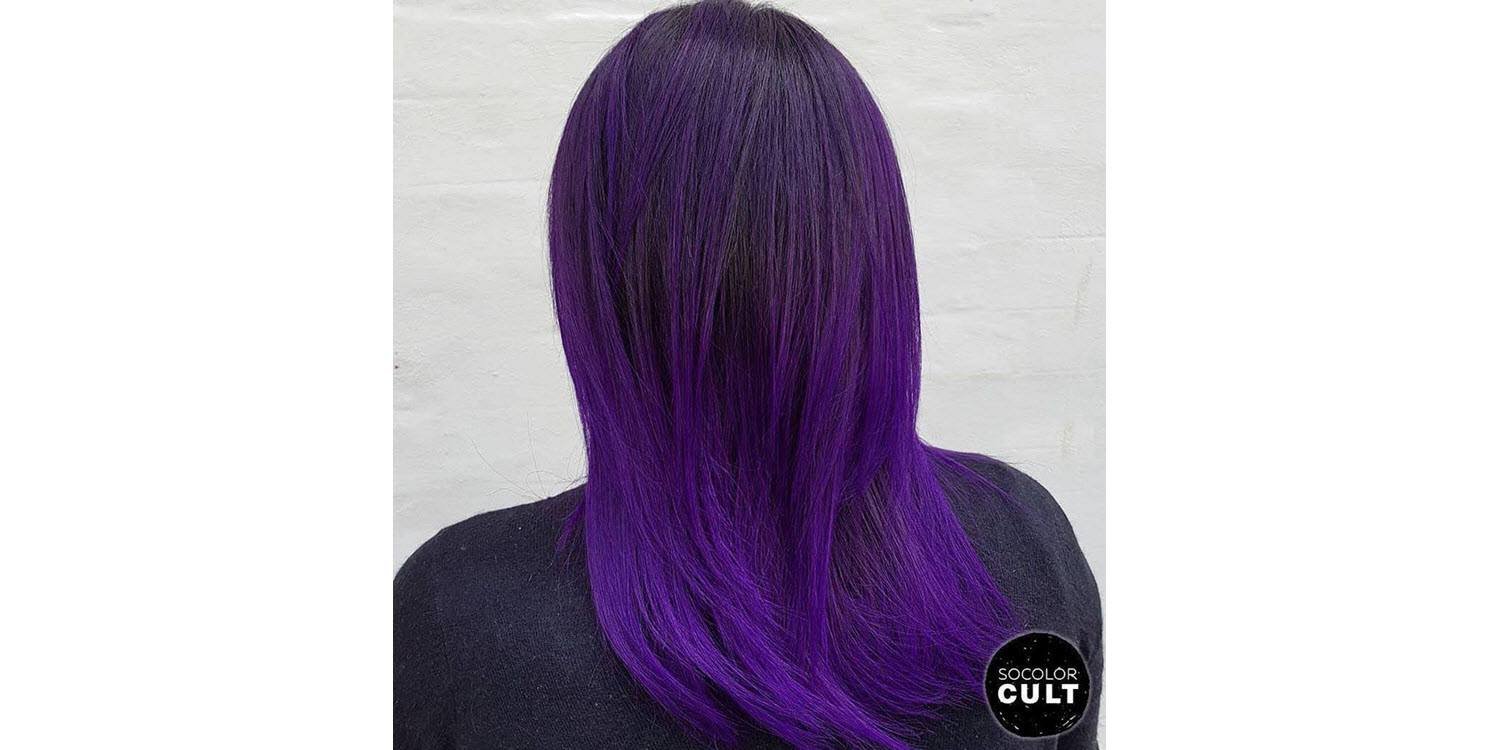 Hair Color Credit: @amybcolor
As sweet and chic as the French treat, this purple hair color plays it cool with a silvery cast. The secret is adding slivers of babylights throughout the hair to give the overall purple color shimmering dimension.
Lavender Rose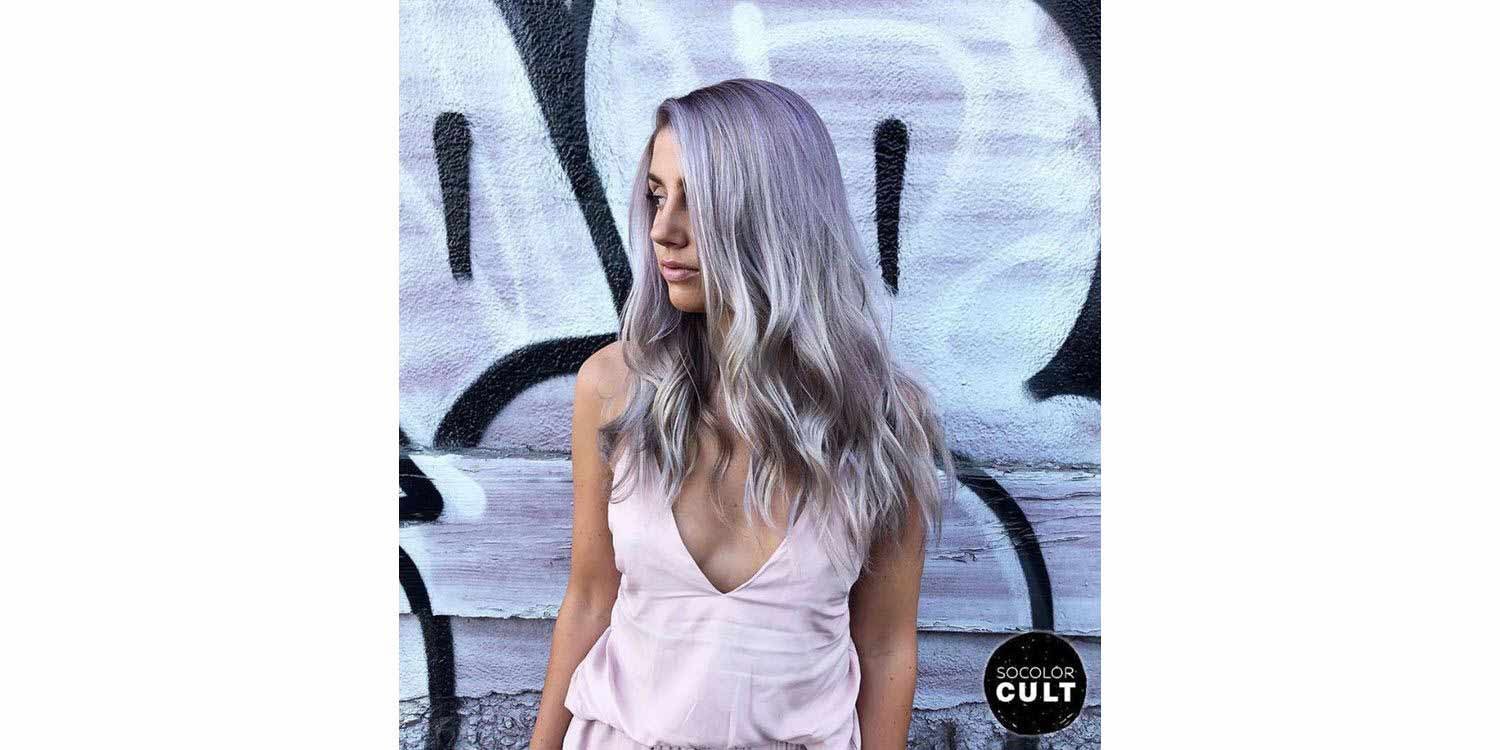 Hair Color Credit: @ericakeelen_hair_love
Bold lavender and rose quartz panels put a sophisticated spin on a purple hair color design. For the look to be natural and not stripe-y, your hairstylist will place the color on sections of varying sizes, as well as on various stopping and starting points throughout the head. Natural-origin color care shampoo and conditioner that's free of sulfates, parabens and silicones will help protect delicate hair color and preserve its luster.
Orchid Highlights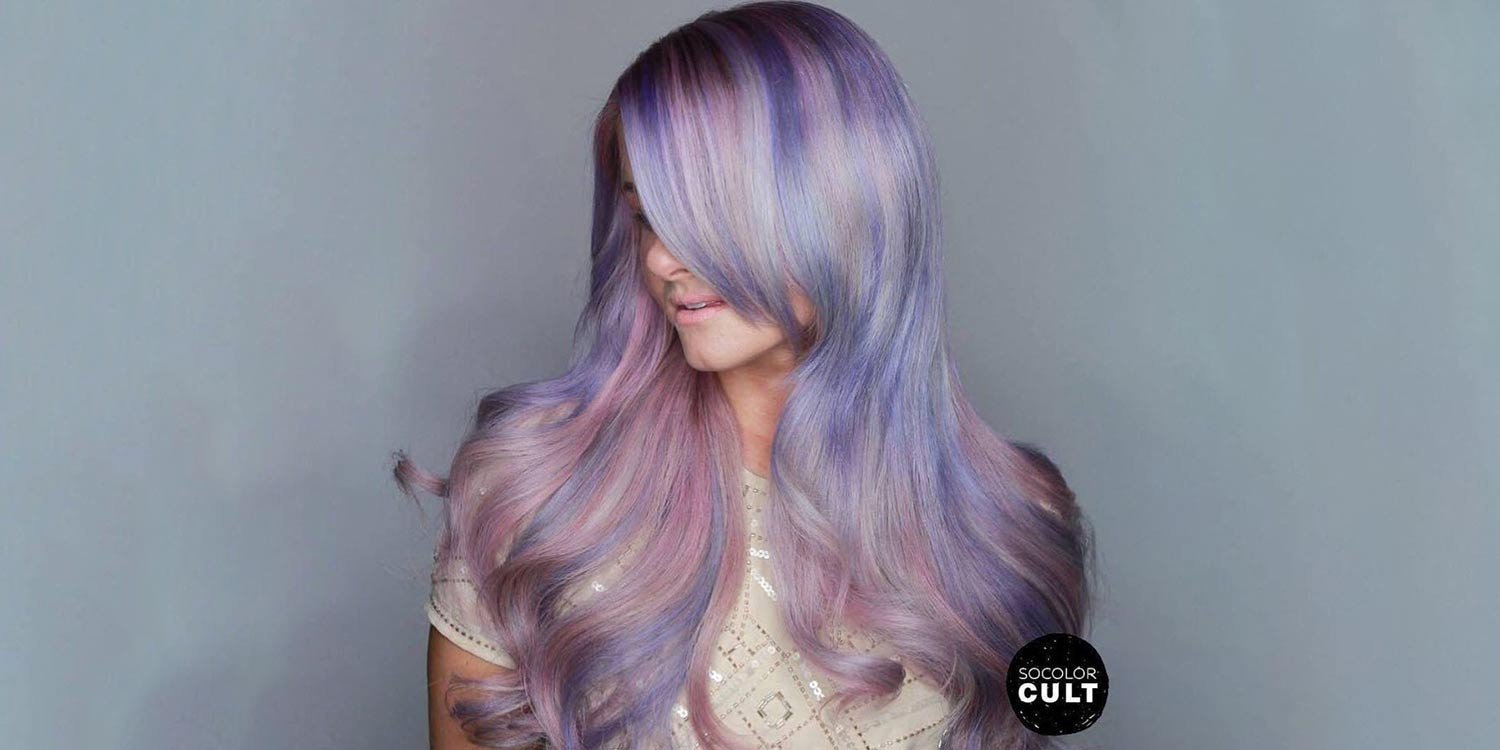 Hair Color Credit: @ashleigh2025
A subtle blend of orchid, clover, teal and sapphire highlights, nestled in dark curls, produce a subtle play of light and dark movement. When highlighting curly hair, it's best to handpaint each formula onto the surface of select curls, tracing the movement of the hair and aiming for the areas that naturally reflect the light. Use a butter-enriched styling cream to enhance and define coils while fighting the frizz that can cause hair color to appear dull.
Periwinkle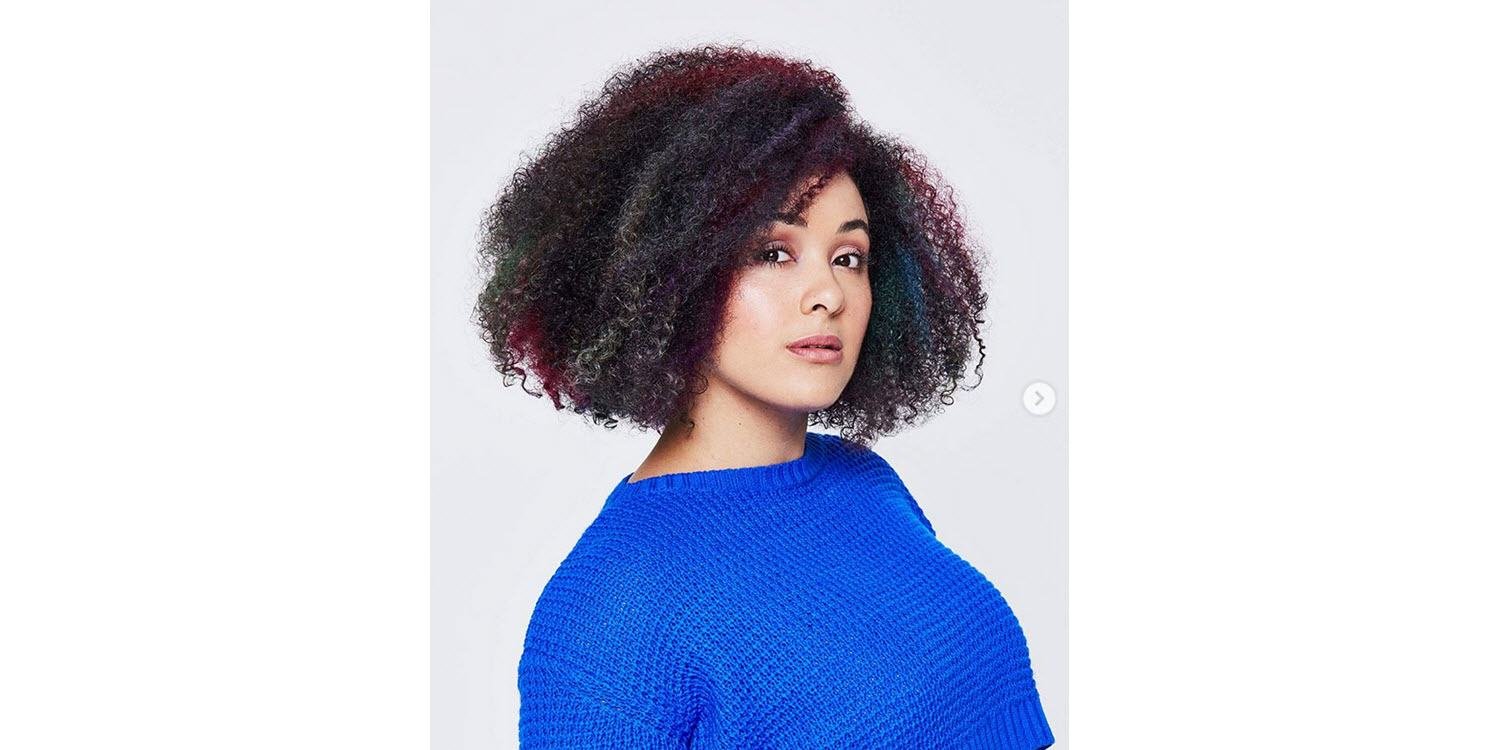 Hair Color Credit: @msnataliejean
Dusty periwinkle, blue and rose sections enliven an inky purple base color. Loose, elongated waves make the most of the colored panels. Use a flat iron to create this modern wave shape, omitting the ends to keep them straight. And always protect your color from fading by using a thermal protection spray with all of your hot tools.
Psychedelic