4 Sexy & Subtle Blonde Hair Color Shades For Summer
Jackie Summers | May 09, 2017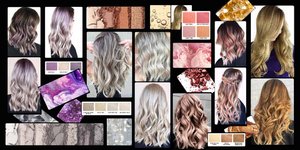 Elevate your blonde ambitions by adding rose gold, icy blonde, champagne or lavender hair color hues!
According to the hair color experts at Matrix, adding a layer of color dimension to traditional blonde hair color is this summer's ultimate blonde trend. Customize and elevate your hair color based on your skin tone, eye color, natural hair color and personal taste. The overall tone is sheer enough to allow the color dimension underneath to remain—whether it's created with conventional highlights, panels of color, balayage or root shadowing. That leads to an effect that's sexy, subtle, and totally yours.
Ready to find your blonde match? Here's a close-up look at four blonde match hair color families:
Icy Blonde
Welcome to the world of blonde bling! Sheer, shimmery and faceted, these cool blondes evoke the luxury of crystals, diamonds and opals—a virtual jewel box of rare tones.
How to get the look: To make icy hues like these work, it's essential to start with a snowy white under-shade—as light as possible and as cool as possible. That could mean lightening your hair several times to reach the desired level, which requires uber healthy strands from the start. Another safeguard? A professional bonding system, added to the lightener, which will prevent hair from becoming brittle or breaking. Once you're as light as possible, your stylist might gloss over your hair with a pale pastel violet or ash shade to achieve the Icy result.
How to own the look: With confidence! Pair these ultimate bombshell shades with lots of black eyeliner, red lipstick and graphic clothes in black, charcoal and dove gray.
How to keep the look: Yellow tones in these frosty hues are as welcome as your ex at your wedding. In other words, warm color keep out! To keep things cool, buy and use a purple-toned shampoo once or twice a week. It will cancel out warm, brassy tones and keep your color pure and clean.
Champagne Blonde
Pop the cork—it's party time with these bubbly shades! Fizzy and festive, champagne blondes are as varied as the libation itself.
How to get the look: Champagne blonde hair color hues are ideal if your skin tone skews to the warm side—you can opt for a bronze or golden tone to flatter your complexion. But bubbly isn't just for warm skin. Check out neutral, flaxen versions of Champagne, or even an exotic sparkling rosè!
How to own the look: With panache! Everything about Champagne says you're in it to have a good time. Adorn yourself with feminine ruffles and florals; pick out lively pink or coral matte lip colors for extra pop!
How to keep the look: Blonde hair is like a cashmere sweater—it needs gentle handling. Cleanse and condition delicately with a system created specifically to soften, detangle and illuminate blonde strands.
Blush Blonde
Rose gold hair color is everything this season, and Blush is the rose gold trend for blondes.
How to get the look: The best strategy for these shades is a color-melting approach, which involves a variety of tones that skew from darker at the roots to lighter on the ends to mimic hair's natural color patterns. The overall Blush hair coloring might be done with a pale or rich peach or rose quartz shade, or even a combination of several of these hues. The most modern "finish" is with a slightly cool, metallic edge—think brushed stainless steel with a hint of pink.
How to own the look: With major femininity! There's no doubt about it—blush peach and blush pink are the most feminine hues in the spectrum. Celebrate girl power with your blush strands by pairing them with a taupe smoky eye and soft peony or coral lip color.
How to keep the look: Maintain shine and prevent premature fading with a gentle care and conditioning regimen, that features natural origin ingredients. Feel free to alternate using a cleansing conditioner.
Lavender Blonde
At first glance, it's an unexpected color choice. But truly, there's a shade of purple that looks good on everyone and for blondes, it's all about lavender.
How to get the look: As delicate as a springtime bud, your lavender hues might range from a pale berry or amethyst to a barely-there icy violet. As with Blush hair coloring, these lavender shades really shine when there are a variety of tones within one overall color design.
How to own the look: With individuality! Lavender tells the world you're not interested in living in a box—it's all about self-expression. Change up your lavender from time to time to keep things fresh. In general, a nude lip and dark eyes are perfect with pale lavender hues, but then again, you're no shrinking violet, so if you want to rock a green lip, go for it!
How to keep the look: Soft waves are a great way to show off every shade of lavender, but take it from us—heat is not your hair color's best friend. That's why your hair styling arsenal should definitely include a heat protectant primer!