8 Things You Need to Know Before Going Platinum!
Jackie Summers | May 09, 2017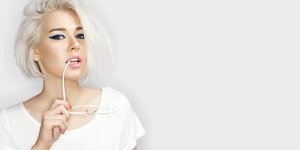 Every time one of your "It Girl" role models Instagrams her new platinum blonde hair, temptation strikes. Perhaps, just maybe, one time in your life, you should see what it's like to sport platinum blonde hair
Thanks to new hair lightener formulas that are safer and more effective than ever, andnew bonding additives, it has become a lot easier to keep platinum blonde hair strong throughout the hair lightening process and beyond. Here's what to do and how to know if an epic platinum blonde hair color is in the cards for you!
1. Start with an honest assessment of your hair health.
This is a process that's best done in partnership with your hair stylist. Because the first and most important step of stepping out as a platinum blonde bombshell is insuring that your hair is strong and healthy enough to take the rounds of platinum blonde hair bleach that will be required. If your hair locks are ultra-dry, brittle, broken, damaged, frayed, fuzzy, mushy or lack elasticity, go home and wait. It's just not ready for the hair lightening process, and any hair stylist worth his or her salt will be honest about that fact. "We're not going to put our reputation on the line by further damaging already damaged hair," explains Matrix Artistic Director Nick Stenson. In other words, stylists don't want your platinum blonde hair ice-capade to turn into an ice folly! What can you do while you're waiting for healthier hair? Help it along with frequent deep hair conditioning treatments designed to shore up damaged hair strands.
2. Have the blonde hair talk.
Before your stylists whips up a batch blonde bleach, be sure you completely understand exactly what you're signing up for. Insist on full disclosure regarding the hair lightening process. For example, depending on how light-haired or dark-haired you are naturally, it may require several applications of blonde hair lightener to achieve the proper degree of hair lightness, because you want your blonde platinum hair color to be super white, without a trace of yellow, and it has to be even from the hair root to the hair tip. And, that could take many hours in the hair salon. It may even have to be spread out over the course of a few days or even weeks to get it right, while allowing your hair locks to recover between platinum hair bleach outs.
3. Take the hair insurance.
For smart hair color clients, the aforementioned hair bonding additives aren't really an option. They're the new necessity, especially if you're basically lifting out all of the color pigment from your hair to become platinum blonde. These systems are added to hair color formulas to maintain the hair bonds that make up your hair structure and to repair those that may already be damaged. The systems also include a hair conditioner that you use at home to keep your hair shiny and strong. Truly, it's a hair game-changer!
4. Budget your hair lightening process accordingly.
Unless your natural hair shade is pretty close to light blonde already, you're going to have to commit to your new platinum hair shade with fairly frequent visits to the hair salon for touch-ups. "I believe it's important to retouch platinum blonde hair every three-to-four weeks," says Matrix Celebrity Stylist George Papanikolas. "Not only does the new hair growth become very apparent, waiting longer than that makes the lifting process more difficult which leads to a higher chance of hair breakage. I'm very firm about this with my clients. I actually won't do platinum blonde unless they commit to coming back that often." Unless your hairdresser is also your sister, those return trips to banish your dark hair roots are not going to be free. So be sure you understand what it will cost each time you're back in the chair, and that you set aside enough in your monthly budget to cover that hair expense, even if it means cancelling the cable or holding off on your planned iPhone upgrade for now.
5. Dark hair root or no root?
Allowing some darkness to peek through at the hair root gives your platinum blonde hair a distinctly different vibe than extending the light all the way to the hair scalp. The former is gritty, street and kind of rock and roll. The latter is more pristine. "When I styled Madonna I kept her hair roots dark," shares Papanikolas, "because she wanted an edgy look. But it's actually not easy to create a hard line like that and make it look natural, so I prefer to lighten the hair to the root and just let the hair grow in naturally." Ultimately, it's your choice!
6. The tone of your ice platinum blonde hair.
If you look carefully at flawless platinum hair, you'll notice that it actually is toned with a subtle wash of cool hair color. Depending on your skin tone and your personal preference, your hair stylist could opt to tone your hair with a sheer smoky gray, pale violet, glacier blue, and neutral beige or pearly pink hair shade. Another fashionable effect is to smudge a smoky hair shade into the roots and tone the rest with a sheer pastel violet hair color.
7. Purple shampoo will be your platinum blonde hair's new best friend.
Cool, light blonde hair can easily be lured over to the yellow hair color side, due to yucky water, sun exposure, normal shampooing and, you know, just life. Regular use of a hair tone-correcting, purple shampoo will keep yellow and dullness away from your hair and maintain your platinum blonde hair color.
8. What happens when your platinum blonde hair experience is over?
The day will likely come when you're ready to relinquish your platinum blonde hair strands. Maybe your hair needs a break from bleach, maybe your budget needs a break from frequent hair color retouches, or maybe you're just enthralled with something new that has captured your hair fancy. When that time comes, know that the tint-back will require a few different steps to restore a darker hair color. Hair that has been bleached has to be "filled" with a warm hair color shade like gold in order to balance out the final result. So before you shift the line items in your budget out of hair maintenance and into something else, allow for one last "spendy" hair salon visit to exit the Platinum Blonde Hair Circle!