How To Choose The Best Shampoo For Your Color-Treated Hair
Jackie Summers | March 15, 2019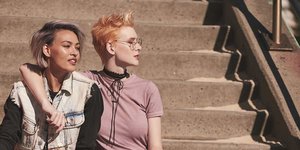 Hair color options today are endless. Think every combination of every color of the rainbow-that's how endless your hair color choices have become. And happily, when it comes to shampoo for your gorgeous hair color-whether you sport sun-kissed, blonde highlights; an unforgettable violet ombre or an on-trend brown rose gold-you also have an array of color-coddling cleansing formulas to choose from. Struggling to pick the best shampoo for your color-treated hair? Here's a comprehensive guide from the pros at Matrix!
You need: Specialized Care for Your High Maintenance Hair Color
Your best bet: KEEP ME VIVID SULFATE FREE SHAMPOO
This is next-gen cleansing for your vibrant hair color. Keep your rose gold hair color rosy, your burgundy hair color bold and your blue hair color crisp with this gentle, milky-foam, high lather sulfate free formula. It's part of a full system of Keep Me Vivid color care that also includes a Conditioner, heat- and UV-protective Velvetizer leave-in and Color Lamination Spray that locks in color immediately after application.
You need: Stronger hair and long-lasting hair color protection.
Your best bet: TOTAL RESULTS COLOR OBSESSED SHAMPOO
This workhorse formula does it all. It cleanses gently; leaves your hair feeling soft, strong and silky; delays color fade and protects from environmental damage. It's the all-round crowd pleaser for caring for colored hair.
You need: A brass-busting re-set for your cool, brunette hair color.
Your best bet: TOTAL RESULTS COLOR OBSESSED BRASS OFF SHAMPOO
Orange is a zippy color—bright and cheery—unless it shows up in your cool brown hair! Then it's an unwelcome interloper. Total Results Brass Off banishes the unwanted hue by depositing blue-violet pigments to neutralize brassy tones. Use it once or twice a week. Leave it on for 2-3 minutes to let the pigments do their job, then rinse. Your hair will feel soft and your hair color will look as cool as you!
You need: A big boost of brightness for your blonde, silver or grey hair.
Your best bet: TOTAL RESULTS COLOR OBSESSED SO SILVER SHAMPOO
Yellow is the last thing you want to see in your blonde or grey hair, and this purple-based shampoo formula whisks unwanted yellow tones away. Use it as often as needed (usually 1-3 times a week) to maintain the cool, sparkling tones you love.
You need: A total fitness program after an intense hair color session
Your best bet: TOTAL RESULTS THE RE-BOND
Shampoo is one step in this revolutionary, three-step system that repairs and reinforces hair that has been damaged by the hair color process. Use it for several weeks immediately after your hair color service. Start with the shampoo, then apply the Re-Bond Pre-Conditioner that re-connects and reinforces weakened bonds to build resilience and shine. Finish with Re-Bond Conditioner to seal in moisture and protect your hair inside and out.