Fall Hair Color Trend Vibrant, Bold, Fashion Hair Colors
Kiera Doyle | August 10, 2017
Find your new hair color by following the latest hair color trends. Vibrant, bold, fashion hair colors will help you achieve the perfect fall hair color look. In light of Matrix's new hair color launch, Color Sync Vinyls, a demi-permanent hair color with strong reflect and intense shine, we asked Southern California colorist, Constance Robbins to weigh in on the latest hair color trends and share some of her recent hair color transformations
KD: Constance, you have such beautiful work, how would you describe your aesthetic?
CR: My goal is to make all hair color— even fashion hair color tones— look sophisticated and almost natural. For a long time, my clients were hesitant wear fashion hair color shades unless they were, say, a tattoo artist or in a creative industry. Now, fashion hair color tones have become so popular because they are more wearable. I aim to work with hair color palettes that are not so far away from the client's hair color level and use strategic placement for a natural aesthetic.
KD: How did you first start using Matrix Color?
CR: I attended a two-day color certification program with Matrix. It was the first time I was able to connect what I learned in beauty school to doing hair color behind the chair. I felt confident and wanted to become an educator to infuse that same confidence into other hairdressers. Also, I love their hair color lines!
KD: That's a great story, I love your connection to education. What do you think of Matrix's newest hair color launch: Color Sync Vinyls? How have they been a game changer for you and your clients?
CR: Oh, I love Color Sync Vinyls. They are a game changer in so many ways and have become my go-to hair color line. First, they are designed to work on medium brown hair. Typically, to achieve fashion hair colors you have to lighten the hair a lot. With Color Sync Vinyls, I can work with what the client already has going on: their natural hair color level, existing balayage, even on compromised hair colors. Both my blonde and brunette clients are loving the possibilities!
KD: Can we talk a little bit about the hair color palette?
CR: Yes! The hair color palette is beautiful. There are 5 new hair color shades: Gilded Gold, Crimson Red, Midnight Violet, Rose Copper and Cobalt Blue. I can't get enough of Midnight Violet.
KD: What would you say sets Color Sync Vinyls apart from other hair color lines?
CR: Color Sync has Cera-Oil which is 2x more conditioning for the hair. The hair color is infused with Vivid Dye Technology for strong reflect and shine that last up to 20 shampoos. Also, because we don't have to pre-lighten the hair as much, it's not as porous and contributes to the overall condition and longevity. Since using Vinyls on my clients, some have been back to my chair for a second time 5-6 weeks later and their hair color still looks great!
KD: Let's talk hair color formulas?
CR: Okay! On Tatiana (above) I used warm and cool hair color tones together to keep the look balanced. I pre-lightened a bit to fix banding from previous hair color. She's in cosmetology school right now, so I told her this was her cosmetology school hair make-over.
KD: I wish you had been there to help me with mine. I had some bad hair color back then…
CR: She was really happy. My favorite part was that I didn't have to lift her to platinum— Color Sync Vinyls made it possible to work with the existing hair color pigments. I color melted* using Vinyls Crimson Red, Vinyls Cobalt Blue and Vinyls Midnight Violet and alternated the panels—these colors melt really, really well together. *Color Melting: process of melting two or more hair colors together seamlessly, often creating a third hair color tone where they blend.
KD: The result! It's subtle yet bold. What kind of client would you say this hair color is best for?
CR: I'd say this hair color is good for someone who wants to try a vibrant hair color while still keeping their hairstyle professional. The depth of the hair color makes it wearable. It's classic hair color with a twist.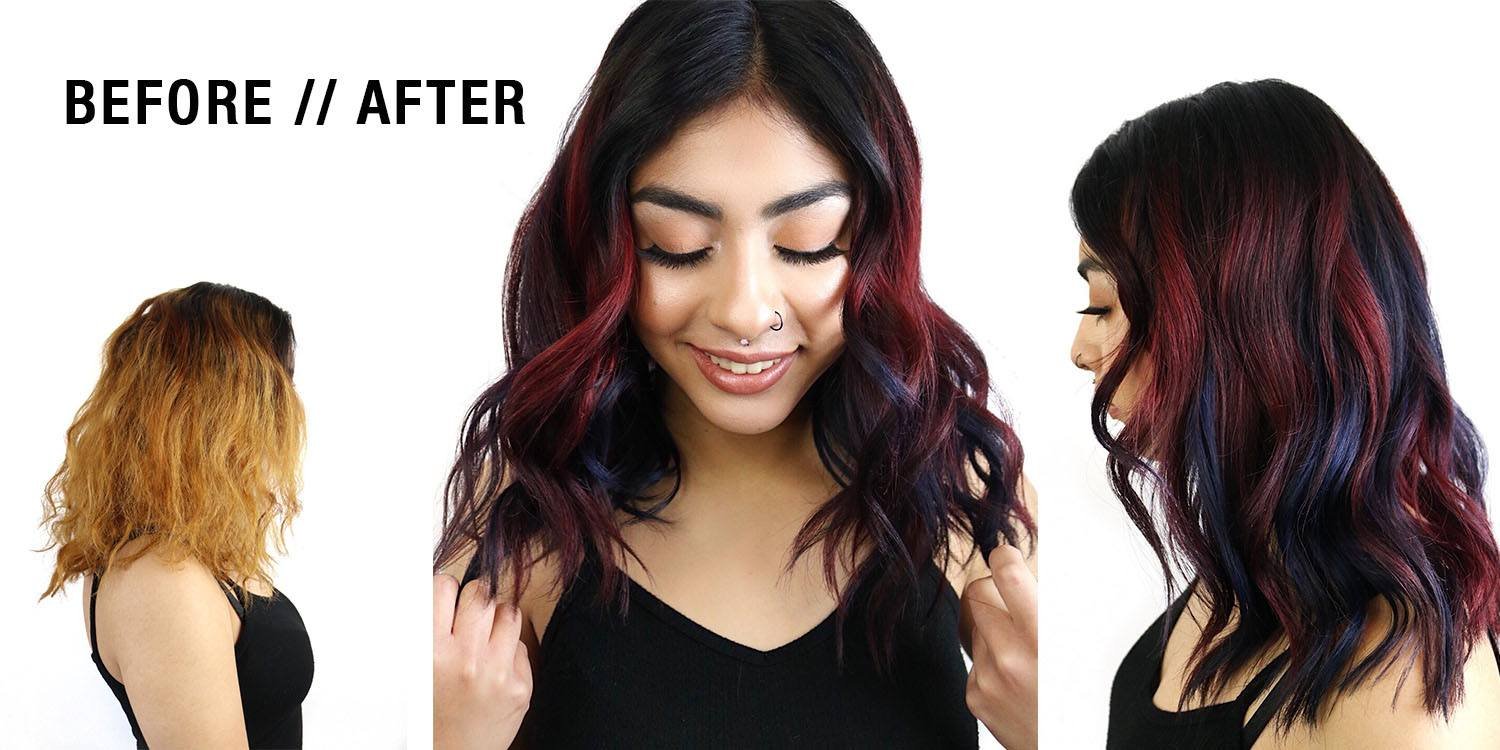 KD: This hair color (above) is gorgeous!
CR: Thank you! On Darri, the hair color came out beautiful and it was such an easy application.
KD: How easy?
CR: Well, she came in with balayage so a lot of the work was already done. I wanted to play off her existing dimension and create a little more depth. I color melted Vinyls Midnight Violet into [a mixture of] Midnight Violet and Color Sync Clear.
KD: It looks as if it has that sort of smokey rose hair color tone to it that is popular right now?
CR: Yes, there was a bit the golden hair color pigment in her balayage shining through the violet overlay, which gives it that rose color.
KD: Stunning! Who do you recommend this hair color for?
CR: Somebody who loves their blonde balayage but wants a change for their Fall hair color. It gives a bold and confident refresh without covering up that beautiful dimension.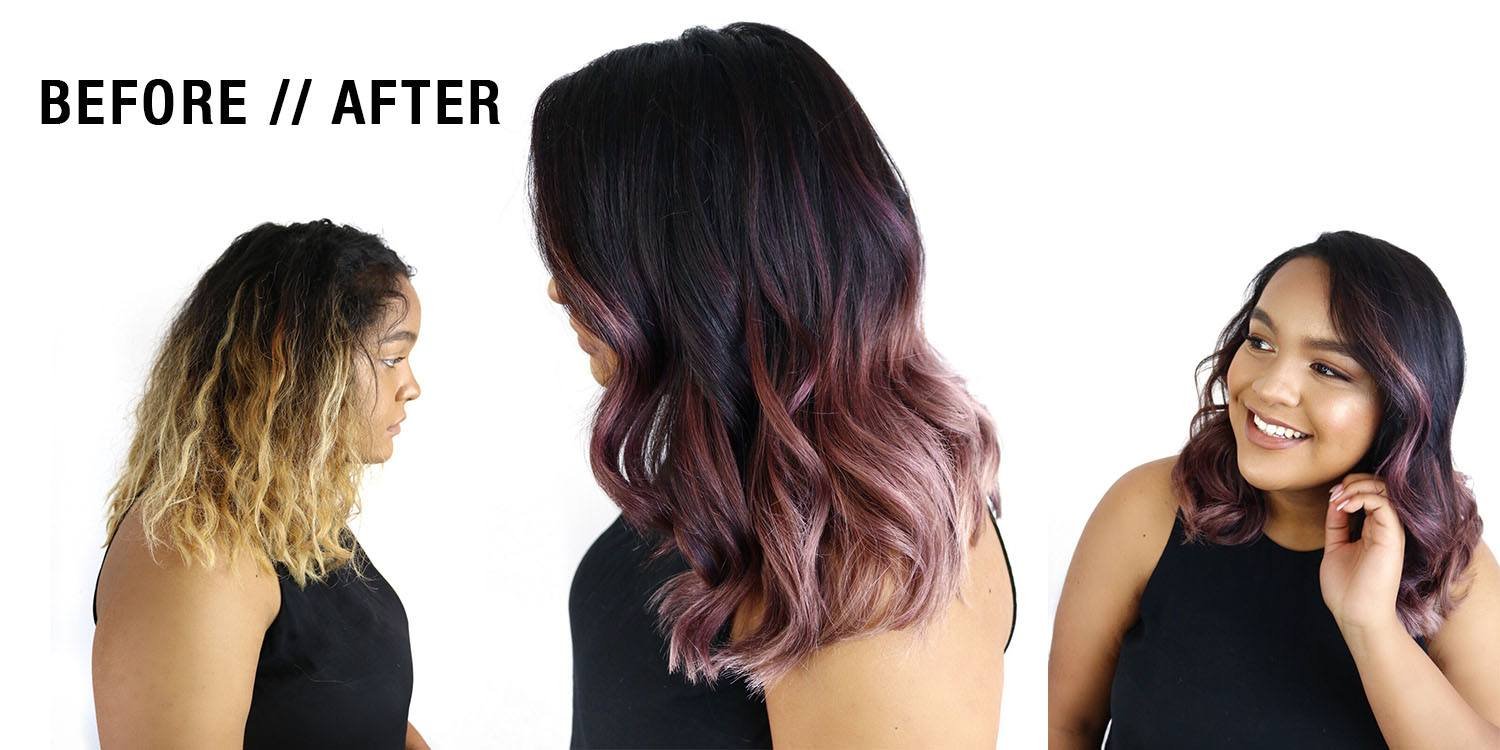 KD: This is some Jessica Rabbit #hairgoals for sure!
CR: Thanks! Cory was already a redhead. To richen her up, I used Vinyls Midnight Violet at her base, color-melted into Vinyls Crimson Red through the mid lengths and lastly, into Vinyls Rose Copper hair color on the ends.
KD: It looks so seamless. What tips do you have for making red hair color look natural?
CR: For redheads, it's really about adding dimension. No hair color in nature is just one tone or level- it's a mix of warm, cool and lots of depth. To mimic this, I often create a cooler toned hair color shadow at the base and leave the ends brighter and warmer.
KD: Who can rock this hair color?
CR: This hair color is perfect red hair color clients who want to intensify and brighten their existing hair color— especially after being in the sun all summer long!
Are you craving a Fall hair color transformation? Find a Matrix salon near you and book appointment your Vinyls makeover today!