10 Dos and Don'ts for Managing Your Frizzy Hair
Jackie Summers | July 20, 2018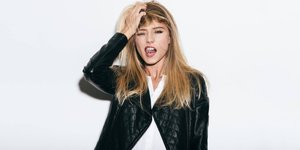 Regardless of whether you love your larger-than-the-planet curls, your sleek as glass strands or your surf-approved beach waves, you ain't got time for frizz. Fuzz and flyaway hairs make textured hair look messy, straight hair look out of control and any hair type look dry and damaged. So here are 10 dos and don'ts to help you take control of your frizz once and for all and restore smoothness and shine to your hair.
Do…rethink your cleansing regimen.
Start with your shampoo. If you're fighting frizz, squeaky clean is not your friend. You want to use a shampoo that is rich enough to leave your hair feeling soft and supple. And unless your hair is extremely oily, skip a day or two between shampoos to allow your hair's natural moisture to protect strands from the dryness that can lead to frizz.
Another solution that many frizzy haired girls embrace is adding a cleansing conditioner to their regimen—either as a permanent or "sometimes" shampoo alternative. Cleansing conditioners are gentle, low-lathering formulas that cleanse and condition in one step without removing hair's natural moisture.
Don't…skip conditioner.
Conditioners add moisture back into your hair after shampooing, and moisture is the number one weapon for fighting frizz. If your hair is fine, find a conditioner that won't add unwanted weight. If your scalp is on the oily side, apply your conditioner to the midlengths and ends of your hair. Use a wide-tooth comb to distribute the conditioner while you're in the shower and let it penetrate for three or four minutes before rinsing it out. "If a client's hair is super thick or coarse," says Matrix Artistic Director Robert Santana, "I may not remove all the conditioner. I might leave some of it on the ends."
Do…add a leave-in conditioning spray to your hair care routine.
Leave-ins are a blessing for frizzy hair. They provide all-day, lightweight moisture and frizz and UV protection. They also make your hair soft and shiny. Mist your leave-in through towel dried hair before styling.
Don't…scrub your hair with your towel.
Doing so will rough up the cuticle surface, which in turn leads to strand swelling and frizz. Instead, gently blot your hair, then gather it into the towel and let the towel absorb as much moisture as possible. Consider, also, using a micro-fiber towel or even a soft t-shirt to blot—these fibers are much easier on frizz-prone hair than rough terry cloth.
Do…select a styling crème, serum or oil for your hair type.
Applying a hair styling product is a given for fighting frizz—it prevents hair from puffing up and provides a protective layer between your hair and the humid environment that leads to frizz. If your hair is thick or coarse, reach for a rich treatment oil or crème. If it's on the finer side, opt for a lightweight crème or lotion. You may even consider a "cocktail," such as a hair smoothing crème plus a heat protection spray. Apply the product to damp, not sopping wet, hair and proceed to style.
Don't…raise the temperature on your thermal tools.
"I tell clients to let their hair air dry for as long as possible," says Matrix Celebrity Stylist George Papanikolas, "and then use a blow dryer on a cooler setting to avoid heat damage." Set flat irons and curling irons at low-to-medium temperatures as well so you don't scorch your hair.
Do…use a deep-conditioning treatment once a week.
A weekly conditioning treatment or mask works as additional insurance against frizz. It will keep your hair deeply moisturized and supple, which leads to shiny, healthy hair that is armed and ready to resist frizz.
Don't…worry about frizz if your hair is curly.
Try this technique from Robert Santana. "The goal is to refine the curl and combat frizz," he explains. Apply three, quarter-sized dollops of a curl refining lotion, work it through damp hair and use your fingers to re-form each curl. Then let your curls air dry. "You'll get the curl you love without a trace of fuzz or flyaways," says Robert.
Do…fight frizz overnight.
Lots of frizz-free girls have learned how to tame unwanted fuzz while they sleep. If your hair is curly, work in a butter-rich night crème, twirl and define each curl and hit the hay. The crème will be absorbed overnight and, in the morning, when you unwind each curl, your hair will be soft, smooth and defined. If your hair is wavy or straight, work a treatment oil formulated for your hair type through the ends and gather your hair into a loose, high ponytail or bun before bed. In the morning your hair will be smooth and silky.
Do…go with the flow.
If your hair is prone to frizz, trying to achieve smooth perfection will just lead to heartache. Instead, let it take on its natural texture, backcomb it a bit and put it up into a cute, messy bun, loose braid, ponytail or ballerina bun. Let a few wisps float around your face for an easy, relaxed, textured look.