How To Pick The Best Hair Brush For Fine To Thick Hair
Jackie Summers | July 17, 2017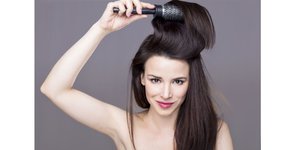 You curate hair styling products like the hair styling connoisseur that you are. But when it comes to your hair brush, anything will do, maybe even the old one that your college roommate left behind a decade ago. The hair pros at Matrix say that's a hair styling mistake! The right hair brush can make a huge difference in the success of your hair style, if you choose the shape and material that are right for your fine or thick hair, and for your hair styling goals. The Matrix experts have assembled the following hair brush guide to help you make the right decision.
1. Best Blow Dry Brush
You have: Fine hair, medium hair
You want: Volume when you blow dry your hair.
Use this type of styling brush: A round, boar-bristle brush
A round brush gives you hair volume where you need it—at the root. It also creates nice body throughout your hair. The larger the round brush, the looser your hair will be, so if you want lots of volume, use a small round brush; if you want a straighter result, opt for a larger round brush. Boar bristles glide through fine hair without snagging delicate strands. They produce smooth, professional-looking blow-out results. Consider using volumizing shampoo and conditioner in your routine.
2. Best Hair Brush for Shiny Hair
You have: Fine hair, medium hair
You want: Loads of hair shine
Use this type of styling brush: A cushioned, oval boar-bristle brush
Boar bristle not only smooths hair like crazy, it detangles and distributes hair's natural oils evenly through strands. The result is soft, shiny hair that will make you want to do nothing but brush, brush, brush!
3. Best Detangling Brush
You have: Fine hair, medium hair, damaged hair
You want to: Detangle
Use this type of styling brush: A plastic, cushioned oval brush
Look for a hair brush designed specifically for detangling wet hair. It should be fairly large—oval or rectangular—and have plastic bristles spaced wide apart. Look for flexible bristles with smooth tips that won't snag or tear your hair. Your detangling brush will be even more effective if you apply a lightweight leave-in conditioner to your damp hair. The conditioner will make it easier to brush through your hair, and the brush will distribute the conditioner evenly from top to ends.
4. Best Brush for Smoothing Hair
You have: Medium hair, thick hair
You want to: Smooth and detangle hair
Use this type of styling brush: A mixed-bristle paddle brush
A hair brush that combines boar bristles and nylon bristles is a must for medium or thick hair. The nylon bristles glide through the hair, while the boar bristles distribute natural oils for massive shine. A paddle brush can cover large sections, and the flat shape eases through the lengths. Use this styling brush to detangle your hair and loosen debris prior to shampooing, and to create smooth and lustrous hair after it's dry.
5. Best Hair Brush for Volume
You have: Medium hair, thick hair
You want: Volume and body when you blow dry hair
Use this type of styling brush: Thermal or ceramic round brush
A thermal or ceramic barrel adds volume and lift to any hairstyle. The barrel helps conduct heat evenly along each section of hair, and the ceramic reduces static and leaves hair smooth and silky. Pros say this type of hair brush is the best way to get results that rival a salon blowout, including the longevity. Because thermal and ceramic brushes conduct the heat from the blow dryer, be sure to protect your hair with a heat protection spray when blow drying.
6. Best Brush for Short Hair
You have: Fine hair, medium hair
You want to: Dry your short hair without volume
Use this type of styling brush: A rectangular cushion brush with nylon bristles
This is a must if you have a pixie cut or a short bob. The multiple rows of nylon bristles will get a grip on your hair as you blow-dry--wrap your hair along the curve of your head to create a close-fitting, finished hairstyle. The rubber pad prevents static and flyaway hairs. If you like a bit more body, you can start blow drying your hair with this styling brush, then finish with a round brush to build in lift and hair volume.
7. Best Teasing Brush
You have: Fine hair, medium hair, thick hair
You want to: Tease your roots to heaven
Use this type of styling brush: Small, slender boar bristle backcombing brush
When backcombing, the object is to pack the hair tightly at the crown in order to create a cushion that will support updos or volume. The bristles of standard oval, rectangular or paddle brushes are placed too far apart to achieve the tension you need for successful backcombing, which is why a teasing brush is essential. On a teasing brush, the bristles are staggered at various heights to allow you to reach all of your hair, even the shortest ones. When teasing, work in half-inch sections, hold the section tightly and up and away from your head. Push the hair brush down into the underside of the hair three to five times. Then release the section and use the styling brush to smooth over the top and hide the backcombing.