The Secrets To Getting Natural-Looking Hair Color
Jackie Summers | September 12, 2017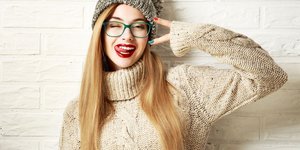 There are two types of hair color-lovers. For bold hair color fans, it's all about impact. Purple hair, unicorn hair, burgundy hair if it's a hair color that can be found on the spectrum, you're in. You wear your fashion hair color proudly, letting the world know you're a free and creative spirit through the hair color shades you choose. Then there is the second hair color group. You love hair color too, but your goals are a bit different from your more flamboyant sisters. You want your hair color to be as shiny, realistic and flattering as possible. Whether you opt for blonde hair, brunette hair or red hair, it should be just a bit better than natural. For all of you in the latter group, here are tips for achieving the most natural-looking hair color in every shade.
How to Have Natural-Looking Blonde Hair
1. Hair Color Contrast is key.
With any natural-looking hair color a mixture of warm and cool tones will create the most realistic hair color shade. That might mean incorporating a cool whisper of blush or even a bit of violet into a neutral or vanilla blonde hair color. Or it could mean your hairstylist will weave a few icy blonde highlights through a golden blonde hair color base. Another way to create contrast is by combining hair color shades with a matte finish with hair color that has more of a metallic look.
2. Think like the sun.
Natural-looking blonde hair color always looks like it has been kissed by the sun. In other words, the lightest sections appear on the areas where the sun is most likely to have lightened the hair color naturally. Balayage is a perfect way to mimic the effects of sun-lightened hair—it involves hand-painting the hair color or highlights in a creative manner. Balayage highlights are usually placed on surface sections, and concentrated on the ends where the hair would naturally be the lightest. On curly hair, lightener is concentrated on the crests of the curls—the sections closest to the sun!
3. Mimic the hair color of a little kid.
Nothing looks as natural as a child's hair color…because it is natural! And if you look closely at a blonde child's hair, you'll see lots and lots of different hair color shades (and all of them shiny!) A skilled hair color artist will know how to blend subtle tones of strawberry, rose gold, warm gold beige and lightest beechwood hair color, for example, to create contrast, shading and brightness. He or she will also frame the face with brighter pieces and create a sun-kissed, halo effect around the hairline to mimic a child's hair color pattern.
How to Have Natural-Looking Brown Hair
1. Light + Reflection.
Modern brown hair color shades are neve one-dimensional—they always feature variation. To create a perfect brown-on-brown hair color shade, a stylist will first lighten a few select sections with hair lightener or high lift permanent hair color, then deepen or lowlight other select sections with a low-ammonia demi-permanent hair color. They she'll glaze everything with another sheer, demi-permanent hair color, which will marry all of the hair color tones together while allowing the "highs and lows" to show through. The warmest, lightest hair color shades should be placed around the face and the roots should never be lighter than the ends.
2. Contour Your Hair.
Brunette hair color tones can also be customized with a contouring technique similar to those used by makeup artists. In hair color, light and dark tones are used to sculpt the face, following the principle that dark areas recede and light areas reflect and enhance.
3. Update your Ombré.
For a more natural-looking brown or bronde hair color result, hair color experts are evolving high contrast ombré effects into softer, more blended sombré (soft ombré) hair color looks. Baby-fine hair highlights, or babylights, are applied to bridge the gap between the dark new growth and the midshaft area, and darker lowlights are worked through the solid, light ends.
How to Have Natural-Looking Red Hair
1. Stay Warm.
Natural redheads are always on the warm side of the hair color spectrum, never cool. So if you prefer a natural-looking red hair color result, stay away from cool shades like burgundy, eggplant or anything that has a violet cast. Opt instead for red hair color shades like auburn, copper or gold.
2. Avoid Solid Hair Color.
Like any other hair color, a natural-looking red hair color will have plenty of dimension. Solid red hair color appears artificial. So, applying some soft, strawberry blonde highlights can bring a red hair color right up to date. Babylights are the best choice when highlighting red hair because they are naturally subtle rather than chunky. And as with any hair color shade, it's ideal to paint some light pieces around the face and off of the part.