26 Tips for Styling Your Dry Hair
Jackie Summers | March 02, 2021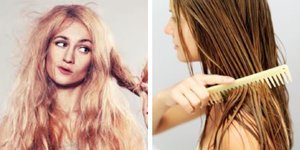 Having dry hair doesn't mean you can't have a great style. With proper care and a little creativity, your dry locks can look just as stylish as tresses that have the perfect amount of natural moisture. Here are some how-to tips from the professionals at Matrix.
Knowledge is Power: Start By Understanding Why You Have Dry Hair
The first step in knowing how to style your dry hair is to understand what you're working with. If your hair is dry, dull and breaks easily, the cause is usually a combination of issues with sebum, genetics, bad habits and lack of proper care. The role of sebum is to hydrate the scalp. If you have dry hair, however, it means that the sebum isn't doing its job properly, which can lead to itchiness and irritation. The hair loses its elasticity, becomes dull, breaks and splits more easily because it's fragile. Your dry hair is partly due to genes, but it can also be caused by the elements, hard water, heat, processing, diet, over brushing and using the wrong products. You can't change your genes, but you can improve in all the other areas.
Before You Begin: Prepare Your Dry Hair for Styling
There are a few basic rules that will help get your dry hair ready for styling by improving its condition.
1. When you shampoo, use a gentle moisturizing shampoo on your dry hair.
These shampoos, specially designed for dry hair, usually contains lots of nutrients such as oils, essential fatty acids and ceramides. Secondly, don't wash your hair too often since shampooing too frequently can damage your hair by drying it out, which can lead to breakage and dullness.
2. When you shampoo, use your fingertips to massage the shampoo into your hair.
Work from roots to ends — taking care not to pile your hair up on top of your head; this can lead to tangles, dryness and frizz.
3. Use a mask for dry hair.
To add moisture, once a week or so before shampooing, apply a hydrating mask on slightly damp hair, wrap your hair in a warm towel and leave it on for about 20 minutes. Wash as normal.
4. Use a conditioner for dry hair.
After shampooing, use a hydrating conditioner and massage it in with your fingertips before rinsing it out. To close the cuticle and enhance shine, try rinsing your hair with cold water. Avoid overly hot water and hard water, which both dry out your hair even more.
5. Embrace a dry hair-friendly diet.
Don't forget that what we eat impacts our entire body, including hair. To nourish dry locks from the inside out, eat healthy foods such as plenty of fresh fruit and green veggies, lean meats and dairy, and avoid saturated fat. When snacking, nourish your dry tresses by munching on nuts. When your diet isn't perfect (that would be the case for most of us), consider nutritional supplements.
Master The Basics of Blow Drying Dry Hair
6. Towel dry first!
After you get out of the shower, towel dry your hair thoroughly to get rid of as much excess water as possible, but don't be overly vigorous, as this can be damaging to dry hair.
7. Apply athermal protection product prior to blow drying or using heat tools.
This will create a barrier between your hair and the heat, preventing the dryer from sucking out too much moisture.
8. Try not to blow dry your dry hair too frequently.
When you do, dry your hair gently, with your hairdryer approximately six inches from your head. Always use a blow dryer with ionic technology, as these are less drying to hair.
9. Time your blow dry wisely.
When you blow-dry your hair, don't wait more than 20 minutes after you get out of the shower to start. Begin blow-drying before your hair is more than 30 percent dry to get maximum volume and prevent stubborn cowlicks.
10. Position the dryer carefully
Don't blow dry close to your roots, and never blast the same section of hair for more than 15 seconds.
11. When blow-drying, dry your hair 90% with a vent brush or a paddle brush.
This will speed up drying time, which means less exposure to drying heat. Finish with a round brush to smooth your hair.
12. Don't over-dry your hair.
The last few minutes of blow-drying are when your hair is most vulnerable to damage.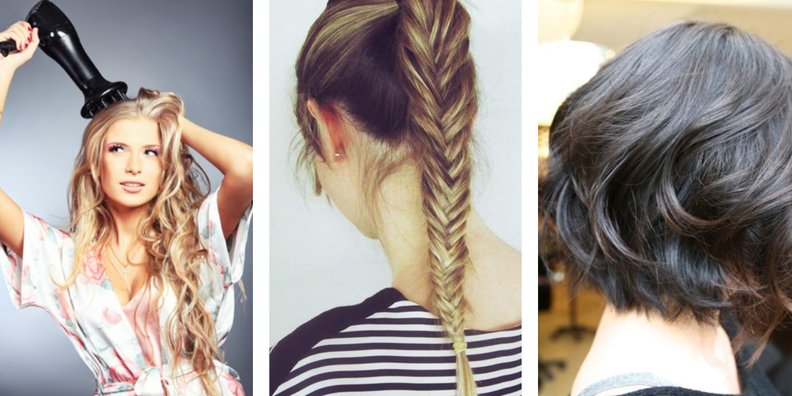 13. Use the cool shot button on your dry hair.
When your hair is almost dry, switch the dryer to the cool setting to lock in the style and lock out frizz.
Prepare Your Dry Hair for Picture-Perfect Style
Now that your hair is prepped and ready to go, here is a key point to remember: To style your dry hair well without damaging it, be gentle on it, particularly if your hair breaks easily. Here are a few tips for styling dry hair that will make every day a great hair day:
14. Don't rip at tangles in your hair with a brush.
When beginning to style, you might find a lot of tangles in your hair, so instead of ripping or pulling them, use a wide-tooth comb to gently detangle hair when wet and a vent brush to remove tangles on dry hair. The vent brush is also an excellent way to distribute a styling product throughout your hair when it's damp. If your dry hair is very prone to tangling, use a gentle detangler before styling.
15. As a rule of thumb, "second day" hair is easier to work with.
A little bit of product on the hair can help it hold style. For example, a stylist who gives you an updo will most likely ask you to skip washing your hair the morning of the appointment.
16. Dry shampoo is a lifesaver for dry hair.
To add good texture and get rid of the greasies prior to styling when you don't wash your hair, try spraying a dry shampoo on your dry hair. It will help create the texture you need to ease styling.
17. Tame frizz with a leave-in formula.
If your dry hair has the frizzies, spreading a leave-in moisturizing treatment on your hair before styling can help keep frayed hair at bay.
18. Don't over-use thermal styling tools.
Remember that thermal tools such as curling irons, hot rollers or flat irons can help dry hair look shiny, because when heat is applied to hair, it seals the cuticle and creates smooth, healthy-looking hair. However, be careful not to overuse these tools, as the heat can create more dryness and sabotage your effort to add moisture to your hair. When you do use heat, be sure to use protective hair products beforehand.
Style Ideas for Dry Hair
19. Select the right cut: this is the start to making your dry hair look fabulous.
It's easy to get discouraged when you have dry hair and to just let it go. But as dry hair gets longer, loses its shape and develops flyaways, it spoils any attempt at fashion you try to make. So don't give up! The best styling solution for dry hair is to get a good cut. Try having some layers cut in, adding bangs, getting some highlights, trimming your hair to shoulder-length -- whatever it takes to up the dry-hair styling ante. While at the salon, have your stylist recommend cleansing, conditioning and styling products specially formulated for your dry hair.
20. Consider bangs for dry hair.
Bangs are hot again, which is great for updating a blah hairstyle and trimming off dry sections. Bangs can be worn blunt or side swept, or paired with longer, straight hair. For dry hair, you'll want to use a moisturizing gloss or leave-in nourishing crème to keep straight hair looking shiny. If you opt for bangs, layer the rest of your dry hair because it creates a softer look and makes it easier to grow the bangs out when you want to change the look again.
21. Here's how to get dry hair to hang in long, lovely waves.
Dry hair can often just limply hang over your shoulders. But if your hair is at least shoulder length, you too can achieve that piece-y, wavy look you crave. To get this style, you'll need the right cut and the right product. Long layers that have been texturized are the key; you can't get this look with one length of hair. If your dry hair is thick, you'll want your stylist to thin it out by texturizing to create the body needed for this style. Once the cut is in place, use a nourishing mousse or gel to add lift, and finish with a light hairspray to maintain hold.
22. Here's how to dry and style your dry hair with a round brush for body and volume.
Another way to get texture is with a blow-dryer and round brush. Again, don't use heat often, but once in awhile is okay. To get a soft, round style on your dry hair, use a thermal protection product first, then, while blow-drying, use a large round brush to heat and smooth hair into shape. Divide the hair into sections, starting near your neck and working up toward your crown. With each hair section wrapped around the brush, apply heat from the blow-dryer using a directional nozzle. Use the brush to smooth your dry hair as it moves through. Allow the hair to cool before removing the brush to add better hold.
23. Curl your dry hair with Velcro rollers.
For those with at least mid-length hair, a great way to get texture and curl without the use of heat is with a simple set of Velcro rollers. They are inexpensive and easy to use. To achieve the best curl hold, you'll want to spritz dry hair with a styling spray first, especially if it is fine and thin.
To re-create a salon blowout look, set dry hair on large Velcro rollers and spritz it with a fine-mist hairspray. Leave the rollers in for 20 minutes, and then remove them. You'll get lovely volume at the roots and curl toward the ends.
For curlier styles, use smaller rollers. And for very curly looks, you can use a medium curling iron to curl two-inch sections of hair before rolling hair in the Velcro rollers. Lightly comb through curls with a wide-tooth comb or your fingers, or back-comb the curls to add even more texture. Finish with a holding spray.
24. Opt for ponytails, loose updos and buns to create chic, everyday looks for dry hair
A loose, casual updo can be a simple way to step up your look and work with your dry hair. For the longest-lasting style, create your updo from a ponytail. A ponytail is a good base for any updo because covered elastic bands will hold your dry hair in place reliably.
To create this everyday-appropriate style for dry hair, begin your updo by prepping hair with a moisturizing mousse or control gel if you have shampooed, or with a dry shampoo on in-between days. Once your ponytail is in place, work it into a bun or a looped style. If you are creating a twisted style, use longer bobby pins to anchor the hair, then use smaller bobby pins to tuck in little pieces.
25. Here's an updo idea for medium-length dry hair.
For medium-length hair, try finger-combing dry hair into a low, disheveled bun or knot, and securing it with a covered ponytail holder and bobby pins. Or, pull your hair straight back into a low ponytail and secure it with a covered band at the nape of your neck.
26. Add glamour to your ponytail.
To add glamour to your ponytail, wrap a one-inch piece of the ponytail around the elastic and secure it with bobby pins underneath. To dress it up for evenings, adorn with accessories as desired. Finish any updo style by spritzing it with a light-hold hairspray to lock it into place.