How To Get Healthy Hair: Healthy Hair Tips
Jackie Summers | October 30, 2017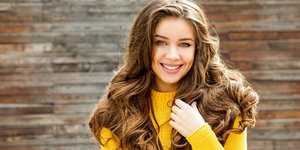 You swam, you sunned, you stayed up late and you skipped a whole lot of your regular hair care routine.Summer happened and now it's fall. How do you transition into the fall season while sporting the healthiest hair in the room? Start by following these healthy hair tips from the healthy hair pros at Matrix!
1. Detox Your Hair Pronto!
Summer can be hard on your hair and your scalp. There's the matter of product and oil build-up from skipping one too many shampoos. Plus the residual sunscreen, sand and saltwater from your awesome weeks at the beach. Detox your hair and scalp with a clarifying shampoo that will remove all of that residue from your hair and scalp. If your hair is color-treated, be sure to use a shampoo that is paraben-free and color-safe.
2. Keep Your Hair and Scalp Moisturized.
All of that summer fun may have depleted your hair of the moisture it needs to look shiny and glossy. Maybe you even got a little sunburn on your scalp, which by fall is starting to dry and flake. So as you head into fall, hydrated hair is key! Do a reassessment of your shampoo and conditioner and ask your hair stylist if you should be using formulas that are a bit richer and more moisturizing at this time. If you are a lightened blonde, alternate a purple shampoo into your routine. If you are a lightened brunette, consider using a blue shampoo to fight brass and keep your color looking fresh. Also, discuss the best deep-conditioning hair mask for your hair type, and work a weekly or bi-weekly hair mask treatment into your schedule. Look for formulas with argan oil, coconut oil and shea butter—all of which are considered to be among nature's most powerful moisture-restoring ingredients.
3. Trim Your Hair.
Even if you've decided to grow out your short haircut or medium haircut, fall is the perfect time to trim the dry, fried, split ends that summer fun may have caused. You don't have to remove very much length at all—just ask your hair stylist to be sure those ends are strong and intact. Letting split ends take hold can lead to weakening and breakage of the entire hair strand. Frequent hair trimmings are a great way to prevent this from happening.
4. Give your ponytail a break.
If a ponytail was your go-to hairstyle all summer long, take a little break. Winding an elastic hair band around your hair in the exact same spot each day can take a toll, weakening the spot where you're placing the rubber band and making the hair in this area susceptible to breakage. There are many quick and cute hairstyle alternatives to your ponytail, including a plethora of braid hairstyles featuring French braids, fishtail braids, Dutch braids and more. Just take care to change up your braid hairstyles frequently to avoid putting stress on the same spots of your hair. And try to keep those hair ties loose!
5. Deepen Your Hair Color
If you treated yourself to several rounds of sunny blonde hair highlights over the summer, and then spent loads of time in the sun, you may have crossed over into the too-light zone. Faded hair color is common at the end of the summer season, so consider deepening or enriching your hair color for fall. One of the best ways to do so is with demi-permanent lowlights. Your hair stylist will use a sheer, low-ammonia hair color formula to weave one or two darker colors into your hair—about one or two shades darker. Or, she may opt for an all-over, deeper hair color glaze. Either way, your faded hair color will come back to life for fall. And there's a bonus. Many hair color glaze formulas contain moisturizing and nourishing ingredients that restore your hair's health as they revive your hair color.
6. Keep Fighting Frizzy Hair
You may think that with summer humidity finally fading away, your frizzy hair fighting battles are over for a while. Well, sort of but not really. While frizz-prone hair will swell less in cooler, less humid weather, it also has to face fall's static-inducing factors like forced heat indoors, and hats and scarves. Moisture is your friend when it comes to fending off static and flyaway hairs, and one of the best ways to keep the moisture with you is with a leave-in conditioner or mask. Mist it on your clean, damp hair and use a wide-tooth comb to distribute the formula evenly. It will help prevent your hair from becoming frizzy all day long.
7. Keep Beach Waving
Beach waves aren't just the signature hairstyle of summer. They're also a healthy, low-maintenance, heatless hairstyle that will help overworked hair strands heal. Simply work aheatless hair styling crème into clean, damp hair and create one or two braids (depending upon the density of your hair.) Rock your braids, and when your hair dries, undo them, mist the lengths with a salt-infused hairspray and scrunch for a few more days of gorgeous beach waves.