How To Nail the Perfect Hair Color for Your Wedding
Jackie Summers | April 19, 2017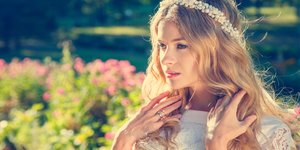 Whether you're engaged, thinking about it or are happily single, you undoubtedly have started Pinterest boards for your wedding dress, your flowers and your cake because, well it can't hurt to be prepared, right? Honing in on the perfect wedding hair color can take time, so it should be slotted into the wedding planning timeline as early as possible.
To ensure you walk down the aisle with the radiant hair color of your dreams, here are a few important details to consider….
Start Early
If you're contemplating a major hair color change, definitely allow 6 months to a year to make it happen! The most beautiful and healthy color changes have to be done gradually, allowing plenty of time for conditioning and for allowing the color to "settle." Also on the bridal beauty timeline, most stylists recommend making your final color appointment one to two weeks prior to the wedding. That way your hue will be blended, yet vibrant enough for memorable wedding album images.
What Hair Color?
For this question you have a number of choices. You could choose to go lighter. Or darker. Or you might want a different hair color altogether. One of the most important things to keep in mind is the fact that the hair color you choose will live forever in the family photo collection. So if you think it would be amazing to walk down the aisle with blue hair, go for it. Just remember your future grandchildren will see those pics!
In general, most brides like to enhance their natural shade, rather than appear at the altar with a completely different shade. That could mean highlights, or lightening your hair all over one or two shades. It could also mean deepening your shade one or two levels to create contrast with your skin, or adding lowlights to give your hair dimension.
The best way to come up with your wedding day hue is to book a consultation with your stylist as soon as the church is booked. Factor in your skin and eye color, the health and condition of your hair, your hairstyle. Keep in mind that today's trendy, textured wedding 'dos always look better with some dimensional hair color. Plus if you're adding extensions for more volume, those will need to be factored into the overall color strategy. You'll also need to look at your budget. From there, you and your stylist can set up a plan to get you to your wedding color goal.
Sun-kissed, hand-painted,balayage highlights are hairstylists' first choice for brides for many reasons. They're concentrated on the middle and ends of your hair, (think of the letter V) leaving the roots a bit darker. This makes them the perfect color choice for updo hairstyles because they provide depth and dimension in the hair and show off the details of the hairstyle. They're natural-looking. They can be customized for your haircut and for your face—placed where they're the most flattering. If you want more overall lightness, they can be combined with babylights, which are micro-fine highlights placed closer to your scalp. Balayage can be done on any color—blonde, brunette, red and more—and it can also be adapted for any length.
Wedding Color Care Tips
If you're blonde
Your beautiful blonde hue will look radiant if you treat it with TLC. Look for shampoos and conditioners containing chamomile, which will soften and detangle your hair while keeping it shiny. If your shade is on the cool side, use a purple shampoo once a week or so to prevent unwanted yellow tones. A week or two before the wedding, book an appointment for a color glossing treatment which will tone and blend your color and amplify shine!
If you're red:
Red hair color looks best when it's vivid. Shampoos and conditioners made specifically for colored hair will prevent red from fading because they're free of stripping ingredients. Avoid the sun and refrain from setting the temperatures too high on your styling irons—both of which can also cause your vivid red to fade. Pop into the salon a week or two before your wedding for a shine-enhancing red color glaze to perfect your color for the big day.
If you're brunette
You'll want to ensure your creamy mocha highlights stay as cool and clear as the day they were applied. That means using a blue shampoo to neutralize any unwanted brassy and orange tones that might start peeking through. You can also visit your hairstylist a week before the wedding for a professional, neutralizing hair mask treatment. These products contain high concentrations of blue-purple pigments, and can be customized for your specific needs.
Get Treated
No matter what hair color you are, keep in mind that hair color is a chemical service that alters the structure of your hair. Damaged hair is not an option on your wedding day, so make sure your hairstylist is adding one of the new bond-repair systems to all of your hair color formulas. These not only repair your hair, they prevent future damage from occurring. And in that initial hair color consultation, you should also set up a schedule of regular professional conditioning treatments throughout the months before your wedding. Think of it as a fitness program for your hair, to ensure it's in peak condition for the most exciting day of your life!